It's the third and final issue of IDW's Clue: Candlestick, and with all the pieces falling into place, the murderer is finally revealed. Mrs. White, Professor Plum, Mr. Green, and Mrs. Peacock are the only ones left standing in this mystery where all the clues have been hiding in plain sight. In the previous issue, we navigated our way through Miss Scarlet's homicidal past, where she fortified her own curse in killing any man who fell in love with her. If she was supposedly responsible for Mr. Boddy's death, then who killed her?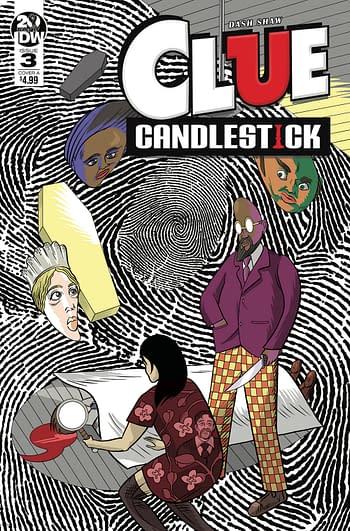 Before the killer is revealed, Dash Shaw dives into the final backstories of two remaining suspects, Peacock and Green. It's revealed that the duo have not only known each other, but the Mafioso Green even "offed" Peacock's husband, Milburn (aka the Monopoly Man) to perpetuate a romantic affair with his her. Fearing their dalliance would make them suspects in Mr. Boddy's murder, the two keep mum until inevitably being exposed by Mrs. White. The evidence is there and the two take the fall for the murders, their motif being explained away in Peacock's lavish lifestyle being too extravagant for Green to afford. In their desperation for money, they hoped to get their hands on Boddy's exorbitant collection.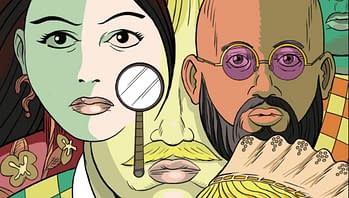 By this final issue, readers should know that everything inserted into the art is a deliberate hint towards the hidden villain. By the time of the funeral, both lovers are sitting in prison… but did Mrs. White get it right or is there more to this mystery than the narrator cares to explain? I won't give away anything here, but this issue does a nice job in wrapping up the secrets of Mr. Boddy and his nefarious friends.
With there being a lack of good mystery series in our current summer lineup, Clue: Candlestick scratches a particular itch for anyone looking to a more macabre read. Although priced at a steeper $4.99, keep in mind you also get the pieces to play your own game at home, and Shaw's exhaustive art style will likely serve new discoveries with each reread.
Enjoyed this article? Share it!