Concern Expressed Over Portrayal of DC Comics Muslim Superheroes
Last week, it was revealed in the DC Comics title Green Lanterns that Night Pilot, a superhero character who had briefly dated the Green Lantern Simon Baz was, like Baz, a Muslim.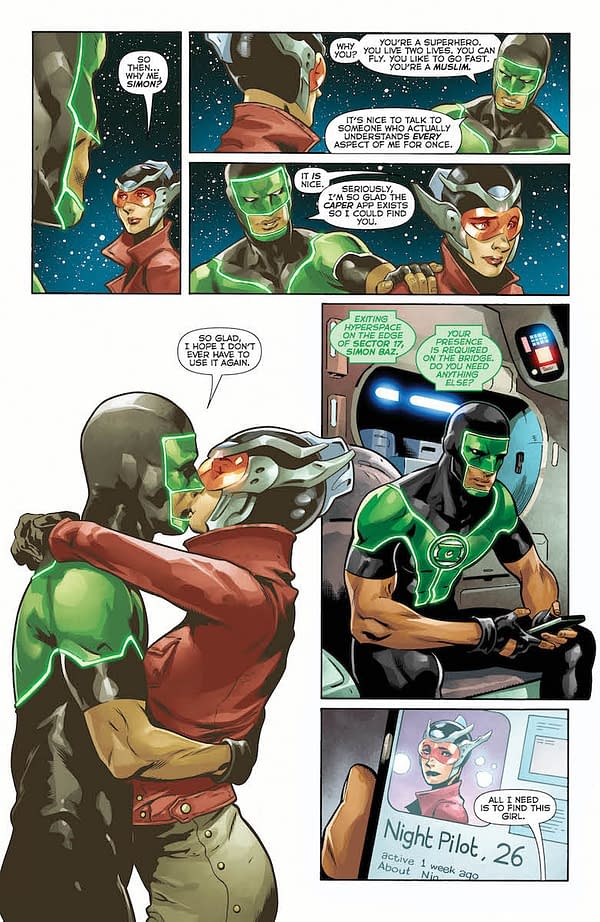 Which led to a brief overview of the character's history in the series.
And with Simon Baz.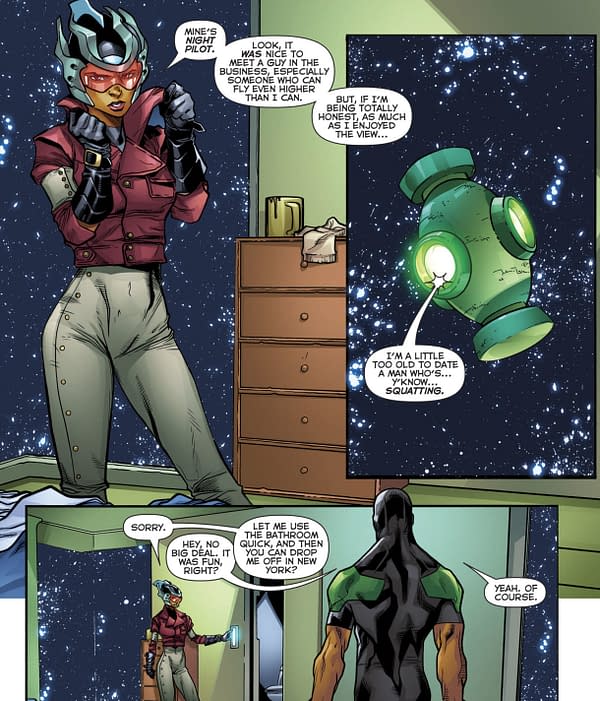 There was some concern expressed, however, as to her portrayal. And, for that matter, his. On Reddit/r/islam, kaiserdoku wrote:
Representation should first start with the writers, the ones behind the scene. DC has always failed with writing an authentic, accurate Muslim superhero. Marvel, on the other hand, actually does it well with Kamala Khan, because the creative team behid [sic] her has actualy [sic], practicing Muslim women writing and editing.

If the people telling the story have no idea of the experience, then this sort of representation is regressive and does nothing.
While Ellie Loudermouth posted:
It can be said for all Abrahamic faiths that those who primarily identify with their religion seek to uphold the values and principles described therein. Islam provides guidance for how Muslims should interact with the opposite gender, in all contexts, including finding a spouse. We hold fairly conservative standards regarding gender interaction; one could argue we Muslims find more commonality with Amish standards of gender interaction than we do with popular culture.

We often fail to meet these aspirational standards today, but that is only further testament to the importance of actively upholding them within our communities. Muslim children seeing popular media portrayals of cool superhero characters identifying as Muslim but adopting the popular culture's standard [a literal dating app], and not exhibiting any internal conflict regarding it, only serves to confuse and even subvert the child's standards and values. Standards and values that Muslim parents will be working hard to inculcate in their children, over anything else.

Some of this superhero's characteristics and values are undoubtedly noble and in agreement with the Islamic tradition [e.g. justice, strength, helping the less fortunate]; however, it is precisely the packaging of such values with a subversion of a core aspect of gender interaction, and what is a weak point for many Muslims still learning about their religion, that makes such content uniquely subversive. Such content can encourage the child to at least momentarily ignore [and at worse drop altogether] his/her parents guidance when tempted to give into such social norms for questionable ends [e.g. high school popularity, social media likes, etc.]

The young Muslim still developing in his/her understanding of Islam may be learning from this comic you can still be good [not just good but a super human] while adopting popular cultural norms and still identify as Muslim, without any conflict. However, in our tradition, as a principle, when we as Muslims fail to meet our own standards (i.e. sin), we must repent to God, sincerely, and attempt to do better. Content like this suggests changing the goal posts, subverting such values exactly where there is a weak point- exactly where we may be tempted to do so even if we had not seen such content.
While a letter to Bleeding Cool from a 'Justin Credible' asked:
How is it that whenever Muslims are represented in western media, they are painstakingly made out to be as far from orthodox as possible. I forget the name but I remember a mutant having a heart to heart with wolverine about his Christian beliefs and values,yet in the current atmosphere I don't think any such expose is possible.

Despite beliefs to the contrary, a majority of Muslim youth hold fast to their faith, which includes not taking part in one night stands or premarital sex. Making it so that any Muslim represented in comics eschews such beliefs is worse than having no representation at all as it confuses American Muslim youth who are already entangled in the American social fabric.

I realize comics are not for proletyzing but something as simple as a panel of the hero finishing up prayer or closing the Quran would be a great first step. Otherwise, comics are just another medium for hegemonizing Muslim culture into an unrecognizable amalgam that has been bastardised and stolen like so many others.