In a new Writer 2 Writer interview from Dynamite, Nancy Collins talks with Corinna S. Bechko about Miss Fury #3 and Corinna admits she read Nancy's work before tackling Aliens / Vampirella. Cover is by Tula Lotay, interiors by Jonathan Lau. NANCY COLLINS: Can you give a quick explanation of who Marla Drake/Miss Fury is, for the benefit of those readers unfamiliar with the character and her history?
CORINNA S. BECHKO: Marla Drake has been around a long time – in fact, she's one of the first heroes that wasn't male. Add to that the fact that her creator is also a woman, and you have a pulp hero who is rather unusual for her time. In Tarpe Mills' original, Marla is a wealthy socialite when she's not fighting crime. I felt like something extra could be revealed about Marla if she had an interesting job, so I made that fact central to my story (in my take she designs ships) but I kept the high society aspects in the form of her closest friend and confidant as well as the setting of the last half of the arc.
NC: How does your 'take' on the character differ from the Golden Age version? Did you have any knowledge of the original comic strip character before taking on the series?
CSB: I did know a bit about it – I was certainly aware of what Tarpe Mills had done with the character and the ground she broke (including scandalizing some newspapers by putting Marla in a bikini). I think the biggest difference in my take and the original is that my Marla is very focused on her career and her position as a woman who is always being questioned just for being good at what she does. The original Marla didn't really have quite the same concerns in that department. But this probably says more about me than about the history of the character. When I think about it, a major through line in a lot of my work is how women navigate their workplaces. I've been lucky enough to work in fields that I care passionately about, and in an aspirational character like Miss Fury I guess I can't help putting a little of that into her psyche.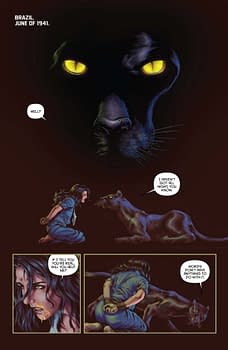 NC: How closely do you collaborate with your artist, Jonathan Lau?
CSB: It hasn't been a super close collaboration, although we've gone back and forth about some ideas. Despite that, I feel he is totally in sync with what I was hoping to convey with the story. He's upped the drama, the suspense, and the weird – all things that I was hoping would come across. In short, I couldn't be happier that we had the chance to work together.
NC: What—or who—is the talking black panther we see at the start of the story? And how does it tie in with Miss Fury?
CSB: Since there have been several iterations of Miss Fury, I wanted to make sure that this one was a little different, with more of a mystical/horror bent. To that end, I wanted to mix in a bit of mystery about where Marla gets her strength. And so I hoped to tell a duel story that would dovetail at the end of the arc, relating how Marla became Miss Fury, and how she adapts to that role. The cat is a big part of that.
NC: Where, exactly, is the bulk of the story taking place? Is it Brazil or the United States?
CSB: The US. The flashbacks to Brazil are important though, since that's where she met her friend Joao and got roped into the mystery at the heart of her New York problems.
NC: Will Miss Fury be seeing more of the mysterious and debonair Joao?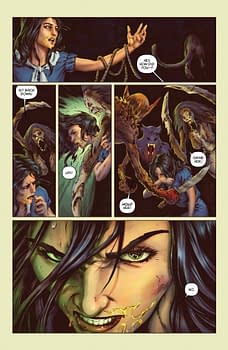 CSB: Absolutely! He will play a pivotal role in the resolution of the mystery.
NC: According to the intro inside the front cover, Miss Fury is set during the early days of the United States' involvement in World War Two, when America's women had to step up and fill in for the men who had volunteered or been drafted to fight in Europe and the South Pacific. If that's the case, who would be her male masked-adventurer counterpart?
CSB: Hmm, hard choice! Maybe Doctor Fate in his earliest incarnations, since he has a mystical origin and decided to use it to fight crime.
NC: How does writing Miss Fury differ from your work on Invisible Republic or Aliens/ Vampirella? What do you find interesting about the character and the world she operates in?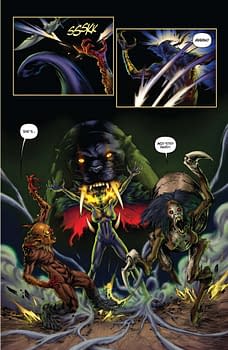 CSB: It's quite a bit different from working on Invisible Republic, since that's being built from the ground up and Miss Fury has a long history (as does Aliens – not to mention Vampirella). So even when I'm not using various parts of her original backstory, I try to be cognizant of it and not do anything against the spirit of the original. For instance, the original Miss Fury was smart and capable and had a cat named Peri-Purr. The Miss Fury I'm writing about is the same, even if she has a different job and doesn't fight Nazis. Actually, before working on Aliens/Vampirella I read all of your run on Vampirella. You made her so much fun to read and I just loved her attitude. I think it's important to keep elements like that intact, even if I'm changing everything else. Vampirella in particular has been written many different ways, but your take seemed so right that I thought about it constantly while I was writing my crossover. I've been really lucky on both Miss Fury and Aliens/Vampirella in that I was encouraged to set the stories in the places that made the most sense for them. I love New York and have read a lot about the history of the city, so putting Miss Fury into that kind of pulp milieu just seemed right to me.
For more information on Miss Fury #3, click here.
Enjoyed this article? Share it!