Cosmic Ghost Rider #1 Review: Cosmic Vapidity
[rwp-review-recap id="0"]
The Cosmic Ghost Rider, aka Frank Castle, has found his reward in Valhalla. However, the former Punisher is not content nor sated. He fights with gods and chides Odin himself. He has no intention of staying, and Odin doesn't want to keep him. The All-Father gives Frank Castle a choice; he can take back the Cosmic Ghost Rider mantle and travel to any point in creation. Frank takes Odin up on that offer.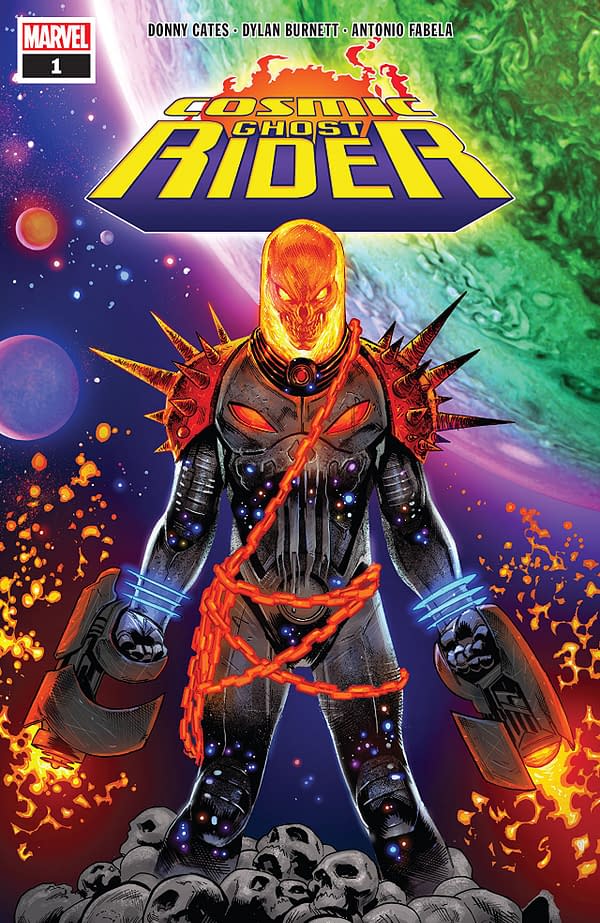 The Cosmic Ghost Rider was comic relief in Donny Cates' Thanos run, but he was also a tragic figure. He was a character we knew driven to madness and back, bearing witness to the end of creation itself.
Cosmic Ghost Rider #1 seems more interested in diving into the comic relief than the tragic figure. That's not inherently bad, but the comic isn't all that funny. It's mostly awkward; it has an off-beat tone that never really delivers a laugh.
It's a bit of a nothing comic. It's not funny enough to be a good comedy, and it's undercutting its own stakes too often for me to feel invested in the conflict. The best "jokes" it has are Frank smarting off to Odin and the big reveal at the end.
About that reveal: it didn't bother me as much as some, but I wasn't invested by that point anyway. It didn't frustrate me because I didn't really care anyway.
Marvel wants to keep defanging Thanos in their comics (see also Thanos Annual #1), and that's their prerogative. It's not a good idea, but the pendulum will swing down the line. We'll hopefully get a good rendition of Thanos sooner than later.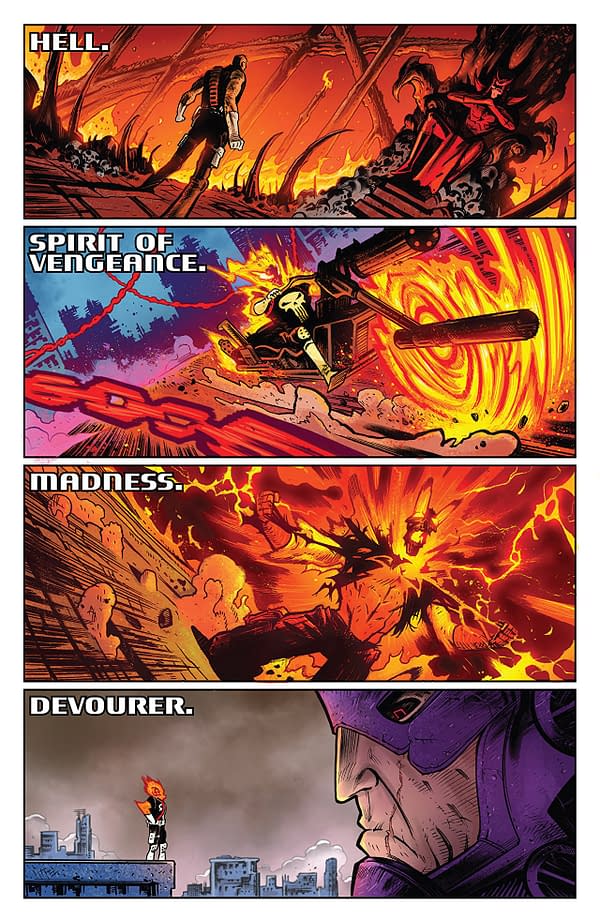 That brings us to the art, which is decent. It's got a gritty yet goofy feeling that walks the tonal line better than the written narrative of the book. Old Frank is grizzled but still unironically wears his logo t-shirt. Odin looks Odin-y. The Cosmic Ghost Rider itself still has a solid visual design. The color work is vibrant and contrasts itself well. Dylan Burnett and Antonio Fabela provide solid work in this one.
I didn't hate Cosmic Ghost Rider #1, but I was never engaged either. The comedy isn't that funny, the stakes aren't gripping, and the art is the only thing that reaches the level of functional. It's not bad, mind you. It's just a bland book. I can't recommend it, but it's probably not the worst thing you could read this week if you must have it.
[rwp-review-ratings id="0"]
[rwp-review-form id="0"]