Last year, Bleeding Cool ran an article on 2 Images Solutions, who were specialising in photographing cosplayers in fixed positions and rotating them, to create fully rotatable animated imaged. A clever, interesting take on cosplay photography. We liked it.
And then, courtesy of The Outhouse, we found out what they were being used for.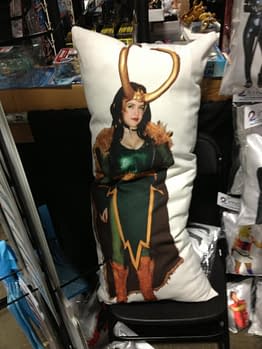 Pillows with an image of the cosplayer from the front on the front… and another from the back on the back, being sold at conventions by 2 Image Solutions as "promotional" items. And being bought and taken home by people for… whatever reasons.
Marie Grey writes;
On Saturday evening, I received a tweet from my friend Carrie with a photo of me in my Dark Phoenix cosplay emblazoned on a pillow. She asked me if I was okay with it. Obviously…I was not. Upon getting my response, she spoke with the vendor (Eric of Imagesolutions), who claimed I had signed an agreement stating he could sell my image whichever way he pleased without asking. Once she got the head of the dealer's room involved, it was a different story. Within an hour, I was informed that the vendor was ejected from the convention and would not be allowed back into the dealer's room the following day. Fast-forward to the following morning. I received a phone call from the head of the dealer's room, informing me that the pillows were within the vendor's right to sell because they were being marketed as promotional material for his services, something that was in fact allowed according to the agreement I signed in February 2012. He was allowed back into the convention center and continued to sell the pillows.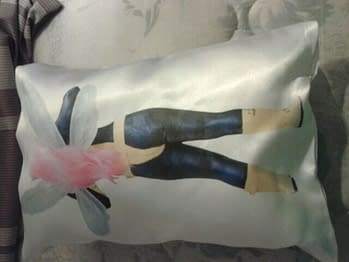 When we found the booth, we discovered that three pillows were on sale with my likeness on them. On one side what a picture of my front, and the other side was a picture of my back, with details given to my lower half. I had no clue about my likeness being sold and I was outraged upon seeing it.

At first my boyfriend tried to get a word with him, as well as discussed it with his partner, who told my boyfriend he was not allowed to speak with him, and to respect his, "Art." When I showed him my business card, which had the same exact picture of me as was on the pillow, she ignored us and went to handle other customers.

When we spoke to Eric I told him I wanted to see the contract. He didn't have physical copies so he instead showed us a digital on on his phone, which showed my name and email typed up, not an actual signature. My boyfriend asked for a physical copy, and this was the only one we were shown. He gave me one of the pillows as a "freebie" and stashed away the two other pillows of my likeness, as well as told me I was, "Popular".
You can see how this might be disconcerting. Even if, and looking at the legal letter examples it's a big "if", the company was legally in the right, you could see how someone might have an issue with pillows, front and back, being sold in this fashion.,
2 Images Solutions has now ceased making any more such pillows and offering them for sale to anyone other than the cosplayer themselves. Especially considering the spectre of the pillows potentially having including underage cosplayers being raised….
It is also quite possible that this was a hideous mistake done with the very best of intentions. But… dude. Seriously.
Enjoyed this article? Share it!