'Future Classic' Cult Sci-Fi Series Ballistic Hits Trade This Week
From Black Mask Studios comes cult favorite sci-fi book, Ballistic. Written by upcoming filmmaker Adam Egypt Mortimer (In Time: The Minutes, Some Kind Of Hate), with art by Darick Robertson (Transmetropolitan, The Boys, Happy!), and colors by Diego Rodriguez, Ballistic has something to say. With a combination of smart, funny, original, and disturbing writing, the book is sure to make a mark on the industry.
Publishers Weekly calls it "a future classic."
Screenwriter Adam McKay adds:
Ballistic is such an original world. I haven't seen bio-tech done this well since Cronenberg's Existenz. I was in immediately.
Ballistic centers on an adventure about a man named Butch and his best friend Gun, who is a drug-addicted, genetically–modified, foul-mouthed firearm. Their goal: to elevate Butch from air conditioner repairman to master criminal. The result is a twisted post-eco-apocalyptic tale sure to entertain all who come across it. Writer Adam Egypt Mortimer, welcomes us to Repo City State, "where everyone's an asshole… even the air conditioners." The sassy description alone is enough to intrigue me. It's clear that the book will be a captivating read. When I glanced at the cover, which is illustrated by Sonia Harris & Darick Robertson, I fell in love with the simplistic design. I look forward to experiencing the series for myself. Ballistic is set to hit stores on April 22nd.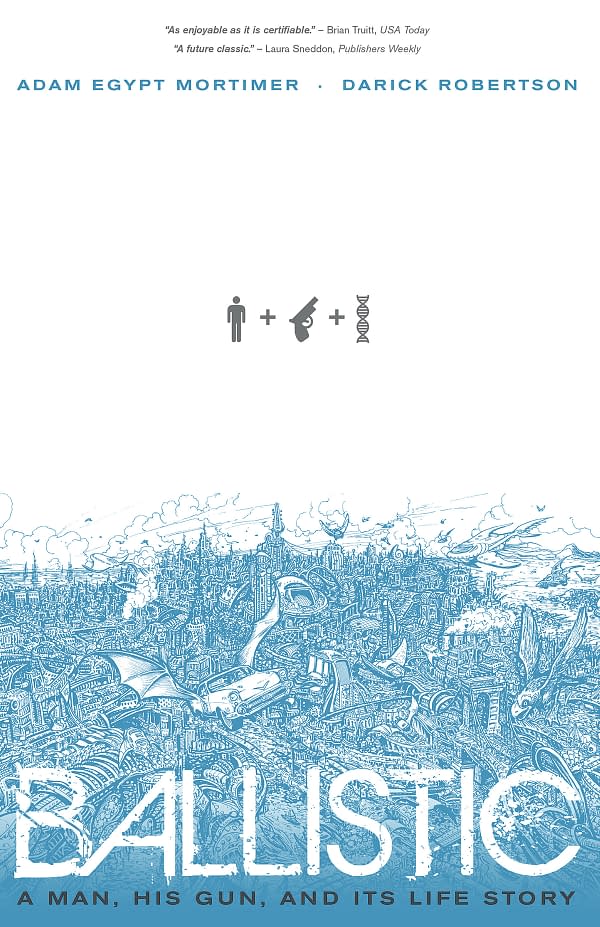 Christine Marie is a Staff Writer at Bleeding Cool, and bibliomaniac with a love for all things creative. She hopes to one day be a Superhero/Disney Princess/Novelist. You can find her on Twitter and Instagram @AWritersWay or on her blog writerchristinemarie.wordpress.com.