Cycling Through Extinction Rebellion on a Morning in London (VIDEO)
As mentioned yesterday, Jamie Hewlett's icons and designs for the Extinction Rebellion protest, happening in London this week as well as many other locations around the world, went up on the side of the Houses of Parliament last night.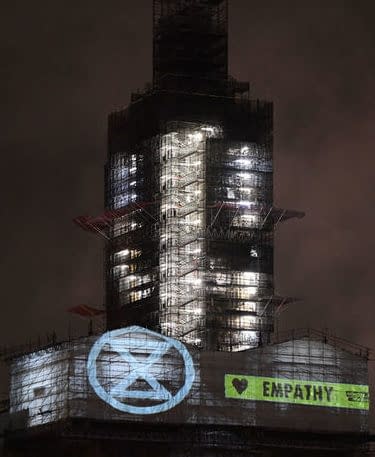 This morning it was a little light for that, but I cycled through the closed-off streets past Parliament and up into Trafalgar Square, filming as I went. The video is below. Watch out London comic shop visitors, it may be harder for the likes of Gosh, Orbital and Forbidden Planet to get their comics up on shelves on tine tomorrow, might be worth checking ahead.
But I thought I'd film a quick cycle through on a very environmentally friendly Boris bike – as I was contemplating buying this week's stack of non-recycled paper comics, using toxic ink, flown across the Atlantic. Well, at least they won't get dumped in the landfill… not all of them anyway.