Daredevil #604 Review: No One Expects the Order of the Dragons
Father Jordan expels the poison cloud from Mayor Matt Murdock's lungs, and he explains to the recovering Matt the order from which the Father hails. It is called the Order of the Dragon, and they fight supernatural threats like the Hand. They have been doing so for centuries, and he has more members on their way to help save New York. Daredevil takes Jordan's offer for help and makes one last push for the Beast's stronghold.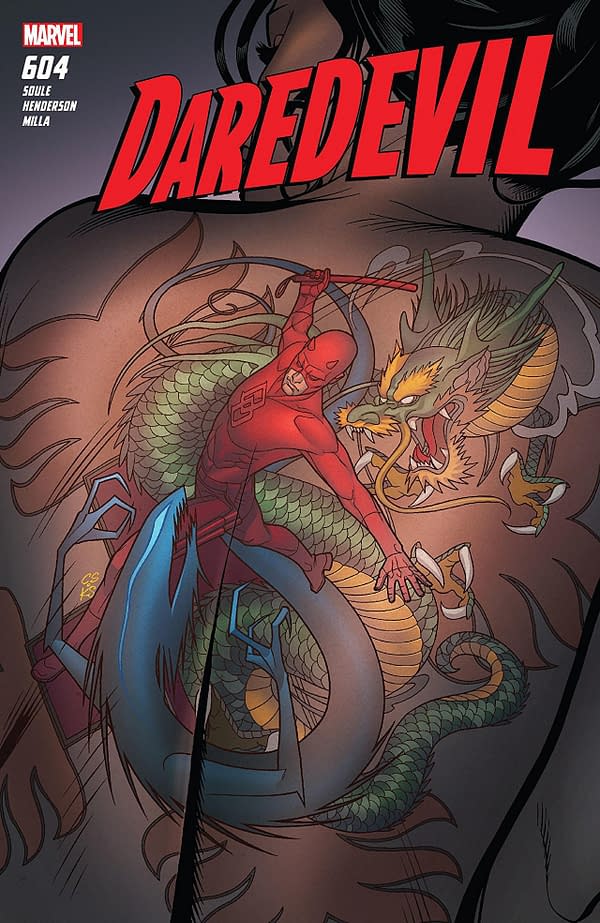 This goes without saying, but the Order of the Dragon is a ridiculous plot twist to throw into this story. It stinks a little of Deus ex Machina, and yet…it's kind of ridiculously awesome.
Father Jordan was a cool character for the few times he showed up so far in Charles Soule's Daredevil run. Making him some kind of demon-hunting warrior priest is so far out of left field that I can't help but like it. I completely understand that it may bother some, but I'm 100% okay with it.
The comic does spend more time than necessary explaining the Order's backstory, and it bogs down the pacing. However, once the fight begins in the second half, it satisfies. The ending twist adds an interesting yet not unexpected monkey wrench into the proceedings too.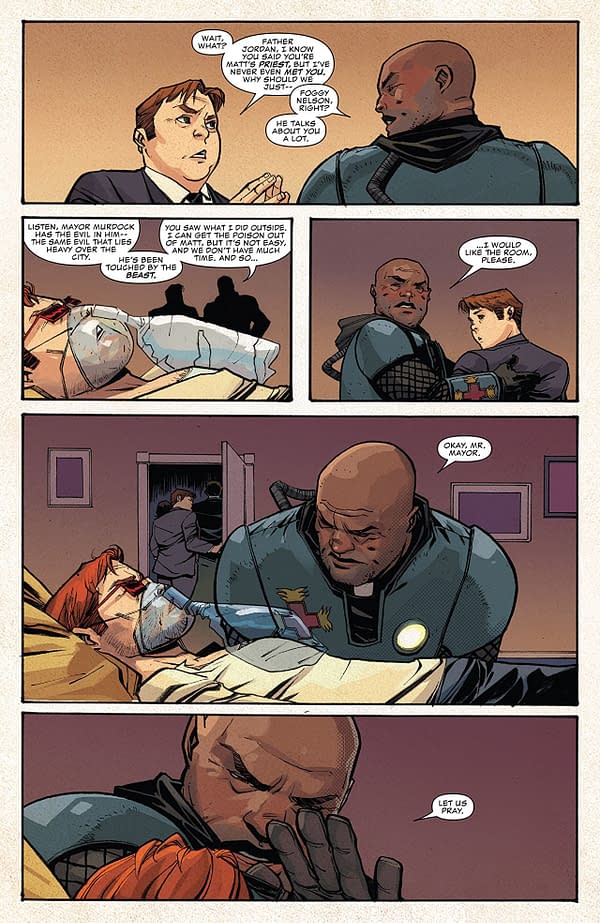 Mike Henderson doesn't disappoint with the art in this installment. The cartoonish hyperbolic style bears the ridiculousness of the plot twist well, and it still gives a lot of visual personality to Matt, Jordan, Foggy, and the rest of the characters. The color art of Matt Milla adds that right mixture of bright and darker shades to balance the conflicting tones of the story, and it looks good.
Daredevil #604 is a ridiculous installment to an already wild story. It introduces an element so far out there that it's hard to dislike it. It slows the pacing for sure, and the issue isn't great. That said, it's still fun, and I can recommend it, even if it's not what I would call necessary reading for the week. Feel free to check it out though.