Posted in: Comics, Marvel Comics, Review | Tagged: charles soule, daredevil, defenders, frank mcgee, Hammerhead, inhumans, Marvel Comics, matt murdock, nur, phil noto, sci-fi, superheroes
---
Daredevil #606 Review: A Solid Comic Built on a Shaky Premise
Hammerhead attempts to rob a bank in midtown, and Daredevil arrives to stop it. As it turns out, Hammerhead's men are armed with nail guns. Things seemed to be on their way to wrapping up when Hammerhead's men take hostages from the on-lookers of the battle. Matt must save them. The story then jumps back, and we see Daredevil coordinating with Frank McGee to expose Kingpin's election fraud.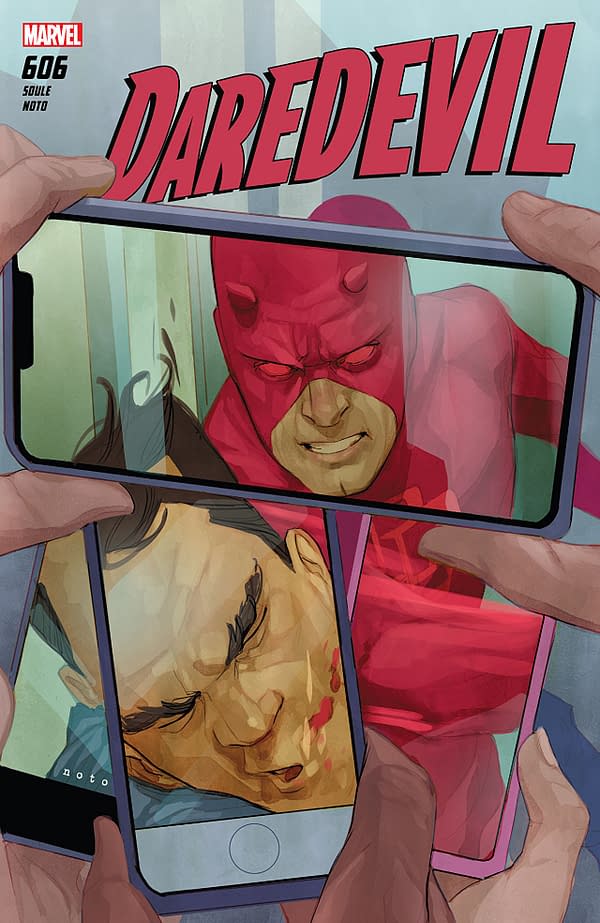 Daredevil #606 more-or-less starts a new arc for the title. We are still dealing with Mayor Fisk, but the angle has changed. Plus, we have Matt trying to stay on top of the other heavy hitters making plays across the city.
I thought it was a bit goofy at the end of last issue that Wesley straight up copped to election fraud in casual conversation, and this is how this story has kicked up. I'm also not a fan that Fisk was elected through straight up fraud. I get the not-so-subtle parallel to actual elected officials and the pertinence of that context; regardless, it would make for a better story if Fisk was elected legitimately by New York city.
That aside, the Hammerhead headliner is a good bit of fun, and Charles Soule is good at writing Frank McGee and Daredevil as partners. All in all, this book is a good bit of fun.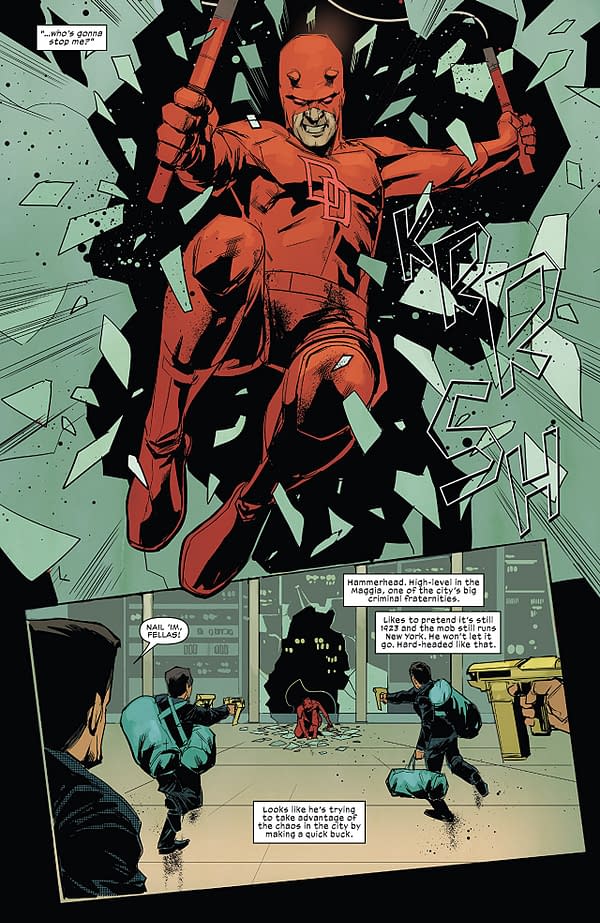 Phil Noto is a welcome addition to the book. He has a good way of emulating that noir visual style that many talented artists have attributed to this book over the years. The page included above especially shows how damn good he is at drawing the Man Without Fear. That level of quality holds throughout the comic, and his pale shades contrasted by heaving shadow make for a great aesthetic.
Daredevil #606 may be built on some less-than-optimal storytelling, but the issue itself holds together well. We get to see Matty tangling with Hammerhead and nail guns, and we get to see the return of some solid characters from Soule's own Inhumans titles. This one is worth a read. Check it out.
---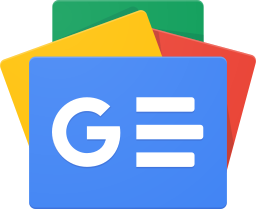 Stay up-to-date and support the site by following Bleeding Cool on Google News today!