Dark Ark #1 Review: Monsters Come Flooding In
[rwp-review id="0"]
It's safe to say that most know the story of Noah sent to build an ark and fill it with two of each kind of animal. But what about the mythical creatures of the world? The goblins, vampries, naga, and yes, even unicorns? In Dark Ark, we meet the man who is tasked with saving all that which is considered "evil" in the world.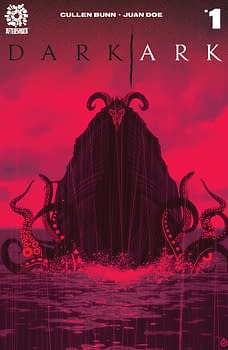 Our main character, Shrae, is not a good guy, and there are no false pretenses that he's doing the right thing. Instead, he's painted very clearly as a man who has made some bad choices and is desperate to keep his family from paying the price — even at the cost of working with a mysterious demon like entity.
One of the things that's nice about Shrae is that no one tries to set him up as an all-knowing dark lord or someone edgy and unfeeling. He's obviously frustrated and as frightened as the rest, but is just unable to show it for fear of mutiny. While he might have been powerful in the past, his grip on his crew is steadily loosening. He's a very human character, as are his children. Their interactions with the monsters on board and the sacrifices chained beneath deck are natural and very telling of who they are without coming across as being spoon-fed to you.
Dark Ark does spell out its story for you, but luckily, it's far from ham-fisted in its approach. It's set at an appropriate time and within a good setting. Shrae's explanation sounds more like a father rebuking his children than a nod towards the audience,, thanks to Cullen Bunn's skilled writing.
The ark could easily feel cramped, given what little there is to work with in regards to scenery, but the full-to-bursting atmosphere is utilized well. Panels are given an extra layer of tension when you realise just how close to each other these man-eating beasts truly are. It's only a matter of time before tempers boil over and tragedy strikes, especially with the lack of trust among passengers.
Each scene that focuses on the myriad of beasts draws your attention instantly with their bright, grotesque coloring. Between Juan Doe's sharp angled design for each monster and the otherworldly palette, there is a true sense of unease when they come into view. Starting with sepia toned panels in the beginning of this issue only to be confronted with such a wide variety of colors is a real treat. Because of this, the monsters feel supernatural without being cheesy.
If you're a fan of the supernatural, you need to give this book a try. You can pick up Dark Ark for $3.99 starting September 20th.