All Hail Xerxes- The Return of Frank Miller to 300: Dark Horse April 2018 Solicits
Frank Miller returns to 300 with Xerxes: The Fall of the House of Darius and the Rise of Alexander. Plus, Jeff Lemire continues the saga of Black Hammer, and Gabriel Hardman kicks of Aliens: Dust to Dust. All this comes in April courtesy of Dark Horse Comics. Details Below.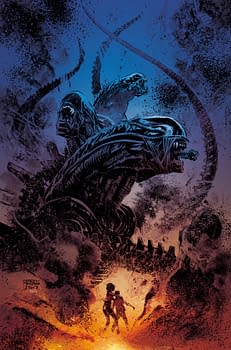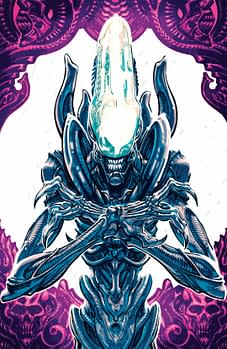 Aliens: Dust to Dust #1 (of 4)
Gabriel Hardman (W/A/Cover) and Carlos D'Anda (Variant cover)
On sale Apr 25
FC, 32 pages
$3.99
Miniseries
The Trono colony on LV-871 is under attack. Emergency evacuations are ordered. Evac shuttles are taking off. All twelve-year-old Maxon and his mom have to do is make it to the spaceport. Except between them and it are . . . Aliens!
A terrifying coming-of-age story by master storyteller Gabriel Hardman.
Gabriel Hardman storyboarded the films Batman: The Dark Knight Rises, Logan, Dawn of Planet of the Apes, and many others!
A reexamination of why we fear the Aliens!
On sale in time for Alien Day (4/26)!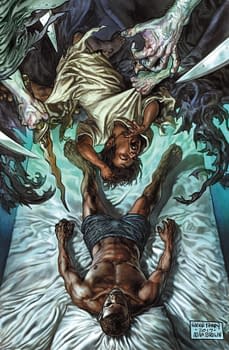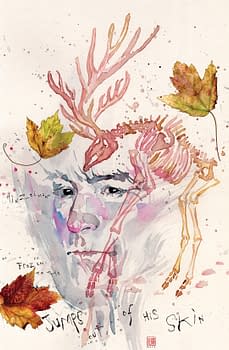 American Gods: My Ainsel #2
Neil Gaiman (W), P. Craig Russell (W/A), Scott Hampton (A/C), Glenn Fabry (Cover), Adam Brown (Cover), and David Mack (Variant cover)
On sale Apr 11
FC, 32 pages
$3.99
Ongoing
The bizarre road trip across America continues as our heroes gather reinforcements for the imminent god war!
Shadow arrives in Lakeside, a small town with more snowdrifts than residents. As he is welcomed by the town's denizens, Shadow becomes more and more drawn into the warmth and safety of his alter ego, Mike Ainsel.
The Hugo, Bram Stoker, Locus, World Fantasy, and Nebula Award–winning novel and hit Starz television series by Neil Gaiman is adapted as a comic series!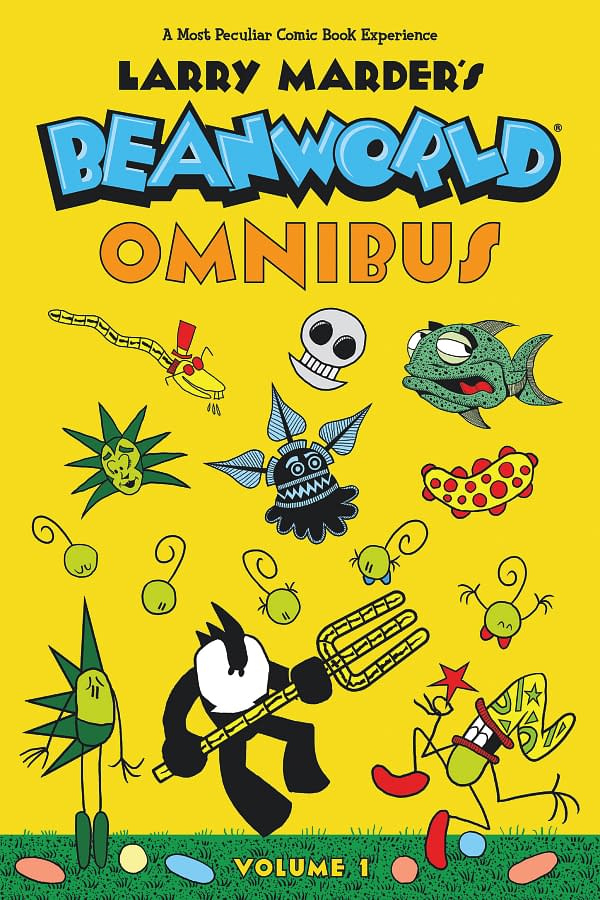 Beanworld Omnibus Volume 1 TP
Larry Marder (W/A)
On sale June 27
FC, 600 pages
$24.99
TP, 6" x 9"
The iconic inhabitants of Larry Marder's unique Beanworld universe are introduced in this complete collection of the Beanworld comic-book run! Join Mr. Spook, Professor Garbanzo, Beanish, and many others as they experience adventures in their world that prove, whether friends or adversaries, they are all ultimately dependent on each other for survival. Marder's deceptively simple artwork illustrates a self-contained ecological fantasy realm with its own unique rules, truths, and lingo. Collects issues #1–#21.
The complete run of Larry's Marder's twenty-one Beanworld comics!
"A deceptively simple title but thoroughly enjoyable, Beanworld regularly broaches themes of religion, environmentalism, industry, sociology, and even the inherent nature of art as part of the ongoing struggles of the beans and how they come to understand the world around them and each other."—New York Journal of Books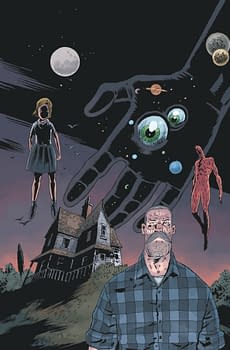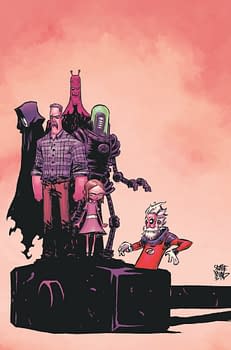 Black Hammer: Age of Doom #1
Jeff Lemire (W), Dean Ormston (A/Cover), Dave Stewart (C), and Skottie Young (Variant cover)
On sale Apr 18
FC, 32 pages
$3.99
Ongoing
The Eisner Award-winning superhero saga returns!
Picking up immediately where we left off—Lucy Weber has become the new Black Hammer and right as she's about to reveal to our heroes how they got stuck on the farm and can escape she vanishes. Now our new Black Hammer finds herself trapped in a gritty world filled with punk rock detectives, emo gods, anthropomorphic humans, absurdist heroes, and many more weirdoes, in a mad world in which there is no escape!

Winner of the Eisner Award for Best New Series!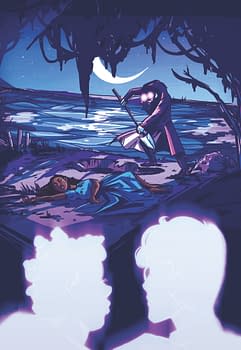 Joss Whedon! Erika Alexander!
Buffy the Vampire Slayer: Giles #3 (of 4)
Joss Whedon (W), Erika Alexander (W), Jon Lam (A), Dan Jackson (C), Steve Morris (Cover), Arielle Jovellanos (Variant cover)
On sale Apr 25
FC, 32 pages
$3.99
Miniseries
Love is complicated. For a guy and a girl, both aware the other is keeping secrets, they shouldn't even consider love. But for Giles and Roux there hasn't been a choice: uneasy allies, they've been falling in love while working together against a demon. But "trying" to trust one another isn't working anymore. Roux will finally tell Giles her secrets . . . or he may have to kill her.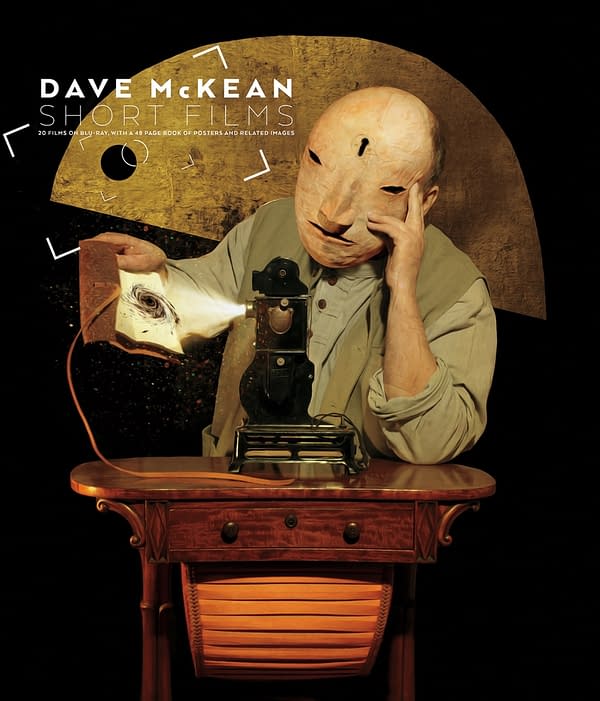 Dave McKean: Short Films HC
Dave McKean (W/A/Cover)
On sale June 27
FC, 80 pages
$24.99
HC, 9 1/2" x 11"
Best known for his work with Neil Gaiman and his Harvey Award-winning graphic novel Cages, comes this Blu-ray collection of Dave McKean's surreal short films collected in a behind the scenes hardcover book.
Dark Horse proudly presents Dave McKean's short cinema on Blu-Rray included in a 9 1/2" x 11" hardcover book featuring photos, posters, stills, drawings, and more. A must-have for McKean fans!
Foreword by Michael Sheen!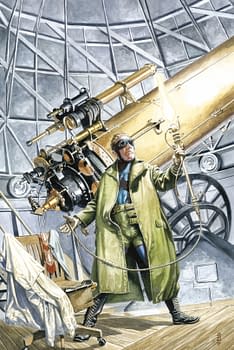 Doctor Star & The Kingdom of Lost Tomorrows: From the World of Black Hammer #2 (of 4)
Jeff Lemire (W), Max Fiumara (A/cover), Dave Stewart (C) JG Jones (Variant cover)
On sale Apr 4
FC, 32 pages
$3.99
Miniseries
Astral crime fighter Doctor Star discovers a sprawling alien city that desperately needs his help to defend itself against a powerful intergalactic space monster!
Ties directly into the Eisner-Award winning Black Hammer comic books series and is written by main writer Jeff Lemire.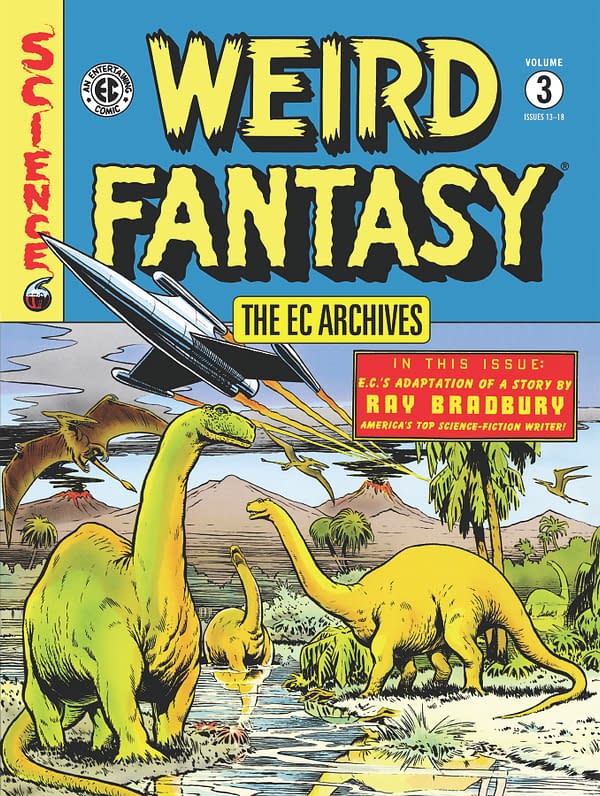 EC Archives: Weird Fantasy 3 HC
Bill Gaines (W), Al Feldstein (W/A), Frank Frazetta (A), Wally Wood (A), Jack Kamen (A), Joe Orlando (A), Al Williamson (A), Carlos Badilla (C), and more
On sale June 13
FC, 216 pages
$49.99
HC, 8" x 11"
One of the greatest sci-fi comics ever published now collected! This wonderful and strange volume collects issues #13–#18 of the groundbreaking comics anthology—remastered in glorious digital color! Featuring amazing tales from iconic writers and artists including Al Feldstein, Frank Frazetta, Wally Wood, Jack Kamen, Joe Orlando, Al Williamson, and more!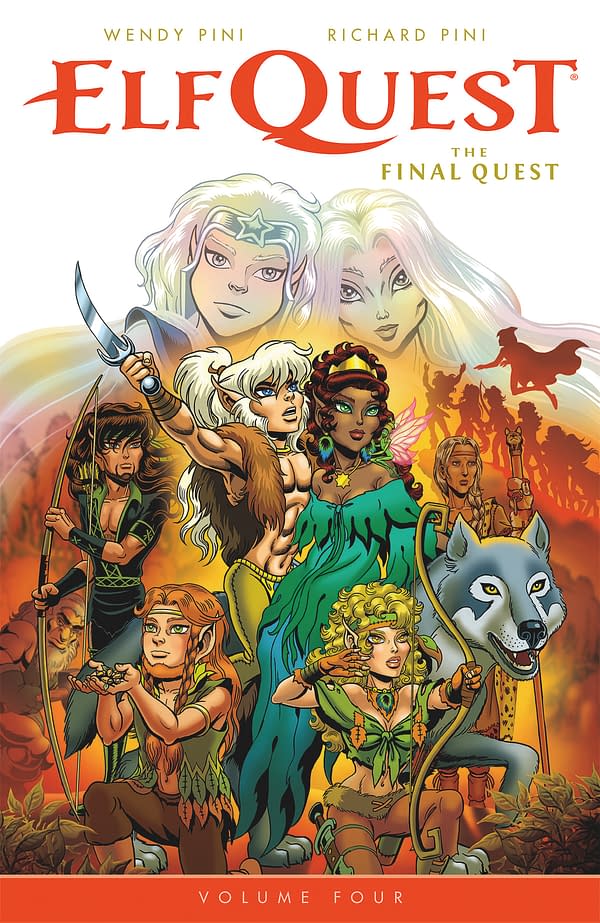 ElfQuest: The Final Quest Volume 4 TP
Wendy Pini (W/A/Cover), Richard Pini (W), and Sonny Strait (C)
On sale June 27
FC, 160 pages
$17.99
TP, 7" x 10"
A tribe of elves navigates friendships and dangerous enemies in a fantasy world of goblins, dwarves, fairies and humans!
This is it—the startling conclusion to the most world-changing chapter in all of ElfQuest: Final Quest! It is time for the Palace of the High Ones to return the elves of the World of Two Moons to their original Star Home, but not all have chosen to go. As human invaders threaten the sacred Father Tree itself, in the heart of the Wolfriders' home, freedom of choice comes with a terrible price. Volume 4 collects issues #19–#24 of The Final Quest.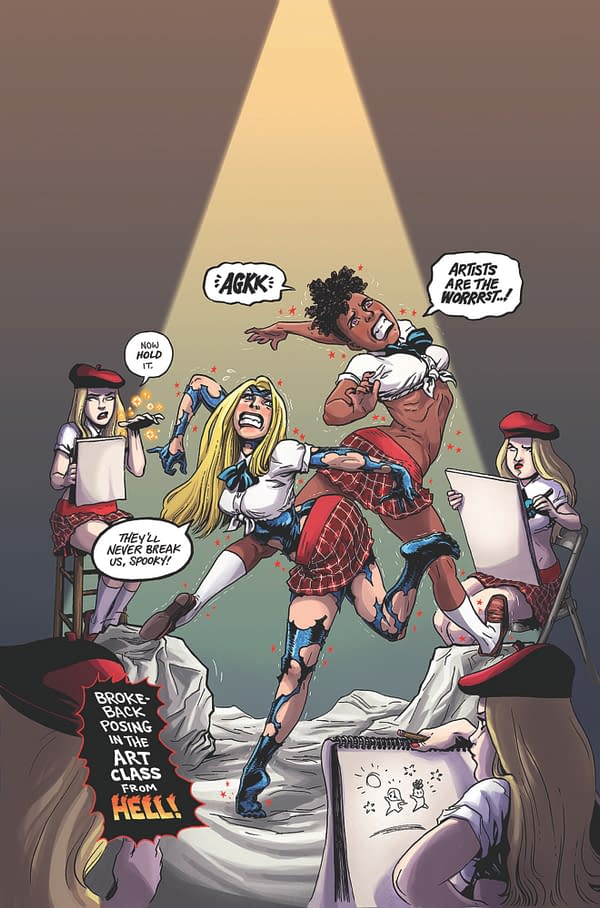 Empowered & Sistah Spooky's High School Hell #5 (of 6)
Adam Warren (W), Carla Speed McNeil (A/Cover), and Jenn Manley Lee (C)
On sale Apr 25
FC, 32 pages
$3.99
Miniseries
While the embattled Empowered and Sistah Spooky struggle through the high-school hellscape's final, grueling classroom deathtraps, the ruthless "Game of Blondes" among Spooky's quite literally soulless ex-classmates reaches a crescendo of violence and treachery—and "levels-up" the survivors to near-godlike status! Look out, Emp and Spooky! Like, yikes!
Artist Carla Speed McNeil is the acclaimed creator of Finder and artist of No Mercy, Queen and Country, and many more.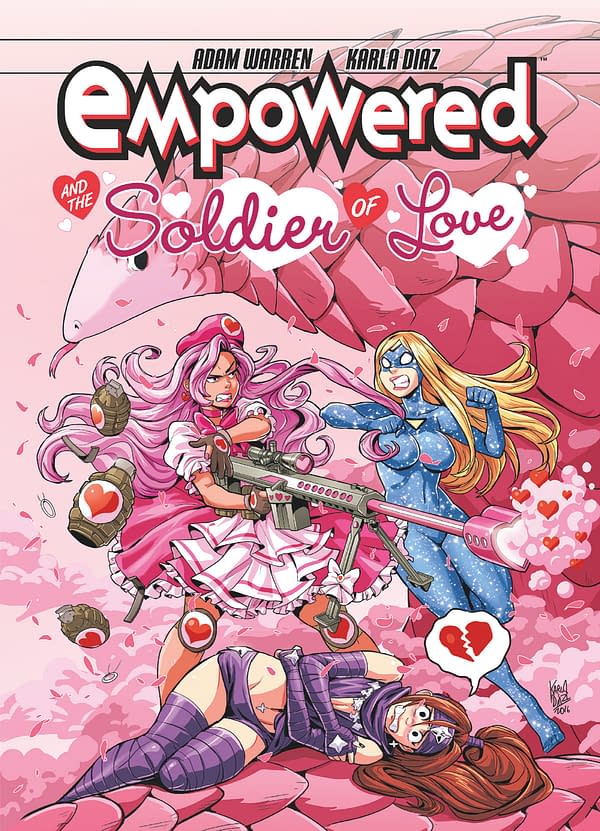 Empowered and the Soldier of Love TP
Adam Warren (W) and Karla Diaz (A/Cover)
On sale June 20
FC, 128 pages
$17.99
TP, 6" x9"
Crimefighters Empowered and Ninjette struggle with a superhero community fatally inflamed by rampant romance, courtesy of the passion powers of embittered "magical-girl" The Soldier of Love. If she prevails, love is toast! Collects Empowered and the Soldier of Love #1–3 plus Adam Warren's "Pew! Pew! Pew!" Empowered one-shot.
Art by webcomic superstar Karla Diaz and Adam Warren!
Over 150,000 Empowered graphic novels in print!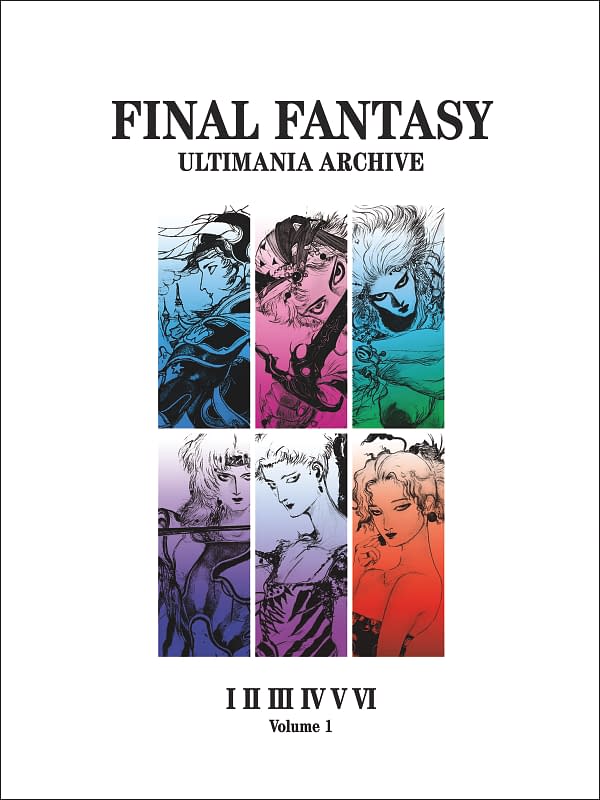 SUMMON THE SUPERLATIVE FINAL FANTASY READING EXPERIENCE!
Final Fantasy Ultimania Archive Volume 1 HC
Square Enix (W)
On sale June 5
FC, 336 pages
$39.99
HC, 8 1/2" x 12"
Dark Horse and Square Enix are thrilled to offer the first of three volumes celebrating the entrancing lore and exciting development of the initial six entries into the Final Fantasy saga. This astonishing journey through the creation of the seminal roll playing epic is finally available in English under official license for the first time ever!
Collecting art, commentary, and retrospectives from the first six Final Fantasy games.
Celebrating one of gaming's most historic franchises!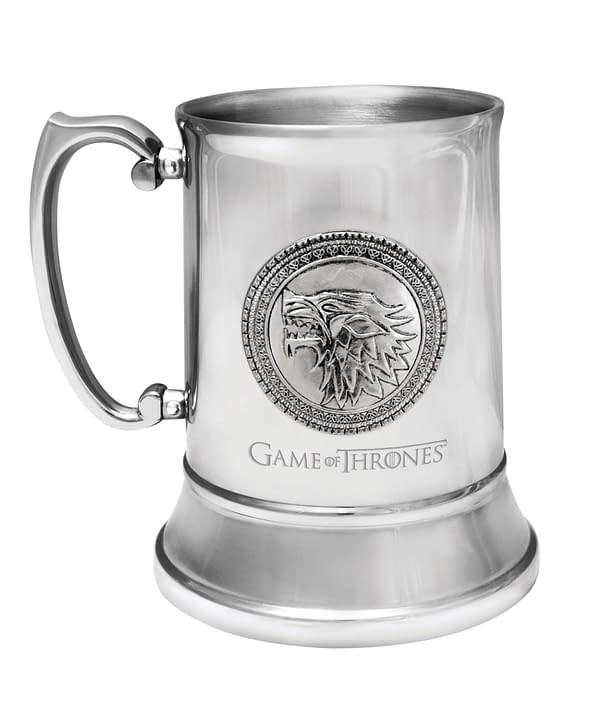 Game of Thrones Stark Stainless Steel Stein
On sale July 25
$39.99
Whether it be mead, ale, or cider you're drinking, you can show where you stand in the Great War with this stainless steel stein, adorned with the House Stark sigil. This stein holds 16oz and comes packaged in a full color box.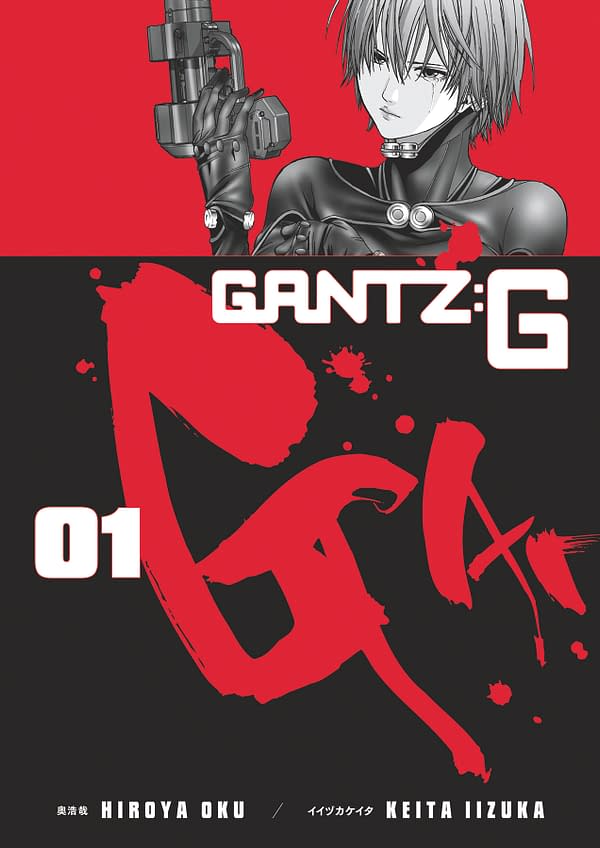 EVEN THE DEAD CAN DIE!
Gantz G Volume 1 TP
Horoya Oku (W) and Keita Iizuka (A/Cover
On sale June 13
b&w, 216 pages
$13.99
TP, 5 1/8" x 7 1/4"
Victims of a lethal bus plunge wake in a schoolroom where an ominous black sphere announces Your lives have ended. How you use your new lives is entirely up to me. Thus, a new Gantz team is sent to fight bizarre aliens that will show how the dead can die!
Popular anime series, live-action feature.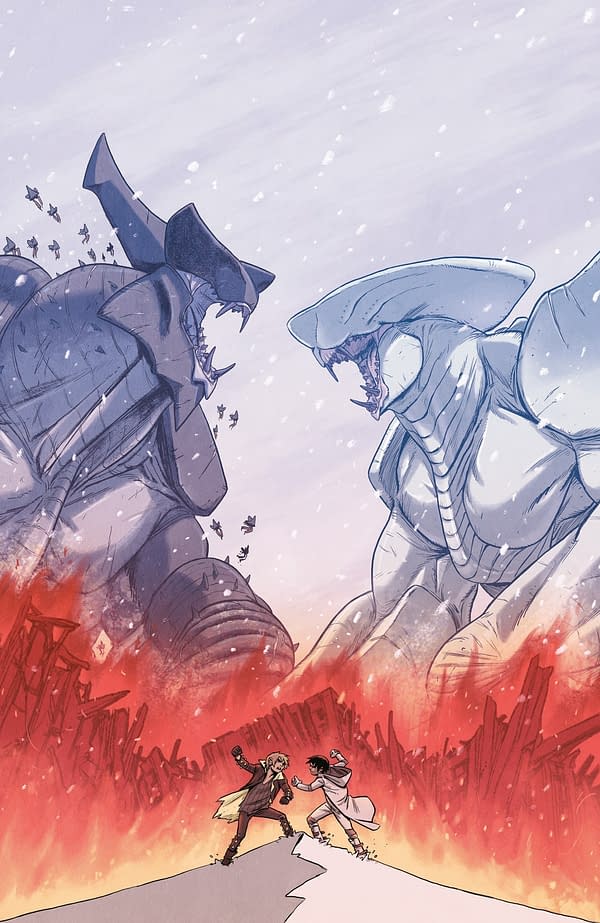 Giants #5 (of 5)
Carlos Valderrama (W) and Miguel Valderrama (A/Cover)
On sale Apr 11
FC, 32 pages
$3.99
Miniseries
Gogi and his adopted family face his former friend Zeedo and the gang he now controls. Against the backdrop of two giant monsters battling for supremacy, Gogi and Zeedo must determine which is stronger—brotherhood or ambition!
The deadliest monsters live in the heart.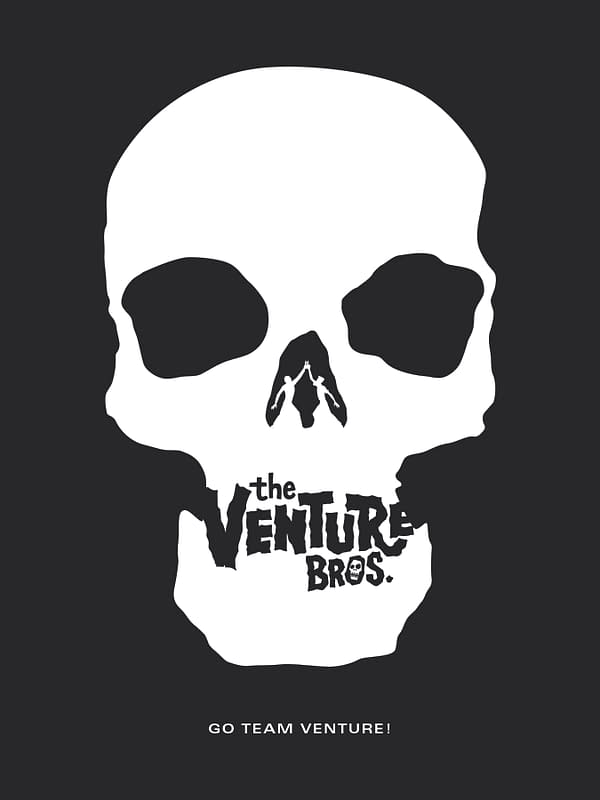 Go Team Venture! The Art and Making of the Venture Bros. HC
Jackson Publick (W/A), Doc Hammer (W/A), and Ken Plume (W)
On sale June 20
FC, 184 pages
$39.99
HC, 9" x 12"
Ken Plume sits down with series creators Jackson Publick and Doc Hammer to have a conversation about the creation of every single episode through season 6 and much more. From the earliest sketches of Hank and Dean scribbled in a notebook to pitching the series to Cartoon Network's Adult Swim, learning the ins and outs of animation, character designs for each season, storyboards, painted backgrounds, and behind-the-scenes recollections of how the show came together—it's all here.
Foreword by Patton Oswalt!
Featuring never-before-seen artwork from the hit Cartoon Network series!
Original sketches!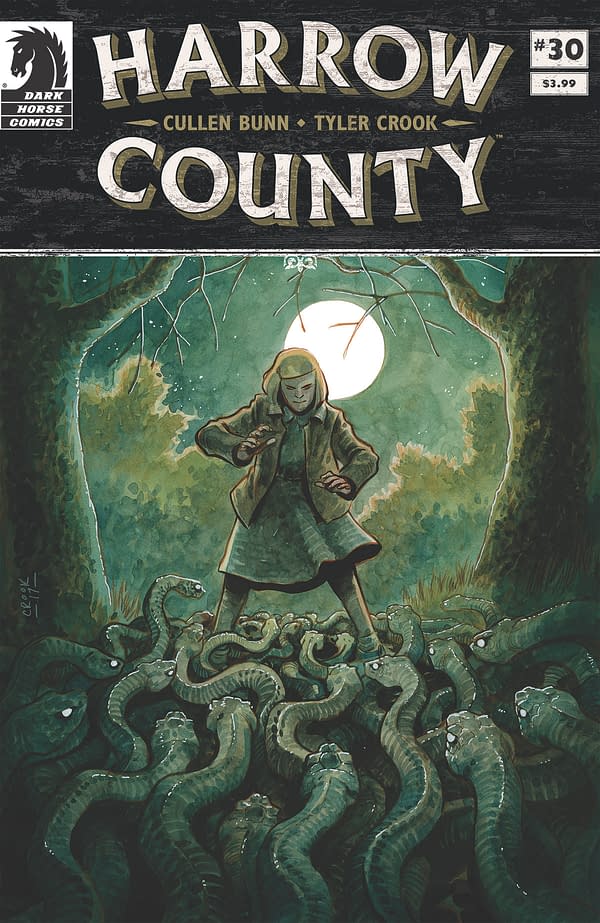 Harrow County #30
Cullen Bunn (W) and Tyler Crook (A/Cover)
On sale Apr 25
FC, 32 pages
$3.99
Ongoing
The evil witch has returned with more power than ever, intent on consuming Emmy and her magic in this final arc to the hit series!
"Few comics are as consistently well done as Harrow County. This is a riveting book that pulls you in hook, line, and sinker."—Horror Talk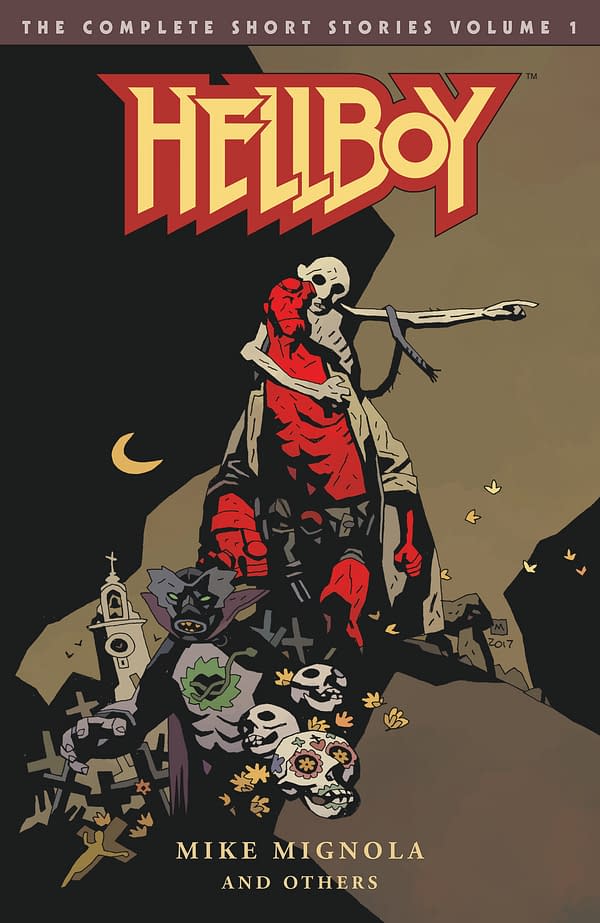 Hellboy: The Complete Short Stories Volume 1 TP
Mike Mignola (W/A/Cover), John Byrne (W), Richard Corben (A), Duncan Fegredo (A), Mick McMahon (A), Gabriel Ba (A), Fabio Moon (A), Matt Hollingsworth (C), James Sinclair (C), and Dave Stewart (C)
On sale June 13
FC, 368 pages
$24.99
TP, 7" x 10"
In 1994 Mike Mignola released the first Hellboy series, Seed of Destruction, as Hellboy faced his supposed destiny as Beast of the Apocalypse. Before that, he'd spent fifty years fighting monsters as a somewhat carefree member of the Bureau for Paranormal Research and Defense. The Complete Short Stories volumes 1 & 2 present those early adventures.
"The Crooked Man" and "Double Feature of Evil," both of which earned Mignola and his legendary collaborator Richard Corben Eisner Awards, are collected with the complete "Hellboy in Mexico" saga, featuring collaborations with Corben, Mick McMahon, Gabriel Ba, and Fabio Moon, as well as one of Mignola's early masterpiece, "The Corpse."
This 368-page volume covers Hellboy's adventures from 1947 to 1961.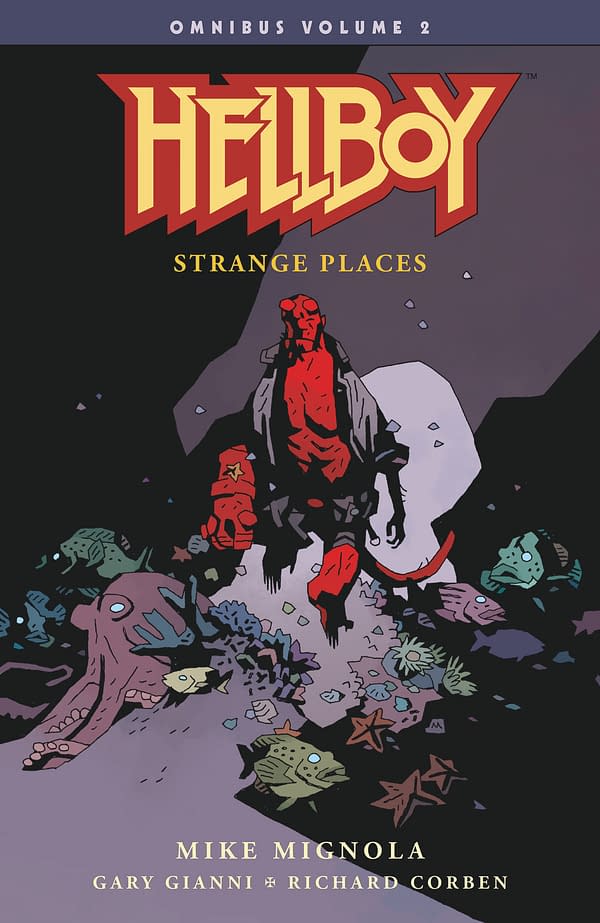 Hellboy Omnibus Volume 2: Strange Places TP
Mike Mignola (W/A/Cover), Gary Gianni (W/A), Richard Corben, (A), and Dave Stewart (C)
On sale June 20
FC, 416 pages
$24.99
TP, 7" x 10"
The four-volume Hellboy Omnibus series along with the two volumes of The Complete Short Stories collect all of Mignola's award-winning Hellboy stories in chronological order for a definitive reading experience.
This 416-page volume covers Hellboy's adventures from 1998 to 2005, reprinting Conqueror Worm, Strange Places, Into the Silent Sea, and "The Right Hand of Doom," "Box Full of Evil," and "Being Human" from The Right Hand of Doom and B.P.R.D.: Being Human.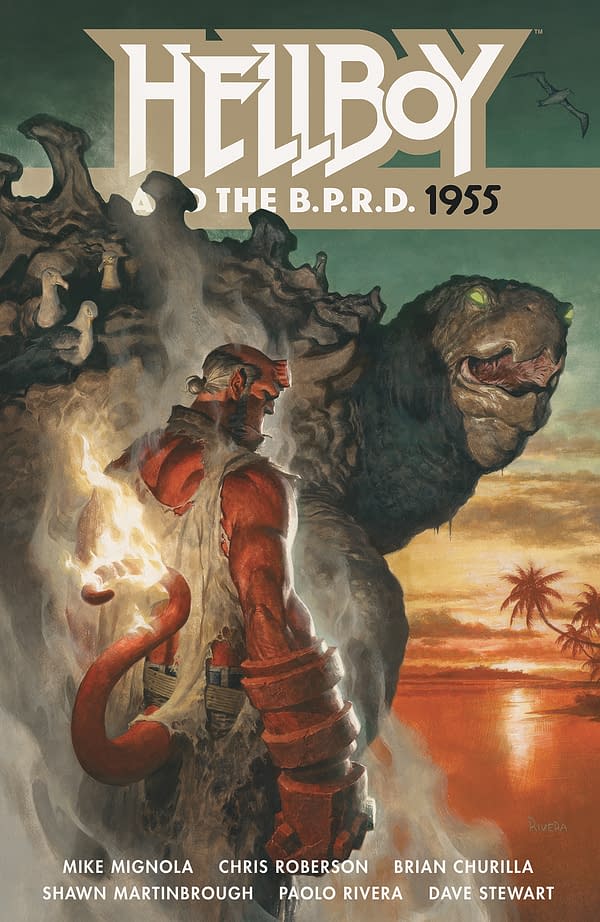 Hellboy And The B.P.R.D.: 1955 TP
Mike Mignola (W), Chris Roberson (W), Shawn Martinbrough (A), Brian Churilla (A), Paolo Rivera (P/Cover), Joe Rivera (I), and Dave Stewart (C)
On sale June 6
FC, 144 pages
$19.99
TP, 7" x 10"
Hellboy encounters unseen predators, strange cases of spontaneous combustion, and a weapon at an Air Force base that is more than it seems.
This volume collects Hellboy And The B.P.R.D.: 1955 – Secret Nature, Occult Intelligence #1-#3, Burning Season, the 1955 story from the Hellboy Winter Special, and bonus material!
"A story smoothly presenting characters and problems combined with visuals that create an authentic and fanciful past make this perfect reading."—SciFiPulse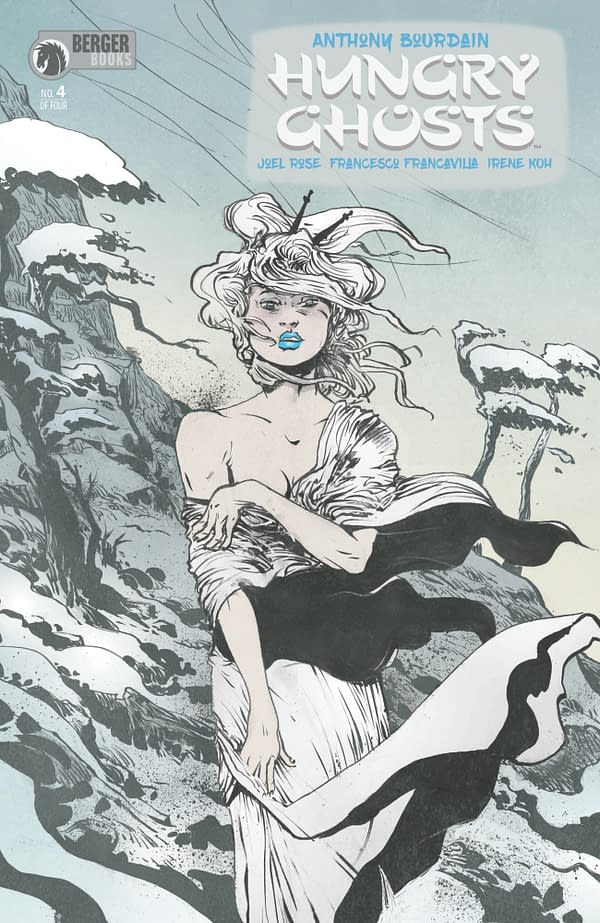 Hungry Ghosts #4 (of 4)
Anthony Bourdain (W), Joel Rose (W), Francesco Francavilla (A), Irene Koh (A), José Villarrubia (C), and Paul Pope (Cover)
On sale Apr 25
FC, 32 pages
$3.99
Miniseries
The last candles are lit and the final, most forbidden tales told in this shocking finale!
In the frozen Nigata Prefecture, a country cook learns discretion the hard way after an encounter with the cryptic, but irresistible Snow Woman, and Hungry Ghosts seal the insatiable fate of famine-stricken villagers in the most voracious, unthinkable way possible when a stranger comes to town.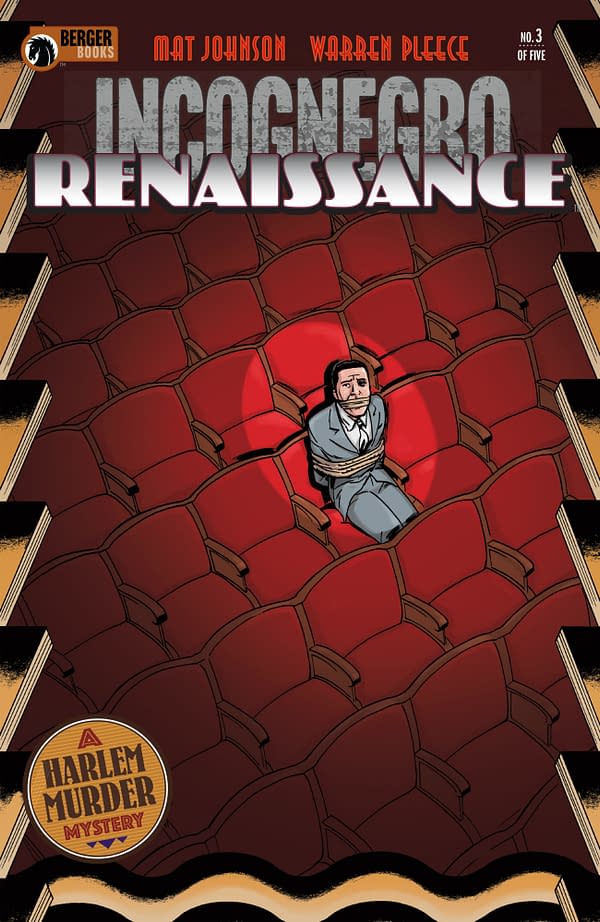 Incognegro: Renaissance #3 (of 5)
Mat Johnson (W) and Warren Pleece (A/Cover)
On sale Apr 4
b&w, 32 pages
$3.99
Miniseries
At Harlem's Cotton Club, the hottest scene in 1920s' New York, Harlem's cub reporter Zane Pinchback is on the hunt to find the femme fatale who left him for dead in the streets. To solve a murder, Zane must go "Incognegro," using his light appearance to enter this "white patrons only" club and find the true killer.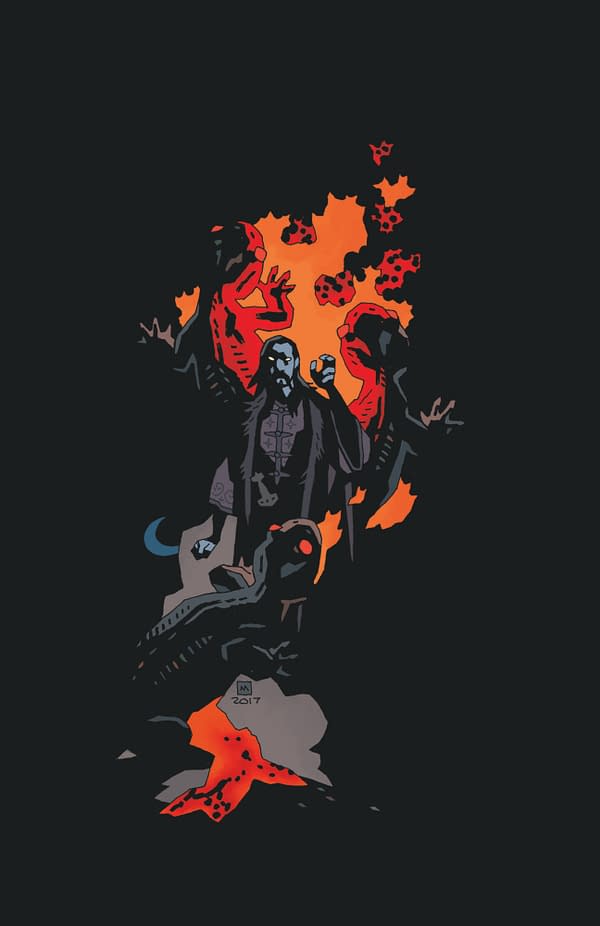 Koshchei the Deathless #4 (of 6)
Mike Mignola (W/Cover), Ben Stenbeck (A), and Dave Stewart (C)
On sale Apr 4
FC, 32 pages
$3.99
Miniseries
An encounter at a witches' Sabbath leads Koshchei down a road of betrayal, and in his revenge he comes face to face with the enemy he least expects.
Mignola returns to Hell and to the bizarre folklore that's filled some of his greatest books, reuniting with one of his favorite collaborators, Ben Stenbeck (Frankenstein Underground, Witchfinder: In The Service of Angels, Baltimore).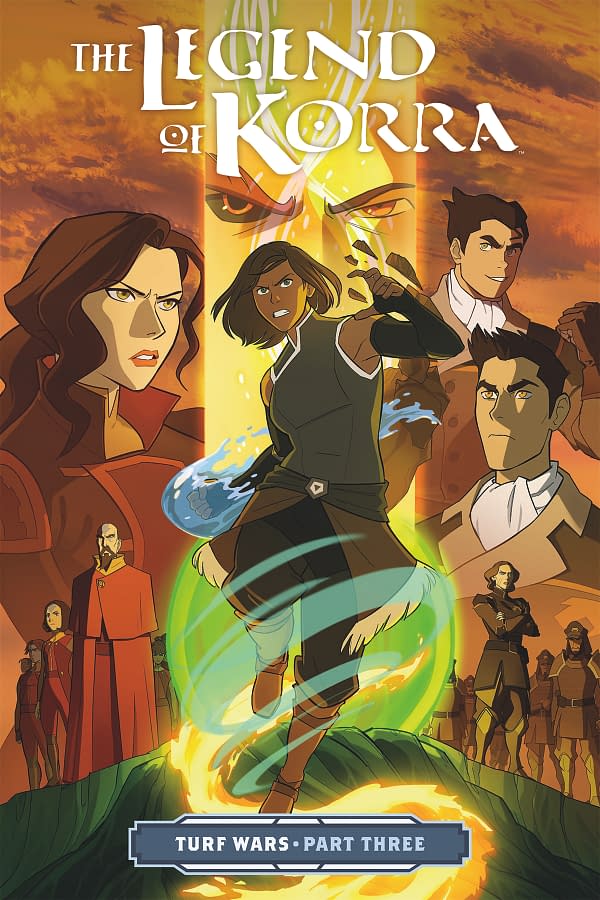 The Legend of Korra: Turf Wars Part 3 TP
Michael Dante DiMartino (W), Irene Koh (A), Vivian Ng (C), and Heather Campbell (Cover)
On sale June 13
FC, 80 pages
$10.99
TP, 6"x 9"
When Asami is kidnapped, Korra sets out to the Spirit Wilds to find her. Now teeming with dark spirits influenced by the half spirit-half human Tokuga, the landscape is more dangerous than ever before. The two women must trust in each other and work together if they are to make it out alive. Their fate is revealed in this stunning, action-packed conclusion to The Legend of Korra: Turf Wars!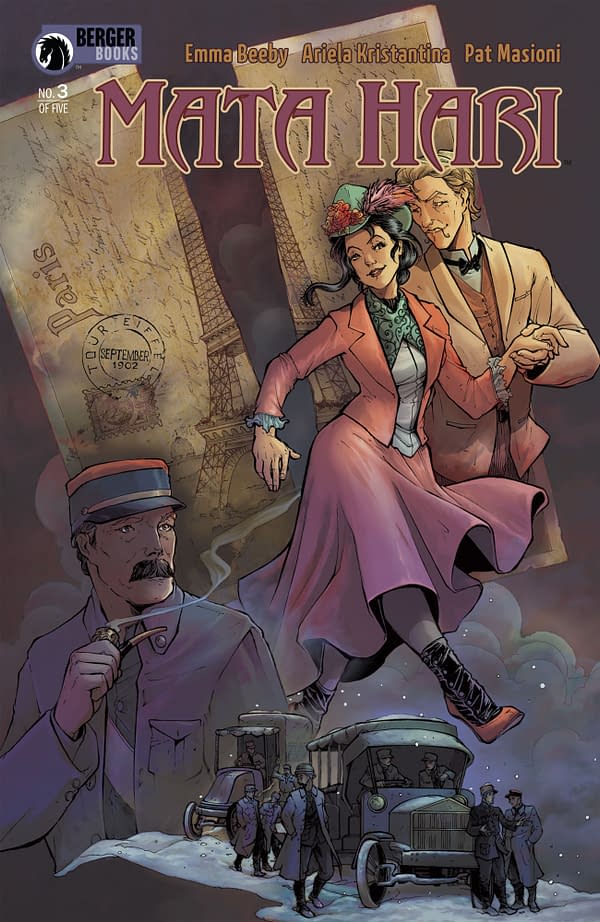 Mata Hari #3 (of 5)
Emma Beeby (W), Ariela Kristantina (A/Cover), and Pat Masioni (C)
On sale Apr 18
FC, 32 pages
$3.99
Miniseries
From Lady MacLeod to Lady Godiva. Mata Hari looks back at the death and despair that ravaged her life as a wife and young mother in the Dutch East Indies. After a few short years she leaves it all behind, changes her name, and heads to Paris, joining the Cirque. Mata Hari is born, and the world hasn't seen anything like her before.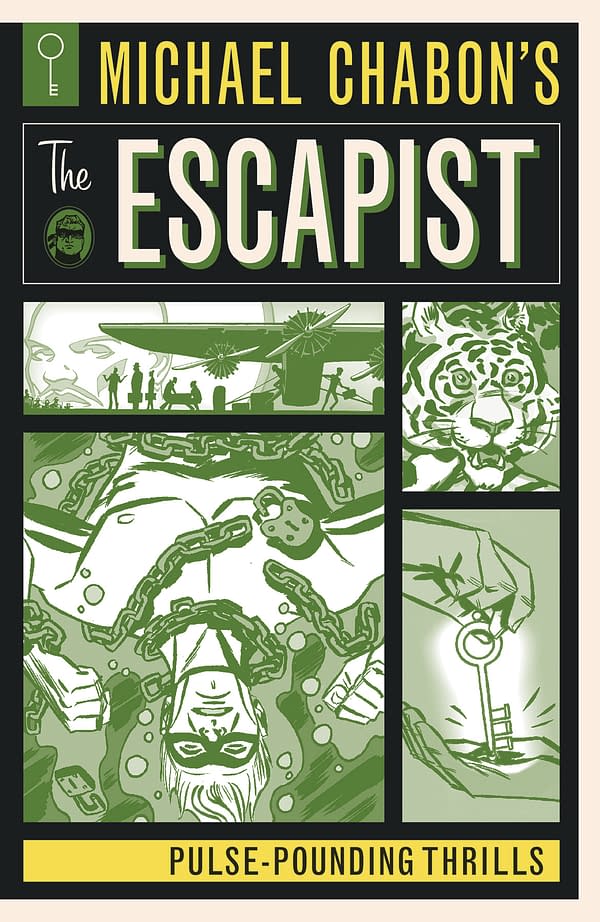 Michael Chabon's The Escapist: Pulse-Pounding Thrills TP
Michael Chabon (W), Howard Chaykin, Will Eisner (W/A), Matt Kindt (W/A), Jeffrey Brown (A), Eduardo Barreto (A),
and more!
On sale June 6
FC, 408 pages
$24.99
TP, 7" x 10"
Golden-Age superhero, the Escapist—master of elusion, and champion of liberation—was conceived in the fictional world of the Pulitzer Prize–winning novel, The Amazing Adventures of Kavalier & Clay. This comic book anthology collects a multitude of the Escapist's amazing adventures, including an encounter with Will Eisner's The Spirit!
Containing a total of twenty-two tales, along with three never-before-collected stories, this volume also contains five never-before-published stories, as well as a robust gallery of pinups celebrating the world of the Escapist!
Eisner and Harvey Award-winning series!
Inspired by the Pulitzer Prize–winning novel The Amazing Adventures of Kavalier & Clay by Michael Chabon.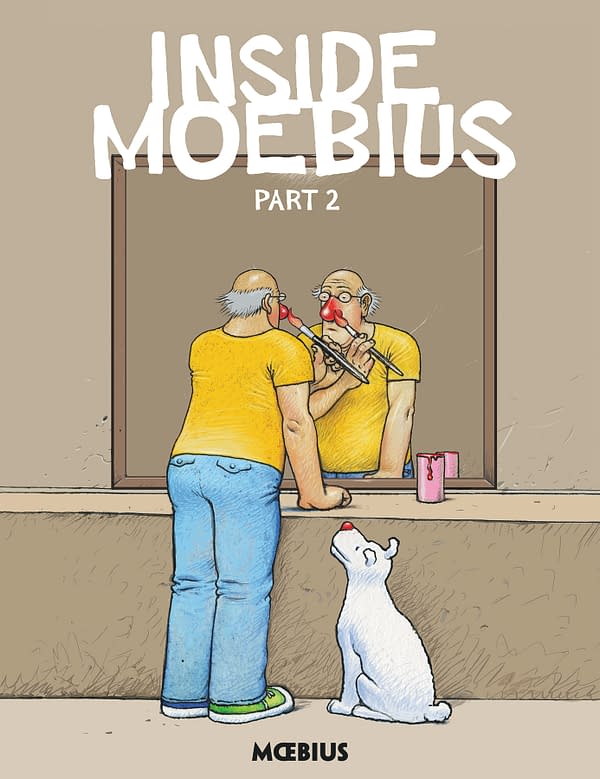 Moebius Library: Inside Moebius Part 2 HC
Moebius (W/A)
On sale June 6
FC, 248 pages
$39.99
HC, 8" x 11"
Actively exploring his storytelling methods within his own mind, Moebius draws himself encountering his favorite characters in an expansive desert setting. He interacts with Arzak, Blueberry, Stel, Atan, and others—and he also meets younger versions of himself! A self-reflective six-part study, Inside Moebius Part 2 collects the two middle chapters in this hilariously unique exploration of a creator over-analyzing his thought processes as he creates new comics.
"Here, the natural and the artificial overlap and converge, and science fiction and fantasy are blended together."—AV Club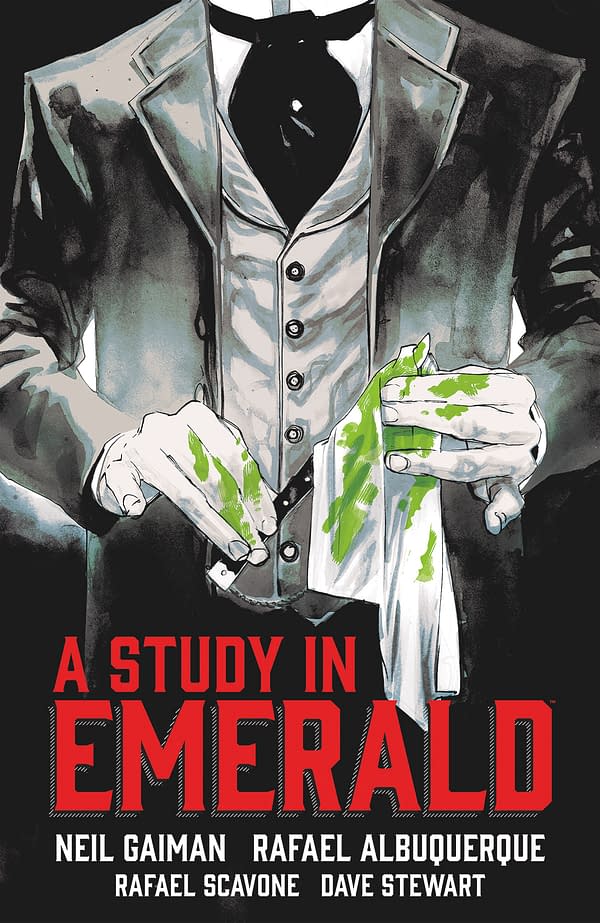 Neil Gaiman's A Study in Emerald HC
Neil Gaiman (W), Rafael Albuquerque (W/A/Cover), Rafael Scavone (W), and Dave Stewart (C)
On sale June 20
FC, 80 pages
$17.99
HC, 7" x 10"
This supernatural mystery set in the world of Sherlock Holmes and Lovecraft's Cthulhu Mythos features a brilliant detective and his partner as they try to solve a horrific murder.
This complex investigation takes the Baker Street investigators from the slums of Whitechapel all the way to the Queen's Palace as they attempt to find the answers to this bizarre murder of cosmic horror!
From the Hugo, Bram Stoker, Locus, World Fantasy, Nebula Award–winning, and New York Times bestselling writer Neil Gaiman comes this graphic novel adaptation with art by Eisner award winning artist Rafael Albuquerque!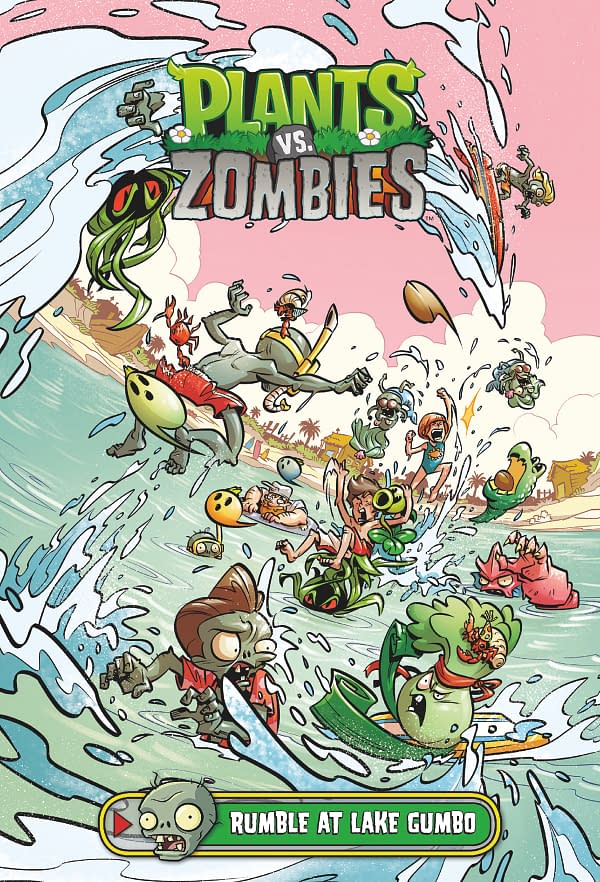 Plants vs. Zombies Volume 10: Rumble at Lake Gumbo HC
Paul Tobin (W), Ron Chan (A/Cover), Kevin Burkhalter (A), Christianne Goudreau (A), and Matt J. Rainwater (C)
On sale June 13
FC, 88 pages
$9.99
HC, 6" x 9"
The battle for clean water begins! As soon as Dr. Zomboss discovers Lake Gumbo near Neighborville, Gargantuars start posing on Muscle Beach, volleyballs bounce off bungee zombies, and Zomboss uses a giant underwater drill to muddy and pollute the lake! Neighborhood defenders Nate, Patrice, and Crazy Dave spot trouble and grab all the Tangle Kelp and Party Crabs they can to quell another zombie attack!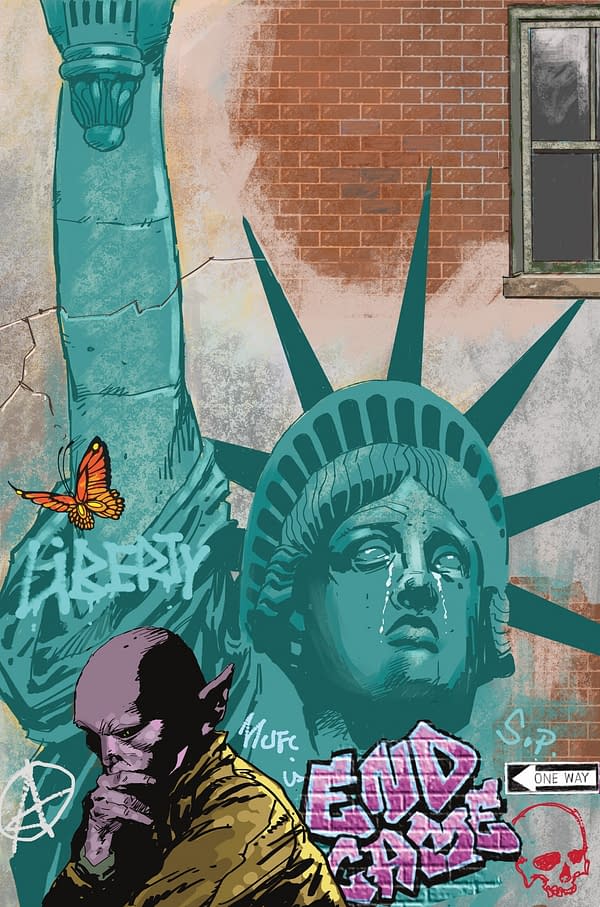 Resident Alien: An Alien in New York #1 (of 4)
Peter Hogan (W) and Steve Parkhouse (A/Cover)
On sale Apr 25
FC, 32 pages
$3.99
Miniseries
A stranded alien continues to hide in plain sight in Patience, Washington, posing as the small town's doctor. When a startling new mystery catches his attention, he takes a trip to New York City with one of his only human friends, a Native American shaman. Peter Hogan (2000 AD, Tom Strong) and Steve Parkhouse (Milkman Murders, Doctor Who) continue their unique, acclaimed science-fiction/murder-mystery series!
"Resident Alien is a refreshingly original take on the classic whodunit murder mystery formula."—Newsarama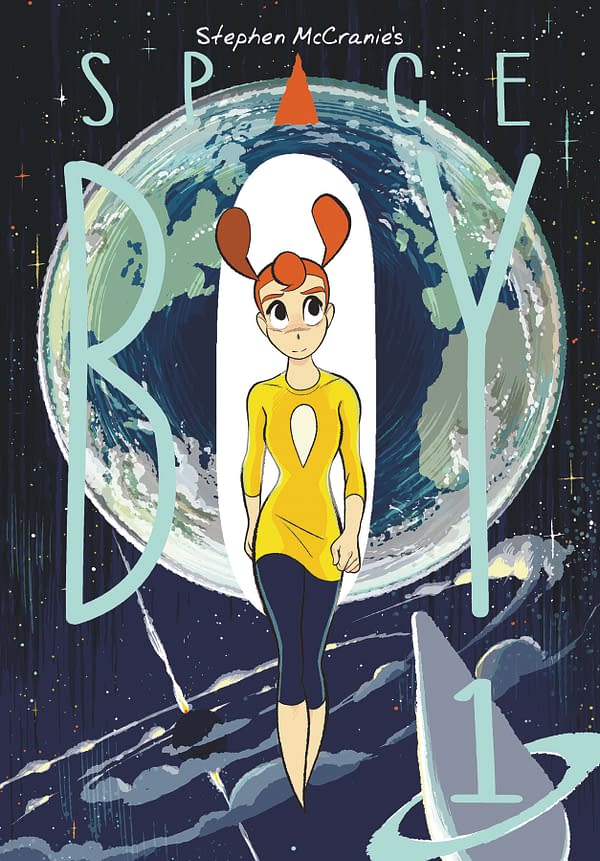 Stephen McCranie's Space Boy Volume 1 TP
Stephen McCranie (W/A/Cover)
On sale June 20
FC, 248 pages
$10.99
TP, 5 3/4" x 8 1/4"
Amy lives on a mining colony out in deep space, but when her dad loses his job the entire family is forced to move back to Earth. Amy says goodbye to her best friend Jemmah and climbs into a cryotube where she will spend the next 30 years frozen in a state of suspended animation, hurtling in a rocket toward her new home. Her life will never be the same, but all she can think about is how when she gets to Earth, Jemmah will have grown up without her.
Currently serialized on Webtoons.com with over 50,000 unique readers (19,000 from the US alone).
From the creator of Mal and Chad (published by Penguin Young Readers and carried in the scholastic Book Fair).
Mal and Chad: Belly Flop! named one of the best books of 2012.
"One of the best pieces of sequential art to come out in this or any other format in the past decade."—Entertainment Monthly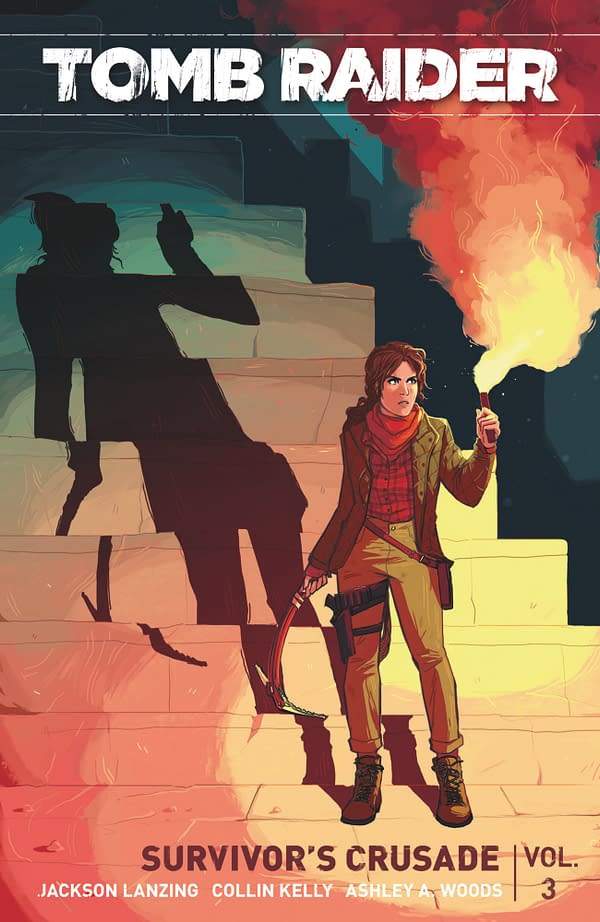 Tomb Raider Volume 3: Survivor's Crusade TP
Jackson Lanzing (W), Collin Kelly (W), Ashley A. Woods (A), Michael Atiyeh (C), and Hannah Fisher (Cover)
On sale June 13
FC, 144 pages
$19.99
TP, 7" x 10"
Lara Croft's hunt for clues about the secretive religious organization Trinity and its connection to her father's death takes her all over the world, from Thailand, to Italy, to the Mountains of the Moon. But the unique dangers that come with being a Tomb Raider are too much for some of her closest friends to bear, and in her fanatical crusade for answers, will Lara isolate herself from those who could help her the most?
Writers Jackson Lanzing and Collin Kelly (Joyride, Hacktivist) and artist Ashley A. Woods (Ladycastle, Niobe), continue Lara's story after Rise of the Tomb Raider and the previous Dark Horse series! This volume collects issues #1–#4 of the 2017 Dark Horse Comics series Tomb Raider: Survivor's Crusade.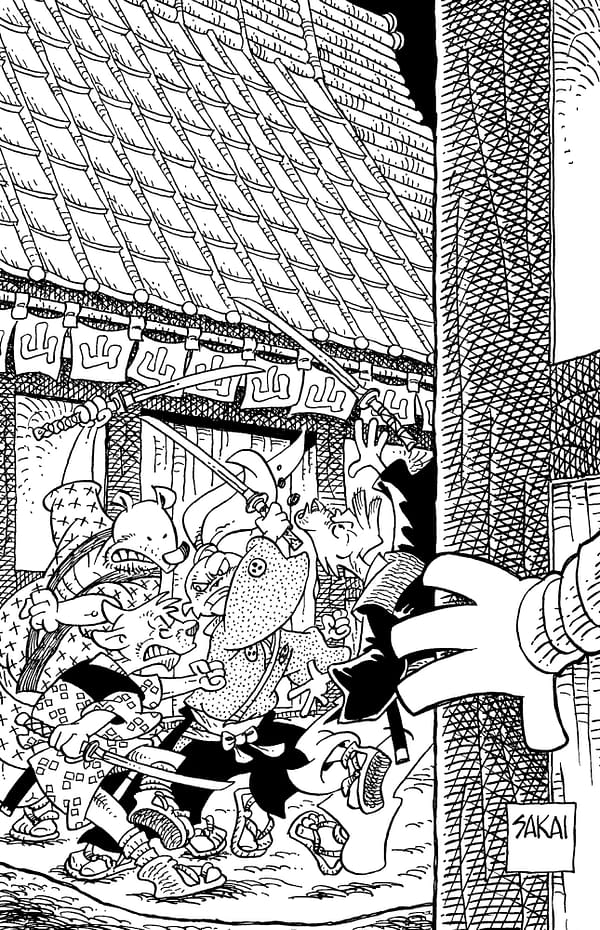 Usagi Yojimbo: The Hidden #2 (of 7)
Stan Sakai (W/A/Cover)
On sale Apr 18
b&w, 28 pages
$3.99
Miniseries
Usagi and Inspector Ishida identify the recent murder victims and find that their backgrounds hint at a much larger conspiracy. With the key piece of evidence robbed off the corpses by a thief, however, our daring duo must race against the clock to retrieve it before the killers do!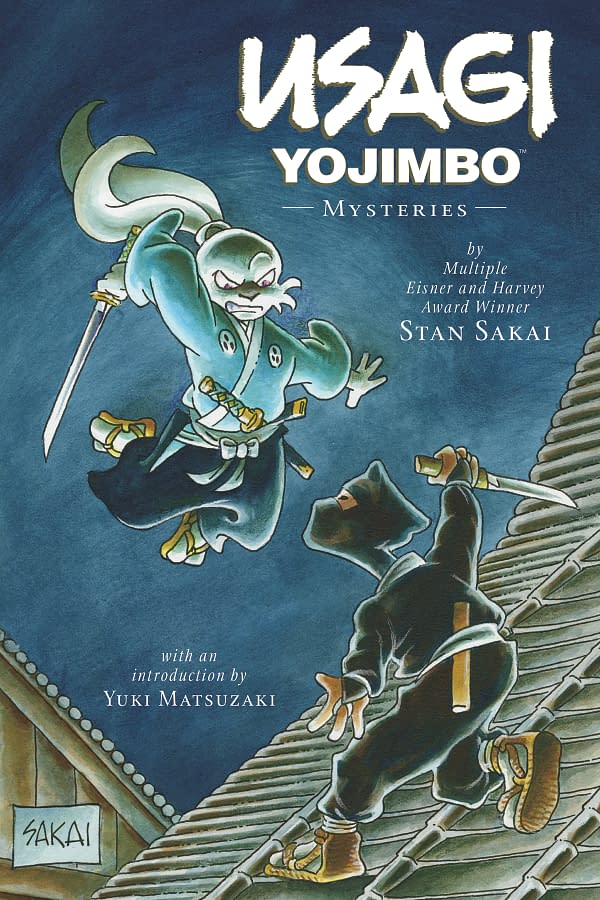 Usagi Yojimbo Volume 32: Mysteries TP
Stan Sakai (W/A)
On sale June 27
b&w, 208 pages
$17.99
TP, 6" x 9"
Intrigue abounds in this gripping volume as the rabbit ronin partners with Inspector Ishida to solve a series of murders and mysteries. Between deadly puffer fish assassinations, a run-in with a familiar pair of thieves, and a large-scale corruption scheme, Usagi and Ishida have their work cut out for them! Collects Usagi Yojimbo issues #159–#165, with anintroduction by Usagi Yojimbo voice actor Yuki Matsuzaki!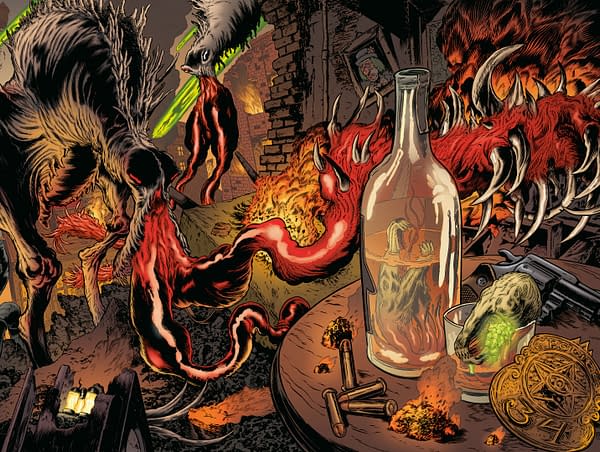 Vinegar Teeth #4 (of 4)
Damon Gentry (W), Troy Nixey (W/A/Cover), Michelle Madsen (C)
On sale Apr 18
FC, 32 pages
$3.99
Miniseries
Chaos breaks loose in Brick City as a horrific space monster reigns terror on the streets. Only Detective Buckle and sidekick Vinegar Teeth can put an end to this madness in this final conclusion to the cult horror series.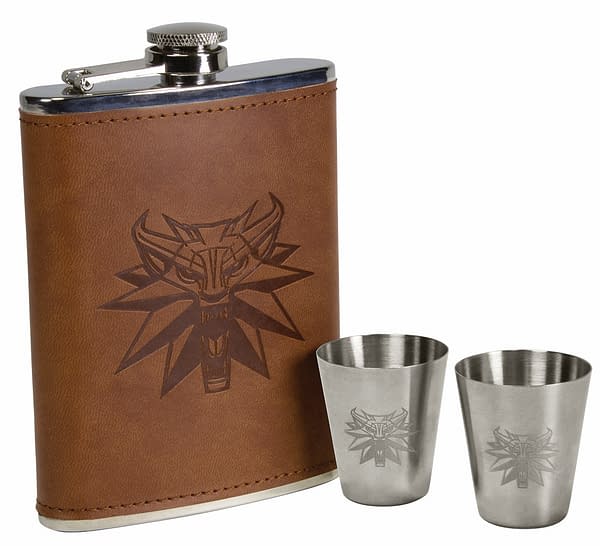 The Witcher: Deluxe Flask Set
On sale July 25
an 8 oz. faux leather bound flask and 2 individual shots
$34.99
Everyone could use a good drink after fighting off a Berserker or slaughtering an Alghoul. Share a shot with comrades with this Deluxe Witcher Flask set. Comes complete with an 8 oz. faux leather bound flask and 2 individual metal shot glasses, all tooled with the iconic Witcher wolf head emblem, and a funnel for easy filling. The shots and flask are made from stainless steel and are packaged in a high quality gift box.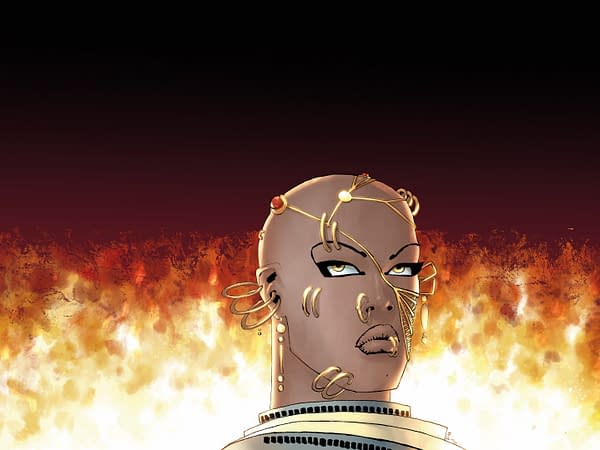 Xerxes: The God King!
Xerxes: The Fall of the House of Darius and the Rise of Alexander #1 (of 5)
Frank Miller (W/A/Cover) and Alex Sinclair (C)
On sale Apr 4
FC, 40 pages
$4.99
Miniseries
Frank Miller returns to the world of 300 with this sprawling historical epic! Persian King Xerxes sets out to conquer the world to avenge his father Darius's defeat and create an empire unlike anything the world has ever seen . . . Until the hardy Greeks produce a god king of their own, Alexander the Great.
Frank Miller writes and draws this long-awaited companion to his masterpiece, 300!
Colored by Alex Sinclair, the colorist for Miller's Dark Knight Master Race, third installment of his Dark Knight Returns master trilogy.
Deluxe collector format!
Thirty pages of story!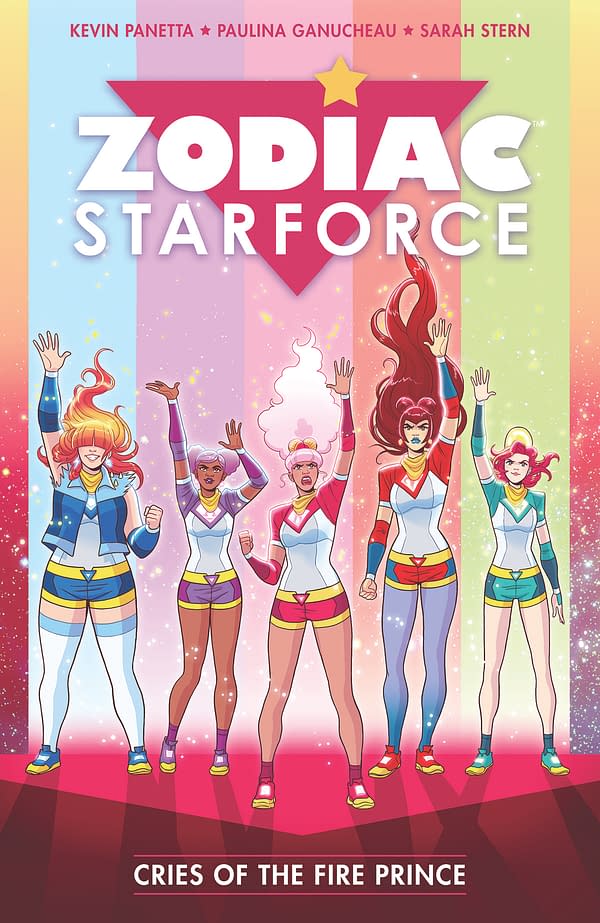 Zodiac Starforce Volume 2: Cries of the Fire Prince TP
Kevin Panetta (W), Paulina Ganucheau (A/Cover), and Sarah Stern (C)
On sale June 6
FC, 144 pages
$14.99
TP, 7" x 10"
After defeating a former ZS member and her mean-girl minions the girls thought they'd get a little break, but a new big-bad has come out to play and demons are overrunning the town! The UK team's secrets are causing a rift in the Zodiac alliance and divided they may fall! The series Comics Alliance calls "your favorite new magical girl team" returns with even more laughs, crushes, and monsters in their latest adventure! Collects Zodiac Starforce: Cries of the Fire Prince #1–#4.