Dark Web Finale Makes Major Change To Marvel New York City (Spoilers)
A comic book crossover event that actually leaves a lasting change on the comic book universe it takes place in? For Dark Web, it seems so.
---
Today sees the finale of the Dark Web X-Men/Spider-Man crossover, that also brought in Mary Jane & Black Cat, Gold Goblin, Ms Marvel and Venom, also out today. Reviving the eighties crossover series Inferno, it saw New York possessed by the demonic forces of Limbo once more. Well, it is a Tuesday in New York.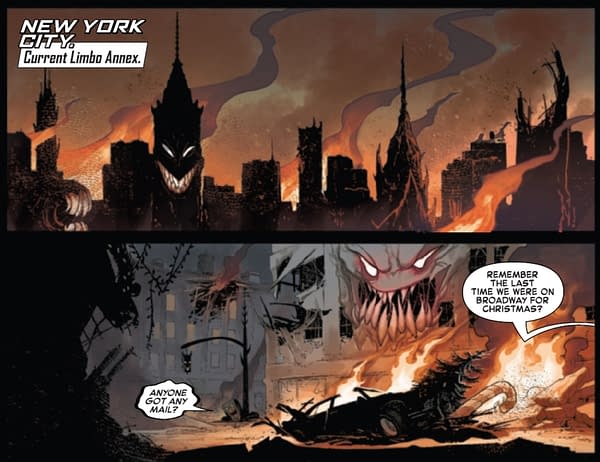 But after all the toys that have been broken have been glued back together and placed back in the toy box, there is a permanent change to the Marvel Universe gifted to New York City by the Dark Web event.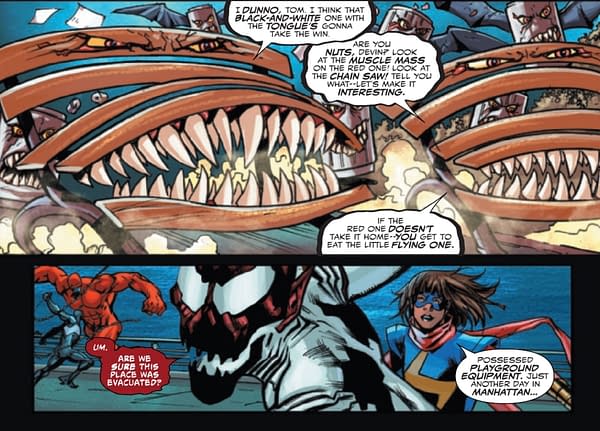 No, not the playground equipment in New York from today's Venom #16. Though maybe they deserve a spinoff series.
Instead, there have been talks, deals done, compromises made and a peaceful rapprochement going forward in relations between Limbo and New York. A permanent place of contact between the two.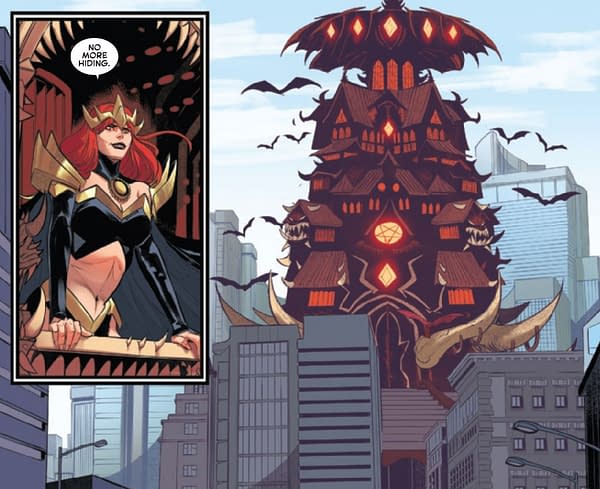 An embassy. And it would be a shame for future comic books not to use it. Especially with a possessed mailbox still on the streets.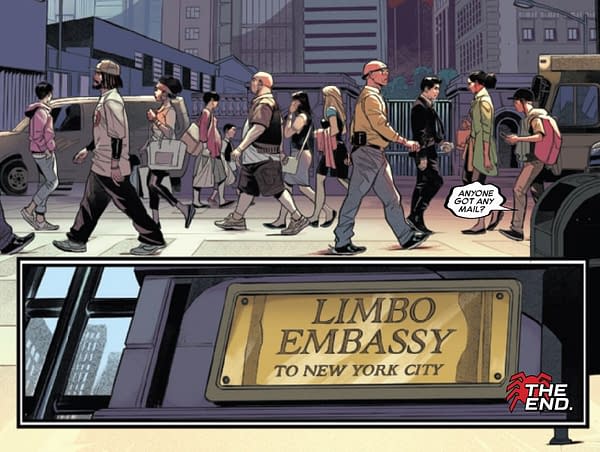 Doctor Strange, Strange Academy, New Mutants, and Scarlet Witch, they may all have reason to visit the Limbo Embassy in New York. Well, Krakoa has one, now so has Limbo. And maybe its presence may prevent certain… invasions from happening again. And Limbo may also provide services and sanctuary to those in Manhattan in need. Sadly it doesn't seem to be located in Hell's Kitchen. Maybe that would have been too on the nose. Still, I'm sure Daredevil can pop by and compare horns.
DARK WEB FINALE #1
MARVEL COMICS
NOV220945
(W) Zeb Wells (A/CA) Adam Kubert
The dawn rises after the demonic invasion of New York City, but what will that light reveal? It will reveal Chasm's final gambit and the new denizens of Hell he helped create and unleash on Spider-Man and the X-Men! See how Dark Web changed this city's landscape forever!
Rated TIn Shops: Feb 01, 2023
SRP: $4.99
VENOM #16
MARVEL COMICS
NOV221052
(W) Al Ewing (A/CA) Bryan Hitch
With the truth about Eddie Brock, Bedlam and the Garden of Time revealed at last, Eddie has no choice but to move heaven, earth, space and time to get back to his son. But it may all be for naught – Eddie's greatest fears are at the precipice of being realized, as Dylan may still succumb to the darkness within him!
Rated T+In Shops: Feb 01, 2023
SRP: $3.99