DC Comics' Doom Patrol Criticises Batman For Not Being Woke (Spoilers)
In the DC Universe, "meta-humans" are those whose pre-existing meta-gene has been triggered, giving them super-powers. Have the Doom Patrol been triggered?
---
Unstoppable Doom Patrol time! In the DC Universe, "meta-humans" are the equivalent of Marvel's mutants; though their powers can come from a variety of sources, they find that their pre-existing meta-gene has been triggered by some event or other. The Flash is a meta-human, his gene triggered by a chemical explosion, Shazam is not, his powers are granted by magic. Over the years, it has been argued that even Batman counts as a meta-human, given all he can do.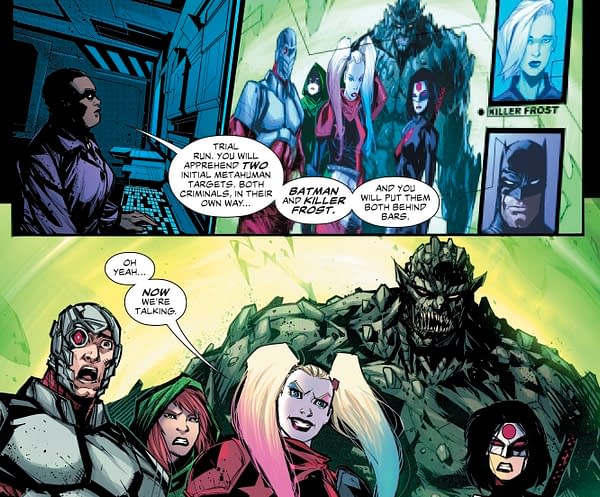 Especially when he took a dip in the Diosyium Pit, restoring his body to the peak of human perfection, and then some.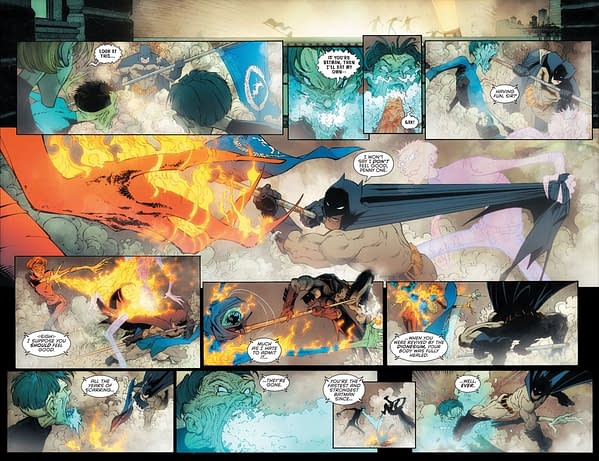 While in tomorrow's DC RWBY #2, he's gone all psychic on us.
But Scott Snyder, Batman writer at the time has emphasised that, no matter what Amanda Waller thinks, Batman is not a meta-human in the DC Universe. And tomorrow's Unstoppable Doom Patrol #1 also weighs on the matter, as the events of Lazarus Planet have awoken more and more meta-humans around the globe, a number of whom will now make up the membership of the new Doom Patrol. And naturally some folks want to monetise that.
With The Chief, alter of the meta-human known as Crazy Jane, running the new team, making some pronouncements that Batman simply cannot make judgments about meta-humans because he isn't one and simply doesn't understand.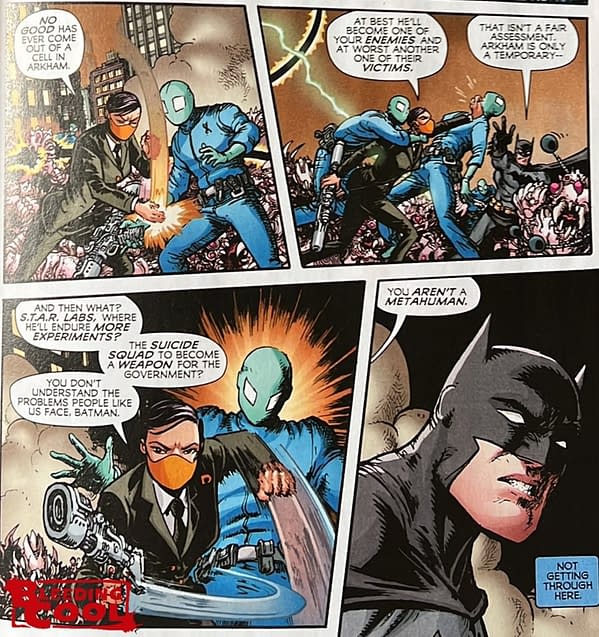 Woke, being defined as being "aware, especially of social problems such as racism and inequality". And in the DC Comics Universe, that means meta-humans. And Batman's lack of understanding the problems faced by meta-humans, being captured, experimented upon and weaponised by governments. When it comes to meta-humans, he's not an ally, he's not woke about it all. And The Chief calls him out on it.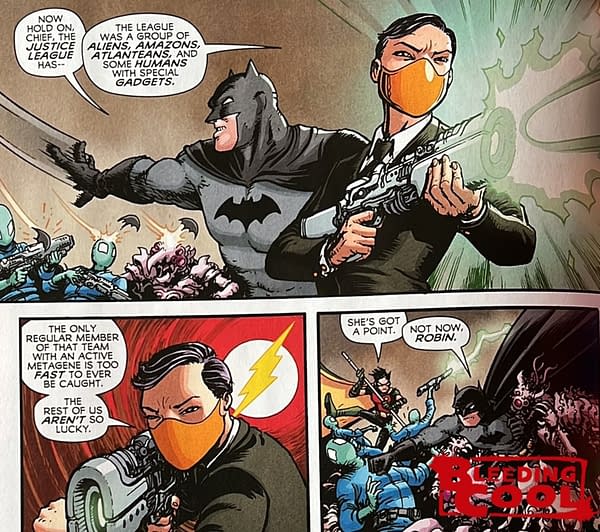 Damian Wayne, the youngest of the Batfamily and likely to be the most "woke" amongst all of them, putting his dad in his place. This is an experience all modern parents should be used to by now, and maybe even have learned from. Not sure Batman will be doing any learning here, though. And so we get to learn about one of two new meta-humans formed by Lazarus Planet...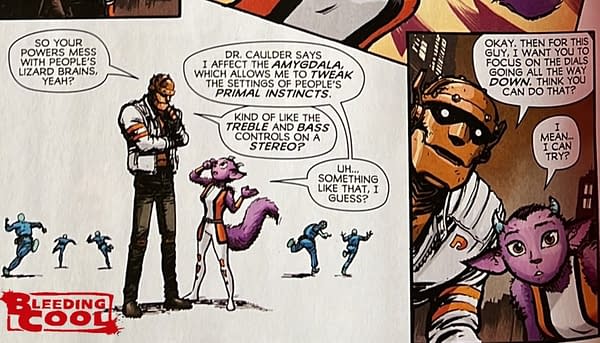 …not that they have to be nice to each other about it all. At least they get to stay outside of Arkham Asylum. For now.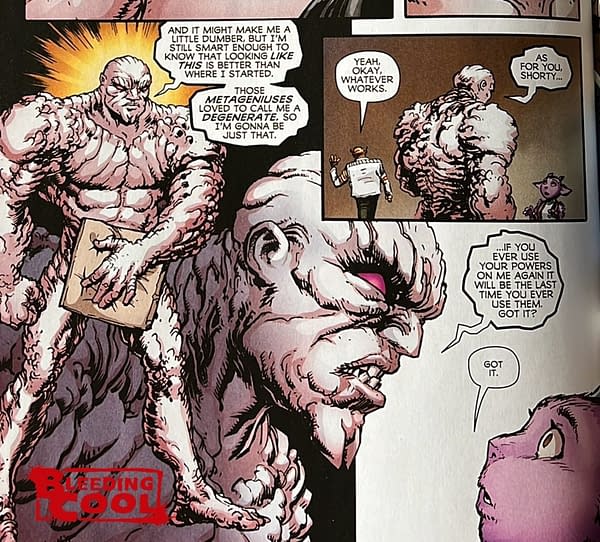 While the Lazarus Planet: Revenge Of The Gods #2 also out tomorrow, continues to look at the new distribution of powers, Yara Flor has a lesson for Shazam about new modern phraseology as well.
Yeah, she's not going by Wonder Girl any more. Respect her nouns, Captain.
Even as your own powers are redistributed away from you…
LAZARUS PLANET REVENGE OF THE GODS #2 (OF 4) CVR A GUILLEM MARCH
(W) G. Willow Wilson, Becky Cloonan, Michael W. Conrad (A) Cian Tormey, Emanuela Lupacchino (CA) Guillem March
The gods have leveled up, and Shazam is no match for them! After Wonder Woman's changing of sides to save her Amazon sisters, Billy must use his quickly fading wisdom of Solomon to formulate a plan to stop his world's destruction. Little does he know a secret ally awaits him in Olympus…but how will he make it there? Sounds like a job for Wonder Girl! Retail: $4.99 In-Store Date: 03/28/2023
DC RWBY #2 (OF 7) CVR A MEGHAN HETRICK
(W) Marguerite Bennett (A/CA) Meghan Hetrick
Gotham is being overwhelmed by Grimm! They keep appearing in every corner of the city, and the only lead the Dark Knight has is the four mysterious girls he just met. Ruby, Weiss, Blake, and Yang explain to Batman and the assembled Bat-Family how they landed in Gotham. But just as some pieces start to coalesce, a horde of Grimm are converging on the worst possible location: Arkham Asylum!
Retail: $3.99 In-Store Date: 3/28/2023
UNSTOPPABLE DOOM PATROL #1 (OF 6) CVR A CHRIS BURNHAM
(W) Dennis Culver (A/CA) Chris Burnham
THE WORLD'S STRANGEST HEROES ARE BACK IN THE DC UNIVERSE! After the events of Lazarus Planet, more people than ever have active metagenes! Most of these new metahumans have become misfits, shunned and imprisoned by a fearful society. They are hidden away in the dark, lost to a system that only sees them as weapons or guinea pigs—ticking time bombs that can only be defused by the Unstoppable Doom Patrol! Robotman, Elasti-Woman, and Negative Man are joined by their brand-new teammates Beast Girl and Degenerate and led by Crazy Jane's mysterious new alter, the Chief, on a mission of saving the world by saving the monsters!
Retail: $3.99 In-Store Date: 3/28/2023
---
---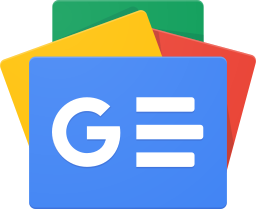 Stay up-to-date and support the site by following Bleeding Cool on Google News today!