Is Political Fatigue Over at DC Comics? Superman Smashes the Ku Klux Klan with Gene Luen Yang
It was only a year ago that a storyline for the Batman/Superman/Wonder Woman comic book Trinity was canned by DC Comics due to what they internally dubbed "political fatigue".
The original story had would have had Batman, Superman and Wonder Woman protecting a bigoted hate speaker from an angry mob, that seemed ripped out of the recent headlines with Milo Yiannopoulous visiting UC Berkeley to give a talk, to find it cancelled after protest and riots.
However this free-speech-protecting storyline was proposed and approved long before those events. But a topical turn saw DC Comics dump the three-part story written by Francis Manapul and drawn by Clay Mann, replaced with a one-off story by Cullen Bunn and Clay Mann, with a new story to follow.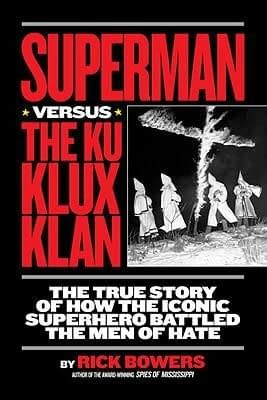 Could the political fatigue be over? Because one of the upcoming Young Adult graphic novels under DC Comics' Ink label is called Superman Smashes the Klan by Gene Luen Yang, $16.99 for 192 pages.
Now there's a history to this.
In 1946, Kelloggs, who sponsored the Superman radio drama decided to tackle the growing rise of racism in the country and rather than just have him fight more Nazis, decided to tackle the Ku Klux Klan. They interviewed people who had infiltrated the Klan such as anti-Klansman Stetson Kennedy, and radio producer Bob Maxwell and education consultant Josette Frank created storylines for the show intended to infuriate the Klan.
The storyline Clan of the Fiery Cross, used real Klan secrets and passwords and exposed many of their internal practices, instantly turning them into the bad guys for kids to play fight against. The story would reveal that it was all a con to get people to buy Klan robes.
Klan leaders denounced the show and called for a boycott of Kellogg's products. However, the story arc earned spectacular ratings, and the cereal company stood by its support of the show. Rick Bowers wrote at length about the affair in his book – called Superman Vs The Ku Klux Klan.
It looks as if this tale will, in some way or another, be revisited as a graphic novel by Gene Luen Yang.