Anyone feel like it's a bit of a comic book comvention today? Anyway, DC Comics is to publish a new series starting in Setember and spinning out of Event Leviathan comes Gotham City Monsters #1 by Steve Orlando and Amancay Nahuelpan. As Leviathan has destroyed S.H.A.D.E. alongside ARGUS, the DEO and the rest, Frankenstein is now free to target his mentor Melmoth, and puts together a team to aid him in that quest, going to Gotham to recruit Killer Croc, Lady Clayface, Orca and I, Vampire, Andrew Bennett.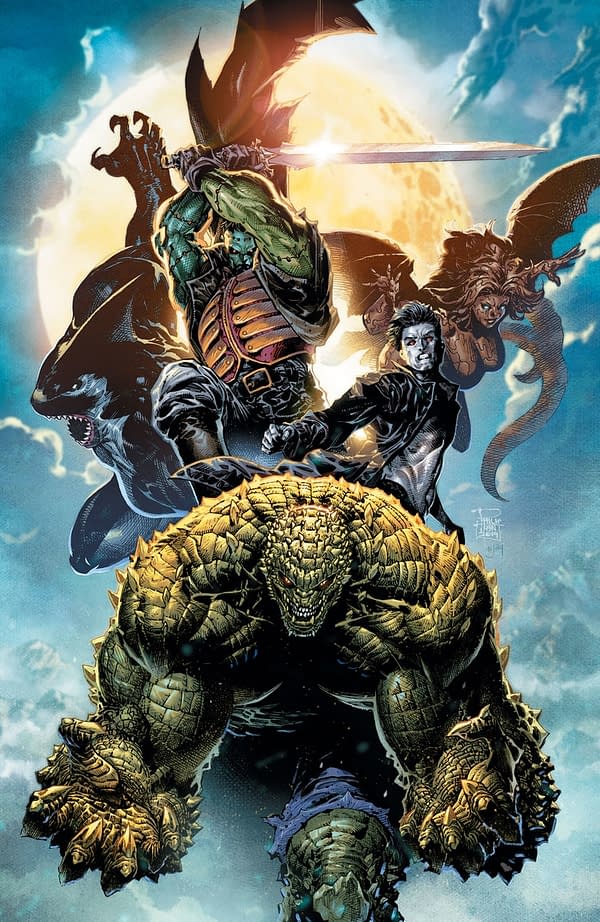 HorrorDNA nabbed an interview with Steve Orlando who told them,
The common bond of these unexpected heroes is loss—our villain has struck in Monster Town, thinking no one cares about creatures, no one cares about monsters, but these are beings with thoughts, feelings, families, and emotions. Our villain could not be more wrong, there is comradery in Monster Town he never imagined. So when a magical tragedy occurs at one of the oldest theaters in Gotham, Frankenstein uses the event to galvanize a team of outcasts against a common threat, one of his greatest enemies. Frankenstein knows after centuries…to win, you fight monsters with monsters.
No Poison Ivy though. I'd have thought her appearance in Heroes In Crisis might have seen her fit right in…
Gotham City Monsters #1 is published September 11th, with covers by Philip Tan and Frank Cho.
Enjoyed this article? Share it!