Forget about DC Heroes in Crisis! Another Crisis is happening in September, part of Dave Sim's "every issue is a new number one" Cerberus series. Revealed in the July Previews Catalog for books shipping September, Sim, Benjamin Hobbs, Sandeep Atwal, and Gustave Dore bring you Crisis of Infinite Cerebi, a one-part maxi-series. Check out the cover by Hobbs and the solicit below. The issue hits stores the same day as the first issue of Heroes in Crisis, September 26th.
It's no question which Crisis has the better cover. So which one will you be buying?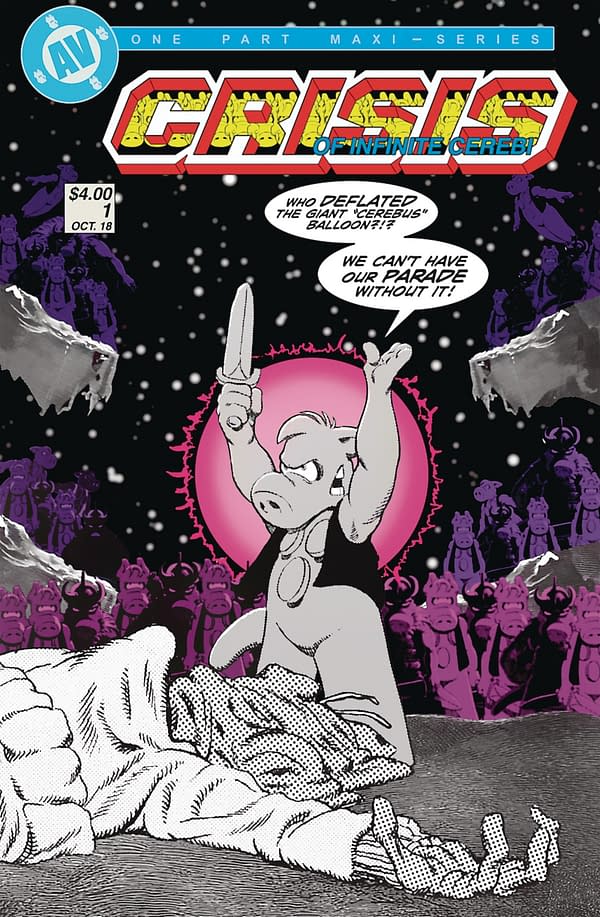 CRISIS ON INFINITE CEREBI #1
AARDVARK VANAHEIM
JUL181424
(W) Dave Sim, Benjamin Hobbs, Sandeep Atwal (A) Dave Sim, Gustave Dore (CA) Benjamin Hobbs
Dead Cerebus balloon in the Macy's Thanksgiving Day Parade; Shock Surprise Ending!; Dead Cerebus Writes His Memoirs; Dead Cerebus Out-Trumps Trump; Betty the Aardvark-Molesting-Nursing-Assistant Bird; Pretzel-Pecker Salt; The Legion of Cerebus-Balloon-Handlers; Ben-Cooper-Cerebus-Halloween-Costume Cerebus; GAG ME WAYTMI Un-beddable Vark; Unbeddable Vark's Big, Big Rubber; Legion of Cerebus Balloon-Handlers' Massacre; Myths and Legends 101; Snake or Duck a l'Orange for dinner; politically-correct pronouns for Cerberus' three heads; Aristotle's Nichomachean Ethics; Fidel Castro in Hell?; Preliminary Infernal Roadways Disaster Report; Appealing to God; Why you should never call the Whore of Babylon a whore; Donald Trump gets a bikini wax.
In Shops: Sep 26, 2018
SRP: $4.00
Enjoyed this article? Share it!