Defenders #10 Review: A Heartfelt Farewell from Bendis
[rwp-review-recap id="0"]
The Hood meets up with the former Kingpin and current Mayor of New York City, Wilson Fisk, on how to best be a Kingpin of Crime. The Defenders deal with the idea of being local heroes. Black Cat appears to be turning over a new leaf as she tries to help Misty Knight and the Defenders catch the Hood.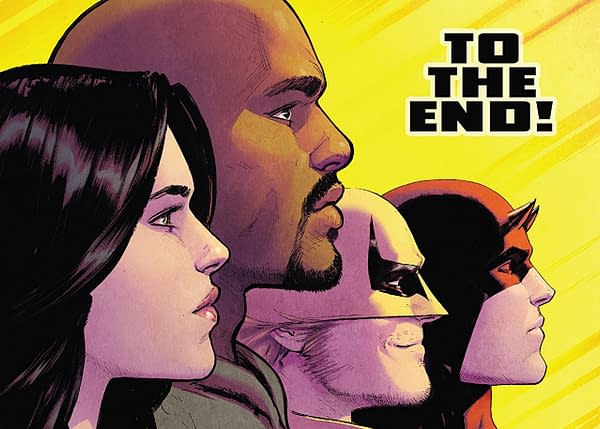 While he still has more Marvel comics yet to be published, Defenders #10 still feels like the big finale for Brian Michael Bendis's storied tenure at Marvel. It's upbeat, fun, and reads like a party wherein Bendis invited all of his favorite Marvel superhero and villain friends.
There is his well-known love of Luke Cage, Jessica Jones, Daredevil, Iron Fist, and the Hood on display. Spider Woman makes a cameo, Hammerhead shows up, Miles Morales makes a couple of appearances, Ronin and Echo pop up, and then there's Logan and Moon Knight.
To move into spoiler territory, the story is deliberately open-ended. While the Defenders do get an opportunity to beat on Parker Robbins for a bit, he gets away and unites a round-table of C-and-below List villains like the Griffin, the Brothers Grimm, Crossfire, Chemistro, and others to make it feel like a real Bendis occasion. Then, Jessica Jones rings them up, telling them that their asses are about to be kicked, and you finish off with a wonderful David Marquez and Justin Ponsor tapestry of a bunch of Marvel's finest posing for effect.
If I didn't know the context to all of this, I would probably be dissatisfied with that as an ending, even if it also feels distinctly Bendisian. However, you know what's going to happen next, and, again, it all feels like a celebration. It's hard to be upset with that.
Plus, there is still plenty of great dialogue between our four Defenders. Danny makes a sweet gesture for Luke Cage. Jessica Jones gets pissed off at supervillain nonsense. Daredevil isn't too chatty, but he still gets a couple of good lines.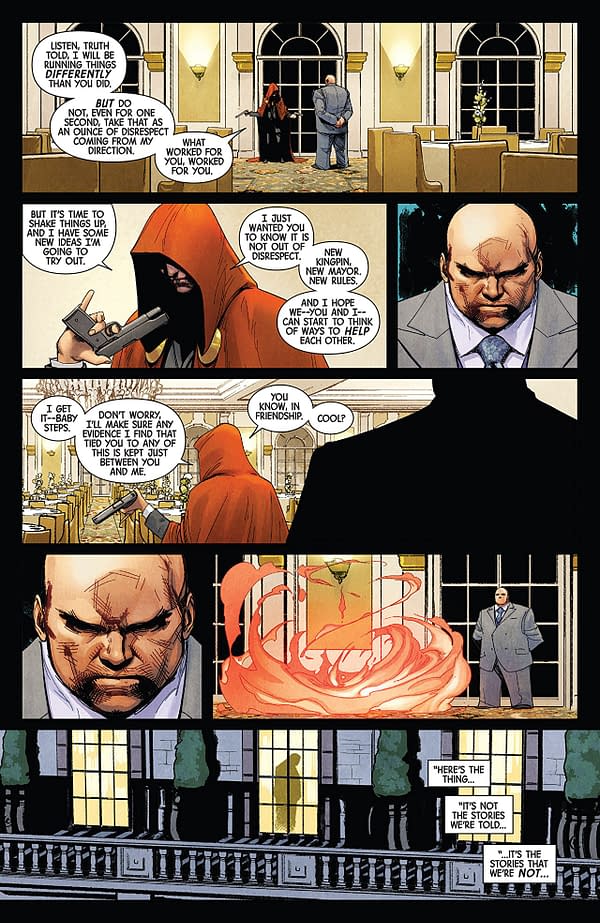 Marquez and Ponsor don't remotely phone it in for this ending. The comic is as gorgeous as it ever was. The action scenes look great, and you can really feel the impact of the punches, kicks, and office desks colliding with heads. The ending spread with all the heroes is easily worth of a poster, and I would very much like one. The coloring is thematic and appealing. Defenders started and ended as a beautiful book.
Defenders #10 isn't the tightest wrap-up to a comic series, but it is an upbeat and still satisfying conclusion. It's not as good as last issue, but it still closes out the book in a distinctly Bendis fashion. Marquez and Ponsor keep the book looking great throughout the finale, and I can easily recommend it. Give it a read.
[rwp-review-ratings id="0"]
[rwp-review-form id="0"]