Delilah S Dawson has written the following letter about her upcoming comic book series, Marvel Action: Spider-Man #1 drawn by Fico Ossio and published by IDW and Marvel Comics.
Dear Member of the Spidey Fam,

Do you remember which Spidey became "your" Spidey?

I do.

I saw all the Spider-Man films in the theater, some multiple times. I even had to call 9-1-1 once during a Doc Ock scene while I was rewatching Spider-Man 2 at home. Spoiler alert: I was fine — although my gallbladder wasn't — and Spidey won the day. But for me, Tom Holland is my Spider-Man. I love his sweet awkwardness and humor combined with a backbone of steel. I was a bullied nerd all through middle school, but in high school, I embraced my academic side, found my true friends, and bloomed, just like Peter.

I didn't read the Spider-Man comics until recently… and that's because I wasn't really sure where to start. That's why, with Marvel Action: Spider-Man, we're hoping to give the next generation of kids an access point to the wonderful world of Spider-Man.

If a kid's never read a Spider-Man book before? They'll know what's going on. If they don't know the full story on Miles Morales and Gwen Stacy? No problem! If they saw and loved the movies, kids will feel right at home in this world. Anyone can pick up issue #1 and dive right in.

We're not focusing on origins and history here. We're focusing on the exciting adventures of three special kids who miraculously find one another and learn that they're part of something bigger. Peter, Miles, and Gwen come from different places, but they all meet to help make their world a better place.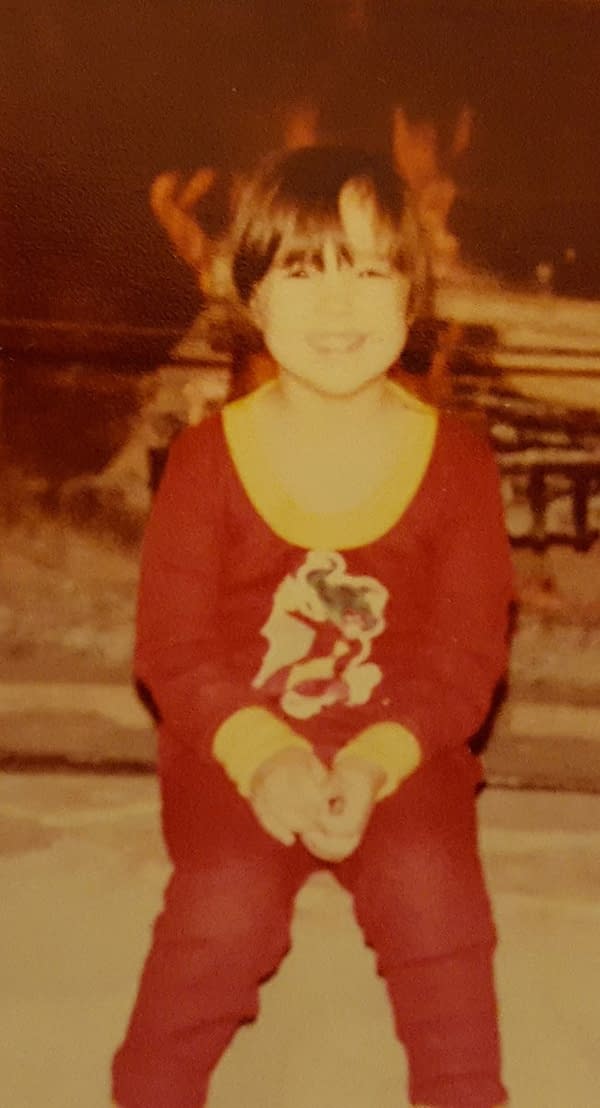 See this picture? That's me as a kid, around age 4, wearing my favorite Spider-Womanpajamas. Back then, I didn't know who she was, but I begged my mom to buy me the PJs. I love the idea that a kid wearing a Spider-Man shirt today might pick up Marvel Action: Spider-Man and fall in love with the Spidey characters, just like I have. And maybe they'll keep coming back to their local comics shop for more. Just like I have.

Thanks for considering it!

Signed,
Your Friendly Neighborhood Spider-Man writer,
Delilah S. Dawson
The new series will be all-ages, aimed at 8-12 year olds, and will have Peter Parker in his junior year in high school, and having been Spider-Man for years now. Miles Morales and Spider-Gwen have powers but are not yet Spider-People – not as issue 1 begins anyway, though the covers show that will be hurried along a bit…
MARVEL ACTION SPIDER-MAN #1
(W) Delilah S Dawson (A/CA) Fico Ossio
Readers of all ages can get tangled up in these all new adventures of Spider-Man and his astonishing friends! Peter Parker has thrown down with deadly villains and legendary heroes, but high school life might be his greatest challenge yet. Luckily, he has a shot at making the grade with a little help from his new friends… Miles Morales and Gwen Stacy! A Marvelous new era begins here!In Shops: Nov 28, 2018
Final Orders Due: Nov 05, 2018
SRP: $3.99
Enjoyed this article? Share it!