Diamond's Annual Summit to Precede C2E2 2018 in Chicago
Both Diamond Comic Distributors, the monopoly distributor of most comic books to the direct market of comic book stores, and ComicsPRO, the retailer advocacy group, are both holding three-day summits in the next couple of months.
Some retailers may go to both, many will go to one, most will go to none. But can any of the details change any minds?
Let's take a look at the Diamond Summit, to be held immediately before C2E2 in Chicago, from April 4th-6th, at the McCormick Place. If you are going, do let us know…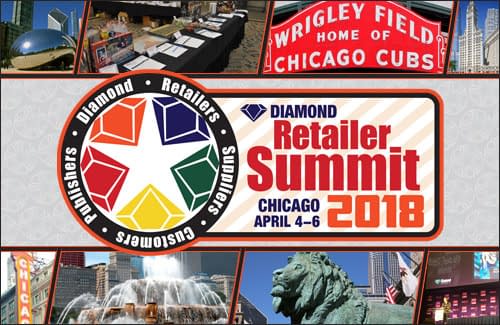 Gold Sponsors: Boom, Dark Horse Comics, DC Comics, IDW Publishing, Image Comics, Marvel Comics, AfterShock Comics, Lion Forge Comics.
Silver Sponsors: Diamond Select Toys, ST Toys, Penguin Random House
Bronze Sponsors: Action Lab, Albatross Funnybooks, Alliance Distribution, Anomaly, Avenue 4, F1rst Comics/Devil's Due, Kodansha, Oni Press, Tokyo Pop, Viz Media.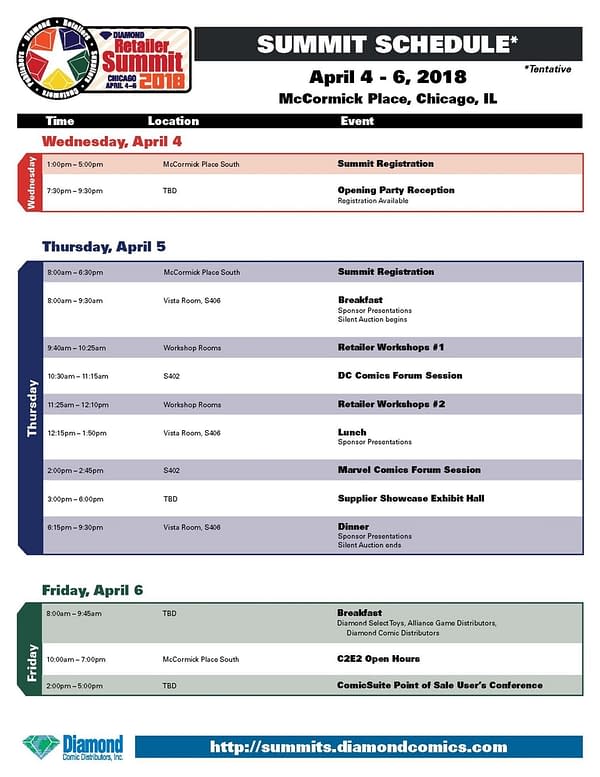 It will contain the following workshops.
Selling in a Showrooming World
The world of smartphones has taken showrooming to a new, brazen level. This presentation by Speaker, Author, & Retail Educator Phil Wrzesinski teaches you one eye-opening truth about these customers and shows you how to deal with showroomers the right way so that you can win back some of that business. You'll walk away with insights and techniques that will raise your conversion rates through the roof.
Guest: Phil Wrzesinski, Author & Retail Educator
Comics, Food & Bev
From coffee or craft beer to donuts ice cream, or pizza, comic shop retailers are successfully combining food and beverages into their businesses. Join Diamond Outside Sales Manager Eric Hitchcock and a panel of your fellow retailers to discuss the pros and cons and best practices and pitfalls to consider when adding food and drink to your business.
Moderator: Eric Hitchcock, Diamond Outside Sales Manager
Building Strong Community Partnerships
Building strong community partnerships is key to long term success in business. Be on hand when guest speaker Chuck Robinson shares proven methods you can use to establish and maintain partnerships with other businesses and nonprofits in your community.
Guest: Chuck Robinson, former President of the Pacific Northwest Booksellers Association
Making the Most of Diamond's Marketing Tools:
From Diamond's Facebook and website New Releases widget to videos and social media tools available for download, find out about all the great resources at your disposal from Diamond to muscle up your marketing mix!
Main Street Marketing on a Shoestring Budget
Not every business has tens of thousands of dollars to spend on advertising. If you have a limited budget, join Speaker, Author, & Retail Educator Phil Wrzesinski to learn seven proven techniques for getting traffic through your door at minimal or no cost to you
Pop-Up Shops and Side-Kick Sellers
Every hero needs a side-kick and comic shops are enjoying the benefits of pop-up shops and auxiliary locations. Join Diamond Outside Sales Manager Tim Kartman and a panel of your fellow retailers to discuss how you can boost your revenue without busting your budget.
2018 Diamond Summit Guest Speakers
Phil Wrzesinski is an entrepreneur and public speaker who honed his skills running Toy House & Baby Too, the largest independent toy store in America, from 1993 through December 2016. During his time at Toy House & Baby Too Phil also started a weekly radio show, monthly magazine, and successful speaking career. Phil brings his decades of experience in running a small business to the 2018 Diamond Summit with the workshops Selling in a Showroom World and Main Street Marketing on a Shoestring Budget.
Chuck Robinson, with his wife Dee, founded Village Books in Bellingham, Washington in 1980. He served on the boards and as president of both the Pacific Northwest Booksellers Association and the American Booksellers Association, for which he taught booksellers schools for more than ten years. He has been deeply involved in community organizations, including as a founding board member of Sustainable Connections and City Club of Bellingham. He currently serves on the board of the Whatcom Community Foundation. Chuck will bring his decades of community partnerships and bookseller knowledge to the 2018 Diamond Retailer Summit with the workshop Building Strong Community Partnerships.
Both Phil and Chuck will also be available to talk with attendees during the suppliers showcase Exhibit Hall from 3 p.m. to 6 p.m. on Thursday, April 5th.
---
---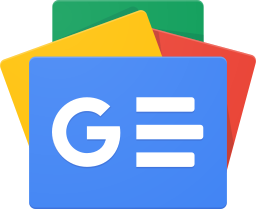 Stay up-to-date and support the site by following Bleeding Cool on Google News today!