Diamond UK Distributing to British Comic Shops For Sale on May 11th
Diamond Comics UK has been holding the final week of American comic books that were sent across the Atlantic before the shutdown in their Warrington offices. Which mean that while US and Canadian stores got the launch of Hellions and the Road To Empyre, the British shores didn't. Bleeding Cool reported that Diamond UK would be reopening in a limited manner and it seems that we now have a date for British comic book stores (that are still able to open in some capacity).
When the UK government mandated that non-essential shops must close to help the NHS cope with rising Coronavirus cases, bookshops were absent from the list of businesses which must close, but also missing from those that were allowed to remain open. So it has been left to individual operators. Some have closed, some have gone online and mail order, others remain open with limited hours and services.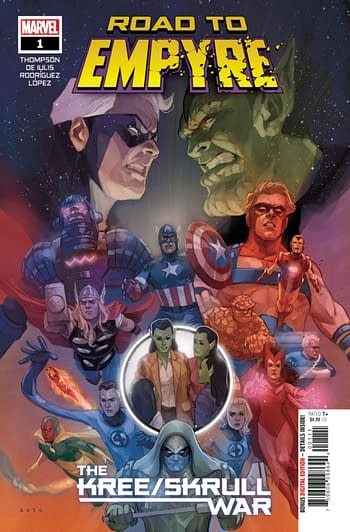 Comic books that were due to be available in British stores on Wednesday, March 26th, will be shipping from Diamond UK for sale on Monday, May 11th. Which is also a week ahead of when US stores are planning to receive the April 1st titles that Diamond US has been holding. Is it possible that British stores may also be receiving these comic books as well? Here are a selection of some of the title coming to British comic stores as a result.
Hellions #1 (DX)
Wolverine #2 (DX)
X-Men #9 (DX)
X-Men: Fantastic Four #3
Giant Size X-Men: Nightcrawler #1
Dawn Of X: Volume 4
New Mutants By Hickman: Volume 1
Road To Empyre: The Kree/Skrull War #1
Amazing Spider-Man #42
Fantastic Four: Marvels Snapshot #1
Immortal Hulk #33
Punisher: Soviet #6
Star Wars: Bounty Hunters #2
Event Leviathan (Hardcover)
Action Comics #1021
Batman/Superman #8
Detective Comics #1021
Batman: Curse Of The White Knight #8
Far Sector #5
Flash #752
John Constantine: Hellblazer #5
Legion Of Super Heroes #5
Last God #6
Batman: Creature Of The Night (Hardcover)
Once & Future: Volume 1
Once & Future #7
Transformers Vs Terminator #1 (Cover A Fullerton)
Canto: Volume 1: If I Only Had A Heart
Judge Dredd: False Witness #1 (Cover A Zama)
Blade Runner 2019 #7 (Cover A Mccrea)
Cimmerian: Queen Of The Black Coast #2 (Cover A Yune)
Killing Red Sonja #1 (Cover A Ward)
Stranger Things: Into The Fire #3 (Cover A Kalachev)
Monstress #27
Coffin Bound: Volume 1
Love & Rockets Magazine #8