I didn't see it in The Batman's Grave first two issues but it's there if you look. And clearer in a couple of very specific panels. Because Bryan Hitch is using Sir David Niven as a model for Alfred Pennyworth. You know David Niven?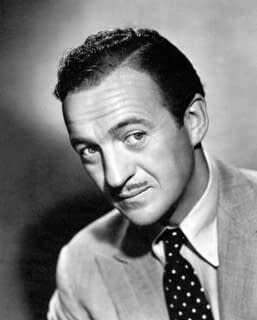 That's the fellow. English actor, memoirist and novelist, notable acting roles included Squadron Leader Peter Carter in A Matter of Life and Death, Phileas Fogg in Around the World in 80 Days, Sir James Bond in Casino Royale and Sir Charles Lytton in The Pink Panther.
And seen in The Batman's Grave #1…
Also in The Batman's Grave #2…
However, in The Batman's Grave #3, they go all out and give us full-Niven.
Bryan Hitch has a history of 'casting' actors in his comics – most famously Samuel Jackson as Nick Fury in The Ultimates which lead to Jackson being cast as Fury in the Marvel Comics movies. But we've also seen him use David Tennant in America's Got Powers and more… sadly Niven passed over thirty-five years ago and is unable to be cast in the movies. Though availability didn't stop Pennyworth casting Sir Michael Caine in their TV show – just without actually getting Sir Michael Caine. Though maybe Sir David might not have been as happy with lines like this… pun arrived at in a happy accident.

THE BATMAN'S GRAVE #3 (OF 12)
(W) Warren Ellis (A) Kevin Nowland (A/CA) Bryan Hitch
A corrupt politico dies by his own hand, but James Gordon is convinced there's something more to it. Now, it's time to ask for access to the Batman's resources. And that is why, right now, in a stately Gotham City mansion, the Batman is being beaten to death.In Shops: Dec 11, 2019
SRP: $3.99
The Batman's Grave #3 by Warren Ellis, Bryan Hitch, Kevin Nowlan and Alex Sinclair is published by DC Comics today in all good comic shops. I bought mine from Piranha Comics in Kingston-Upon-Thames. Piranha Comics is a small south London comic store chain with a small south-east store in Kingston-Upon Thames's market centre, which runs Magic The Gathering nights on Fridays, and a larger south-west store in Bromley, which also runs Magic nights and has an extensive back issue collection and an online store. If you are in the neighbourhood, check them out.
Enjoyed this article? Share it!