Posted in: Comics | Tagged: comic con, Comics, entertainment, new york, new york comic con, NYCC, nycc16
---
Dispatch From The Vertical Inc. Booth At NYCC
By Adi Tantimedh Vertical Inc. is a prestige, boutique publisher of Japanese books, novels and manga in English in the US. They're a smaller outfit than Viz, Yen Press or Kodansha, and thus publishes less titles than they do, but by now, they have and continue to put out a substantial list of titles.
They didn't have any new titles to announce at New York Comic Con this year because their ongoing manga titles are already taking up all their time, and it's an impressive range of titles, picked with care. I stopped by their booth for a rundown of their current manga titles.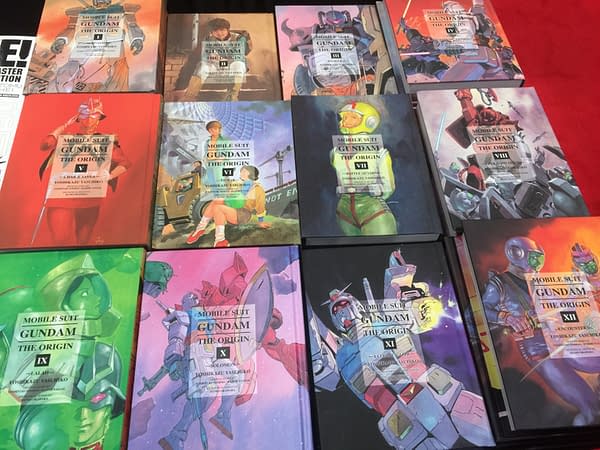 Mobile Suit Gundam: The Origin is a manga adaptation of the original anime series that launched the whole Gundam franchise back in 1979. Written and drawn by Yoshikazu Yasuhiko, the illustrator and character designer of the original anime, this is a complete and streamlined adaptation of the anime series without the budgetary compromises or technical limitations of the show, and fleshes out many of the moments the show never had a chance to do. All the recurring themes of every Gundam series since 1979 were first established in the original series, the first ambitious evolution of the giant robot genre into more political dimensions, effectively a kind of War and Peace in space where battles are fought with giant robots, Vertical has published the complete saga in twelve prestigious hardcover volumes of over 400 pages each and high quality paper, including an extended epilogue never depicted in the original anime series. The newest title on display here is the first volume of the deluxe edition of Tsutomu Nihei's classic 90s Cyberpunk-horror action thriller Blame! Tokyopop had published the series in the US back in the early 2000s but those editions are long out of print, and Vertical's new edition is oversized, collects two volumes per omnibus and features bonus material not in the Tokyopop version. Vertical also publish Nihei's most recent series Knights of Sidonia, which recently completed its run as both a manga and an anime series shown exclusively on Netflix.
Another new series is Tokyo ESP, Hajime Segawa's saga about teens in Tokyo who suddenly get superpowers and find themselves fighting other people with powers for the fate of the city and world. It's a Japanese take on US-style superhero teams and Segawa's art and character designs are clean, dynamic and appealing, as shown in the recent anime series that drove US fan interest.
Vertical has also been publishing the prose novel spinoffs of the Attack on Titan series, such as the prequel series Attack on Titan: Before the Fall, Attack on Titan: The Harsh Mistress of the City, and now Attack on Titan: Lost Girls, a book of prose novellas featuring two of the most popular characters from the manga series Annie Leonhardt and Mikasa Ackerman in side stories that delve into their backstories. Kodansha is publishing the manga adaptation of the novels. Ajin: Demihuman by Gamon Sakurai is a series about a teenager who discovers he's a member of an immortal species that exhibit powers that are at war with the human world and the government. The anime series on Netflix has driven the series' popularity and buzz for the original manga.
Seraph of the End – Guren ichinose: Catastrophe at Sixteen is a Light Novel prequel to the hit manga set in a fantasy world where humans are at war with vampires. The over-the-top Ninja Slayer is a manga series from the cult cyberpunk-ninja thriller novel that got buzz from Studio Trigger's gleefully retro and absurd anime adaptation.
Devil's Line is a josei romantic thriller series (aimed at an adult female audience) about a woman who falls in love with the vampire cop who saved her life, and discovers a secret police force that fights the supernatural. Summer Wars is the manga adaptation of Mamoru Hosoda's popular anime movie about an extended family presided over by a strong-will matriarch and their ties to a rogue AI entity that springs out of a popular MMO game and threatens the entire world.
To the Abandoned Sacred Beasts by two-man artist team Maybe is a fantasy about a gothic Lolita huntress as she fights a war against science-created supernatural beasts.
Prophecy by internet manga pioneer Tetsuya Tsutsui is a contemporary technothriller about the hunt for a gang of newspaper-masked vigilantes who use the internet and social media to pick their targets from the ranks of corrupt companies and tycoons, and their actions not only go viral but gains them a following that threatens to spiral out of control.
Immortal Hounds is a Science Fiction action thriller set in an alternate world where people can't die anymore, but when a new disease seems to stop the grievously injured from healing and reviving, a violent race begins to find its cause and a cure. Witchcraft Works is another series made popular in the West by an anime adaptation, a high school comedy fantasy that gender-swaps the teenage hero into the one who needs saving and protecting and his female classmate is the witch tasked with rescuing and protecting him from rival witches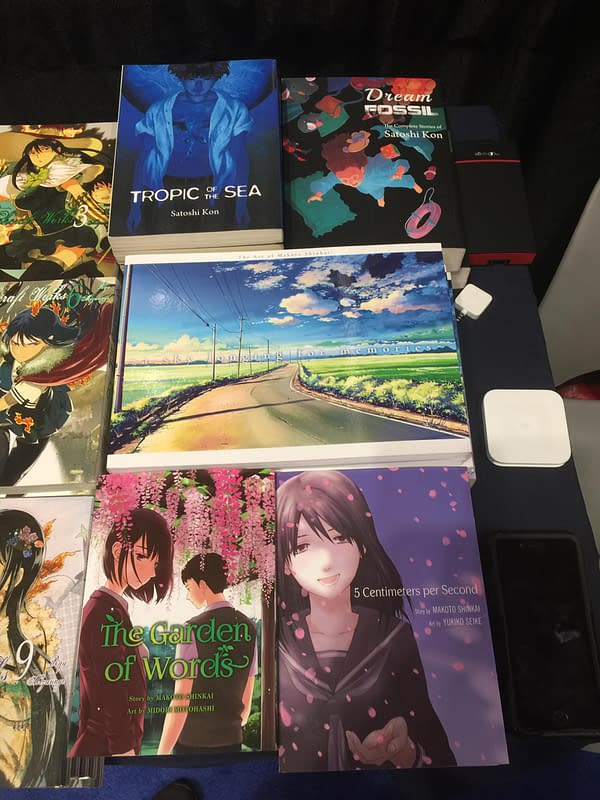 Makoto Shinkai is a rising anime director whose fans believe he's a true successor to an auteur like Hayao Miyazaki in his delicate touch, his unique, recurring themes and emphasis on melancholy and character drama. Vertical have published manga adaptations of his film The Garden of Words, 5 Centimeters Per Second and a book of his art, A Sky Longing for Memories.
The late anime director Satoshi Kon also gets a look in with English translations of his early manga work, with the ecological fantasy Tropic of the Sea and a collection of manga stories Dream Fossil. My Neighbor Seki is a gag manga series about a girl who sits next to boy in school who staves off his boredom by working on bizarre, surreal and increasingly elaborate projects on his desk to while away boring lessons. This was popular enough to get an anime, which in term drummed up interest in fans in the West that prompted the publication of the original manga. Mysterious Girlfriend X is a wild, weird and completely insane high school romance about a boy who gets a girlfriend when they become linked through her saliva, and things get even crazier from there, a not-at-all-subtle allegory about rampaging teenage hormones, high school sex, sexual attraction and the types of repression that give rise to the types of polymorphous perversity that you only find in Japan and its pop culture, like this series. Nichijou: My Ordinary Life is another gag manga series about the ordinariness of the lives of high school students that's far from ordinary. It's an expression and externalization of the inner lives of high school students as their imaginations and whimsical sense of humour comes through in utterly surreal and nutty situations that they often create.
A Girl on the Shore by Inio Asano is an intense teen romance from a creator famous for intense and unique emotional dramas. And finally we have omnibus collections of the ever-popular cat manga Chi's Sweet Home and the same creator's follow-up series Fuku Fuku: Kitten Tales. There's also The Gods Lie, Kaori Ozaki's melancholy coming-of-age tale about two kids who become friends over a summer but discover dark family secrets and the harshness of life. Kizumonogatari – Wound Tale by author Nisioisin is a light novel that's a prequel and kick-off to his highly popular Monogatari novel series that spawned the off-beat and virtually avant-garde anime series about the hapless high hero who becomes a magnet for people with supernatural problems. This is his origin story.
These were what were on offer at the Vertical Inc. booth at the con. They actually have quite a few more series and books they publish but didn't have room to show at the con. You can order all of them from the likes of Amazon, and they are carefully curated and come highly recommended.
Always about the manga at lookitmoves@gmail.com
Follow the official LOOK! IT MOVES! twitter feed at http://twitter.com/lookitmoves for thoughts and snark on media and pop culture, stuff for future columns and stuff I may never spend a whole column writing about.
Look! It Moves! © Adisakdi Tantimedh
---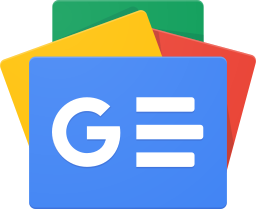 Stay up-to-date and support the site by following Bleeding Cool on Google News today!