Doctor Strange #386 Review: Damnation Continues to Disappoint
We are shown the prelude to Doctor Strange's Las Vegas arrival in Damnation, and we view the immediate aftermath. In that aftermath, Strange plays cards against Mephisto for the fate of Las Vegas.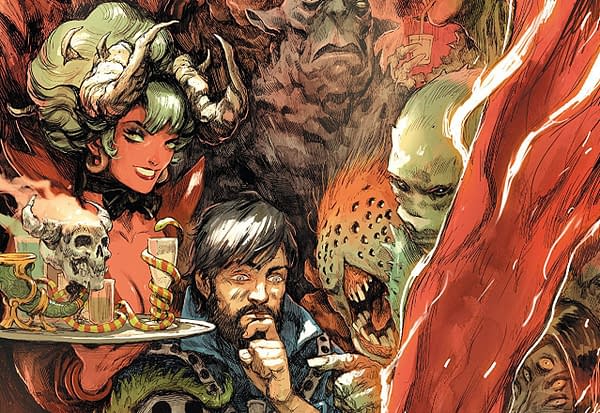 I was no fan of Damnation #1. It's lack of tone coherence, Doctor Strange actively making the lives of Las Vegas worse by resurrecting half the city and Mephisto, and the continued degradation of Marvel heroes by their own writers made that an insufferable opening to what could have been and may yet still be a solid story.
Doctor Strange #386 didn't make me anymore optimistic about this crossover. The tone is still so wrong. While the opening scene with Doctor Strange and the ghost of Bats had the right kind of charm to it, the sequence of Strange playing cards with Mephisto shows that Nick Spencer and Donny Cates may not know the kind of story they have constructed.
Considering the horrific images shown in the last issue and the fact that this is all Strange's fault, seeing Stephen Strange playing making wise cracks while playing a jokey, demonic variation on blackjack is the wrong way to go. It makes it look like our hero could not give one shit about what he has wrought upon this city. The smug and swaggering attitude doesn't help either.
And that's a shame. This comic had moments that genuinely made me laugh, but, in the end, it didn't really earn them. I left the comic just as frustrated as when I approached it. At its best, it's just a comic about Stephen Strange dicking around though.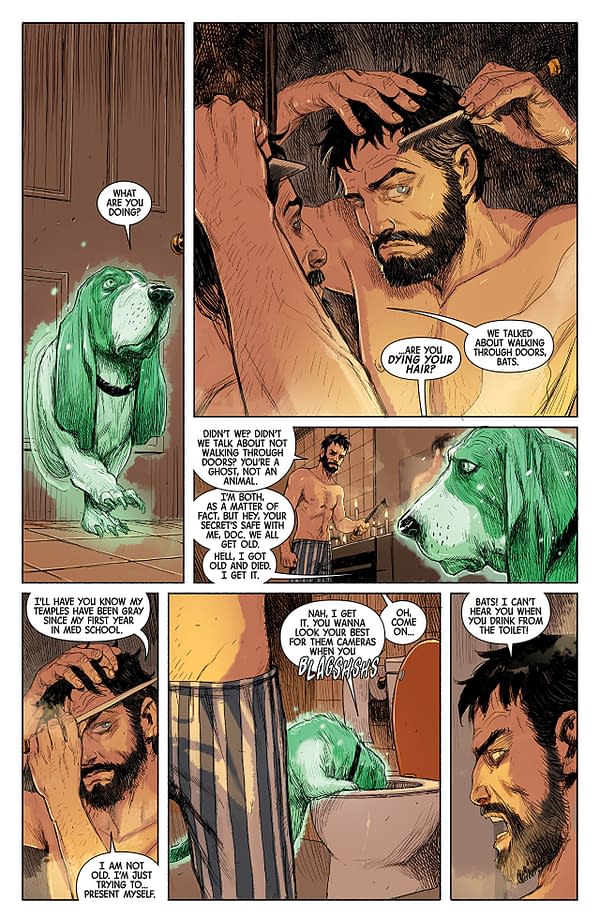 Niko Henrichon returns to provide the art for this book, and it is darkly gorgeous. The texture, inking, scenery, and overall painted look of the style make for great visuals. It has that right level of wrong to it that fits the unholy overtures of the issue too. The colors are fantastic too. Henrichon and Laurent Grossat know how to play with the color shading.
Doctor Strange #386 was not the right way to follow up Damnation #1. Strange still looks oblivious and/or apathetic to what Las Vegas is suffering because of his hubris. There are laughs to be had, but they feel unearned. Henrichon makes the book visually stunning, but the narrative doesn't earn that either. I can't recommend this one, and that's sad. Doctor Strange is one of my favorite currently running Marvel titles, and I'd hate to see it go downhill due to this story. However, I still have to say: give it a pass.