Donate $100 to Gnu Comic Books of Ontario, Get $200 in Credit
Comic book store Gnu Books of Oshawa, Ontario is one of many stores sufferinghardship right now. But it is one that is offering a lot to its customers if they can help support it right now. Even those who aren't currently customers may be attracted by their current offering. Those who donate money to the store now, will get it back, and more, in credit when the store reopens. A $20 donation now will mean $30 credit in the future. $40 donation will translate into $70 credit. And a $100 donation will become $200 credit, that's basically a 50% off-everything deal.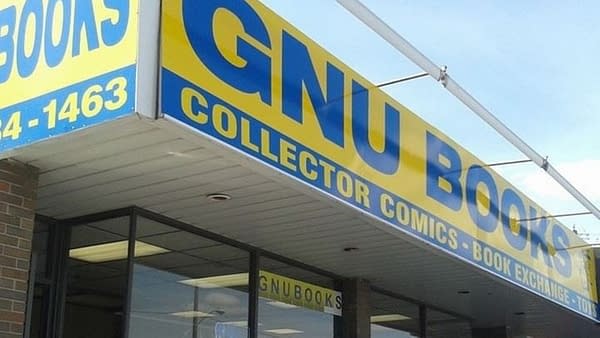 Owner Brendan Tihane writes, "I know things are tight financially for a lot of people right now and a lot of things are uncertain. However, I'm also passionate about reading. I've felt down at the fall of nearly all used book stores in the region and I've been sad to see a lot of comics retailers shutting down as it is with COVID-19. So I'm asking you to do what you can to help make sure our doors will reopen again on the other side of this. If you can't donate, please share this and help make sure we can keep serving Oshawa and the Durham Region on an ongoing basis."
They currently need to raise $5,000 on GoFundMe to cover their monthly rent. They have currently raised 5% of that. For those who want a deal – and to ensure the survival of a business – this may be a timely offer. Tihane continues "while I've set this up based on one month's costs, anything past that is absolutely helpful. With some estimates saying this could go until August or longer, every $5,000 is another month of keeping the lights on. Risks include that this fails, obviously, but also that it succeeds but the shutdowns last longer than we raise money for. One way or another, we have enough existing book/comic stock and potential alternative delivery methods available that we can find a way to work with you for any fundraiser rewards."
Bleeding Col continues to cover the effects of the current situation on the comic book industry as a whole, as well as on individual stores. You can catch up with the latest such stories with this link, and contact us about any of your own at richjohnston@bleedingcool.com.