Global entertainment superstar Donny Cates is not just a fashion icon and world-renowned comic book writer of such hit books as Venom and Absolute Carnage, but a smooth romantic operator as well. According to a recent report, Cates send flowers to wife-to-be Megan Hutchison before reportedly making her dinner "just because." That report came from Hutchison herself, who posted evidence of the flowers on Twitter.
Q: who's the most handsome, talented, sexy, wonderful person who ever existed?

A: @Doncates who sent me these beautiful flowers and then made me dinner "just because"

[I'm going to marry the shit out of him] pic.twitter.com/qDPYR7L3wb

— 𝔐𝔢𝔤𝔞𝔫 ℌ𝔲𝔱𝔠𝔥𝔦𝔰𝔬𝔫 (@blackem_art) September 5, 2019
Awwwww!
The young lovers have often been sighted in public after announcing their engagement in May, such as when the couple were spotted by paparazzi sporting matching haircuts on an Australian boat getaway in June. But Hutchison's tweet offers Catesbronies — the colloquial term for hardcore fans of Donny Cates — a rare glimpse inside the couple's private life, which is apparently as spectacular as one might expect.
Cates responded to Hutchinson's photo with
You knew the answer 🖤 pic.twitter.com/TRjOtZehno

— 𝔐𝔢𝔤𝔞𝔫 ℌ𝔲𝔱𝔠𝔥𝔦𝔰𝔬𝔫 (@blackem_art) September 5, 2019
Before retweeting the post for "points" with his legions of Catesbronies, and of course to make sure the celebrity gossip press picked up on the story. We see you, Donny. And we appreciate you.
Retweeting this for points. ;) pic.twitter.com/gO9xM3XeYn

— DONNY CATES (@Doncates) September 5, 2019
The tweet also sparked admiration from fellow comic book creators such as Paul Jenkins, who called the couple "so beautiful it's almost obnoxious."
It really is just the cheapest way to idiot (me) proof the house.

— DONNY⚡️CATES (@Doncates) September 5, 2019
What do you think of Donny Cates' grand romantic gesture? And when will these two set a date?! For more on that and for all the latest celebrity news and gossip about Donny Cates, be sure to bookmark our All Donny, All the Time archive, Donny Cates Equals Clicks.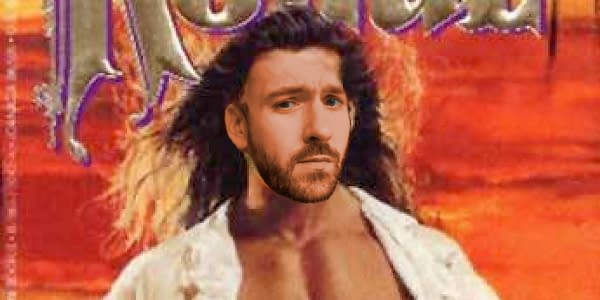 Enjoyed this article? Share it!