To go along with the debut of elctro-pop artist Lights new album Skin & Earth, Dynamite entertainment is offering the first issue of the companion comic series digitally for only a dime. They're also offering issues 2-4 for $1.99. The series started in July, with new music released with each issue, and the full-length studio album being released in September. The fifth issue of the series comes out on November 15th.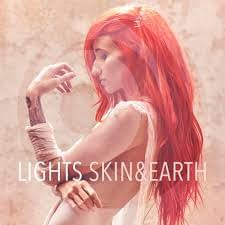 Lights is the writer and artist for the series. She spoke about the project:
I spent so much time working head in on the Skin&Earth comics that I never really stopped to consider if it would be received well or if the characters would resonate with people. When we launched issue one just a week before Comic-Con this year, I was blown away to already see cosplayers there, and before I knew it, fan art, cosplay and people's reactions to the story line and the twists of the story started to pour in. I never imagined we'd already be reprinting issue one after only a few months. I have a massive respect for comics and creators in the field, and to feel embraced in this industry is quite incredible.
The comic series follows a young woman, En – a reflection of Lights herself – as she struggles to find hope in a hopeless world. Caught between romance and cults, gods and mortals, En is led down a dark path by new friends/lovers into a twisted fantasy world, forcing her to dig within and find the strength to overcome. Set in a post-apocalyptic future where corporations rule, Skin&Earth is an adventurous tale of loneliness and deceit, but ultimately becomes one of self-discovery and independence.
You can get the special priced issue at http://dynamite.com/digital/ now.
Skin&Earth is the fourth studio album from the Canadian singer and songwriter, whose 2015 release Little Machines won Lights her second JUNO Award, for Best Pop Album of the Year. The Toronto-based Lights, née Valerie Anne Poxleitner, has sold out headline tours across North America and Europe. Lights has also played numerous festivals including Coachella, Reading & Leeds, and has toured with OneRepublic, Tegan & Sara, Parmore, DEADMAU5, and many others. iamlights.com Enjoyed this article? Share it!