Dynamite has announced the launch of a new Kickstarter campaign celebrating the 45th Anniversary of Red Sonja with Deluxe Ultra-Premium Trading Cards. This features a group of Red Sonja's best-known artists to have worked on the character including J. Scott Campbell, Frank Thorne, Walter Simonson, Amanda Conner, John Buscema, Fiona Staples, Jenny Frison, Jay Anacleto, Mike McKone, Art Baltazar, Stephanie Buscema, Dick Giordano, Jonboy Meyers, Mel Rubi, Joseph Michael Linsner, and many more.
The Dynamite "Red Sonja 45th Anniversary Deluxe Ultra-Premium Trading Cards" Kickstarter campaign is live now here.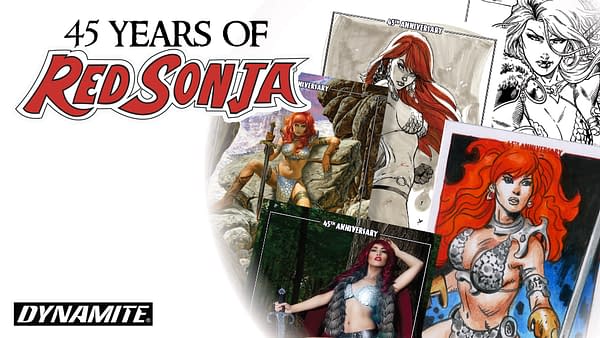 Red Sonja, the "She-Devil with a Sword", is a high fantasy sword and sorcery heroine created by Robert E. Howard and adapted for comics by Roy Thomas and Barry Windsor-Smith. She first appeared in Conan the Barbarian #23 (Marvel Comics) in 1973. Red Sonja has become the archetypical example of the fantasy figure of a fierce and stunningly beautiful female barbarian. The character now appears monthly in her own series, as well as a series of mini-series and one-shots, all published by Dynamite Entertainment.
This trading card set featuresg a collection of Red Sonja's most iconic images. Each individual pack will be 7 total cards including 2 base cards, 2 sketch cards, 1 B&W art card, 1 puzzle card and 1 autograph card and they'll likely retail for upwards of $100 dollars in stores. But pre-ordering though the Kickstarter campaign lets you get a pack for only $65, plus you get the exclusive Shannon Kingston cosplayer photo card and the 2-card preview set.
Higher tiers give access to:
• Shannon Kingston cosplayer photo card signed
• Ashley Du cosplayer photo card
• Ashley Due cosplayer photo card signed
• Frank Thorne Kickstarter card
• Joe Jusko Kickstarter card
• Joe Jusko Kickstarter card signed
And there are the two special top tiers that include original hand-drawn sketchcards by legendary artists Joe Jusko or Joseph Michael Linsner.
The Red Sonja 45th Anniversary Collectible Cards Kickstarter is available for a limited-time only here.
Enjoyed this article? Share it!