We're getting an early first look at the solicitations and covers for Dynamite's books shipping in June. Here we have the the final issues of the three spinoffs of the Legenderry: A Steampunk Adventure series by Bill Willingham.
LEGENDERRY: GREEN HORNET #5 (OF 5)
Cover A Main: Sergio Davila Writer: Daryl Gregory Art: Brent Peeples
This is it–the climax to the action packed series! The Green Hornet and Brass Hornet throw down with the Veiled Lady and BlackMass, while Kato and Grimes take on Tik-Tok's Deacons. It's steampulp / kung fu madness! LEGENDERRY: RED SONJA #5 (OF 5)
Cover A Main: Sergio Davila Writer: Marc Andreyko Art: Aneke
After franken-monsters, submarine escapes, shark attacks, and shipwrecks, can a mentally and physically exhausted Red Sonja defeat the evil of Victor Frankenstein before he unleashes his master plan upon the world of Legenderry? What new monstrosities have sprung from Victor's deranged and fractured psyche? And will the "rebuilt" Captain Nemo and Elizabeth Frankenstein help Red Sonja's cause…or be the death of her? Find out all of the answers in the stunning conclusion to Red's first Legenderry solo adventure! LEGENDERRY: VAMPIRELLA #5 (OF 5)
Cover A Main: Sergio Davila Writer: David Avallone Art: David Cabrera
Vampirella Vs. Everybody, Round Five. She fights the Black Bat, the Council, a great big Zeppelin and her own conflicted feelings. Plus, Black Mass returns, truths are revealed, and election results are questioned.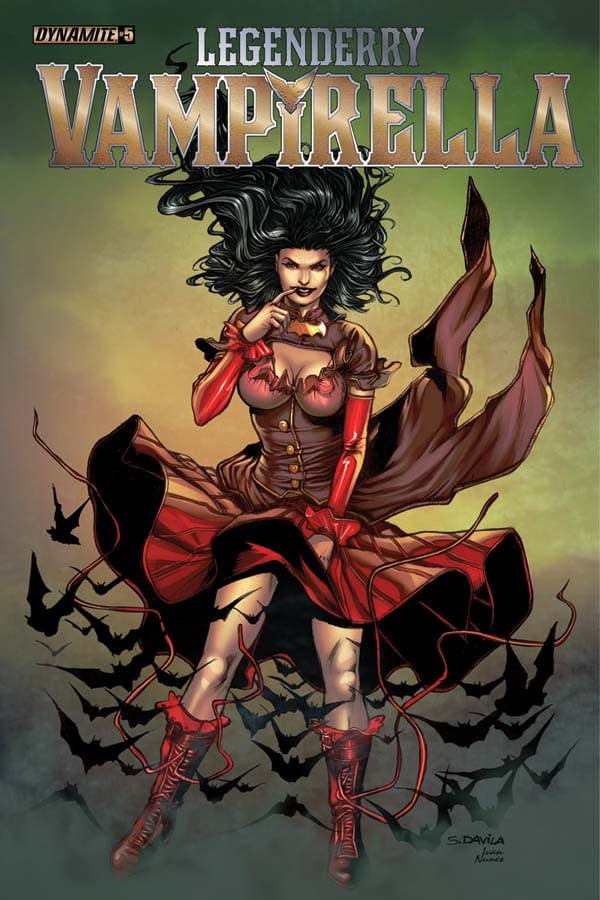 Enjoyed this article? Share it!