Exclusive First Look At Dynamite's Gold Key Books For November
We have an exclusive first look at the covers and solicitations from Dynamite for their Gold Key books: Magnus: Robot Fighter, Solar: Man of the Atom and Turok: Dinosaur Hunter. On the last one, Turok #0… we're basically just saying there is one coming as everything else is "classified".
MAGNUS: ROBOT FIGHTER #9
Writer: Fred Van Lente Art: Roberto Castro Covers: Jonathan Lau, Cory Smith
FC • 32 pages • $3.99 • Teen+ • 11/12
A perfect jumping-on point as Magnus: Robot Fighter begins an all-new story arc! Having finally reunited with his robotic father, Magnus has new purpose in life. But that doesn't really matter if "dad" starts him off on a suicide mission! It's Magnus: Agent of 1A!
SOLAR: MAN OF THE ATOM VOL. 1: NUCLEAR FAMILY
Writer: Frank J. Barbiere Art: Joe Bennett, Richard Case, Roger Robinson, Matther Marks, Sandy Jarrell, Jonathan Lau Cover: Juan Doe
FC • 144 pages • $16.99 • Teen+ • 11/26
"This all started with an accident…" Brilliant scientist Phil Seleski had unlimited cosmic abilities, until he exploded and accidentally gave the powers to his daughter Erica (who is absolutely NOT a brilliant scientist). Now Phil's made of energy and Erica's the most powerful (and freaked-out) person on Earth. Can they work together to stop an invading alien armada without killing each other? Includes the complete story arc from issues #1-4 of the Solar comic book series, a complete cover gallery (featuring dozens of pin-ups), plus a complete issue script.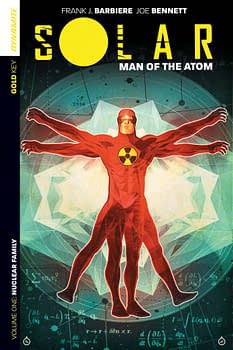 SOLAR: MAN OF THE ATOM #8
Writer: Frank J. Barbiere Art: Jonathan Lau Covers: Juan Doe, Jonathan Lau
FC • 32 pages • $3.99 • Teen+ • 11/19
The female Solar has done her best to atone for her dad's interstellar sins… but she can't stop the evil that's coming to Earth. It's an absolute disaster of a homecoming from Frank J. Barbiere (Five Ghosts) and Jonathan Lau (Codename: Action)!
TUROK: DINOSAUR HUNTER #10
Writer: Greg Pak, Paul Tobin Art: Mirko Colak Covers: Bart Sears, Jae Lee
FC • 32 pages • $3.99 • Teen+ • 11/26
Life is difficult for Turok in the "civilized" Great Britain of the 1200s, where he's treated as a "savage" despite being able to tame dinosaurs better than anyone. But a murder conspiracy against one of his allies will send the dinosaur hunter deep within Sherwood Forest, and back into his element. High action and intrigue courtesy of Greg Pak (Batman/Superman, Action Comics), Eisner-Winner Paul Tobin (Bandette, Colder) and Mirko Colak (Conan)!
TUROK #0
Writer: Classified Art: Classified Covers: Classified
FC • 32 pages • $3.99 • Teen+ • 11/5
CLASSIFIED <> CLASSIFIED