Exclusive – Info On Milligan's Terminal Hero And Fialkov's The Devilers
On Monday we showed you an exclusive first look at some covers from Dynamite for Flash Gordon, Solar: Man Of The Atom, Chaos and the new Creator Unleashed series The Devilers by Joshua Hale Fialkov and Matt Triano. At the time I mentioned there was another cover in there for an unannounced title with the initials TH.
Well, here is that cover along with the solicitation text for all of the covers we showed you on Monday. These are exclusive as Dynamite's August Solicitations have not been released yet.
Let's start with the cover I couldn't show yet… that's the second entry from the Creators Unleashed series, Terminal Hero by Peter Milligan and Piotr Kowalski and cover by Jae Lee. TERMINAL HERO #1
Writer: Peter Milligan Art: Piotr Kowalski Covers: Jae Lee
MARKETING DESCRIPTION: With Shade: The Changing Man, X-Statix, Doop and of course Hellblazer under his belt, Peter Milligan is now taking on Terminal Hero! Rory Fletcher is a good man. The problem is, he's dying of an inoperable brain tumor. And then his best friend introduces him to the mysterious Treatment Q. This strange and forbidden therapy might just save Rory's life. But its nightmarish side effects could make him question just how good he really is, and just how much he really does want to live. THE DEVILERS #2 (OF 7)
Writer: Joshua Hale Fialkov Art: Matt Triano Covers: Jock
MARKETING DESCRIPTION: From the critically acclaimed creator of THE BUNKER comes a daring new series that follows a team of the world's best Exorcists as they battle the army of Satan himself. Picking up where the last issue left off, our heroes must venture through hellfire and demons in order to face the devil himself. But, the secrets they all hold may be their undoing. With breathtaking art from breakout artist Matt Triano and covers by Jock, Joshua Hale Fialkov pilots the boldest new series in years.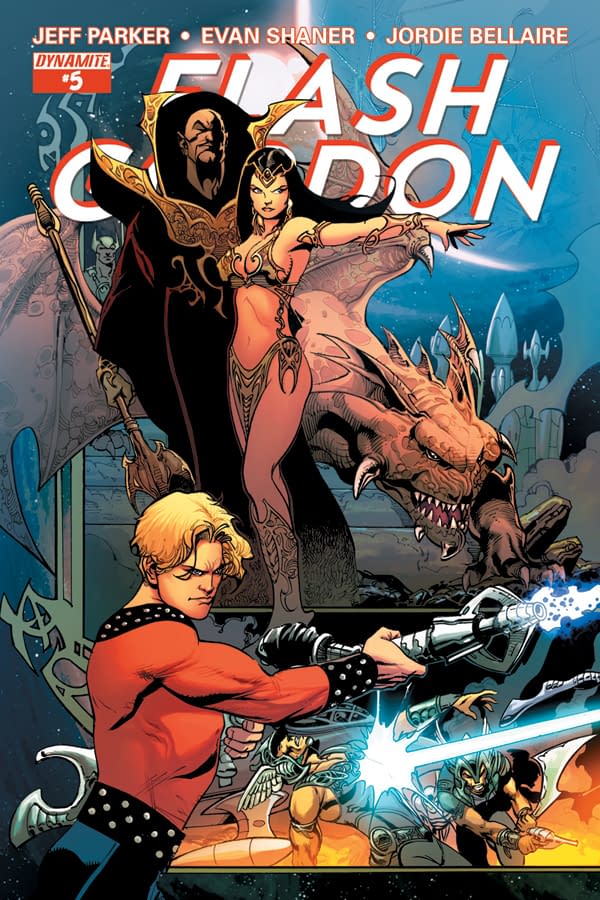 FLASH GORDON #5
Writer: Jeff Parker Art: Evan Shaner Covers: Marc Laming
MARKETING DESCRIPTION: BRAND NEW ARC! SAME CREATIVE DREAM TEAM!!!! JEFF PARKER (Batman '66, Aquaman), EVAN "DOC" SHANER (Adventures Of Superman) & JORDIE BELLAIRE (Moon Knight) take Flash to Sky City, as The Man From Earth battles against the Hawkmen under rule of Ming The Merciless! How's one man supposed to save a galaxy? Simple…punch stuff and keep smiling! Find out why IGN says "If you are starting a list of best comics of 2014, make sure you leave room for Flash Gordon #1!" SOLAR: MAN OF THE ATOM #5
Writer: Frank J. Barbiere Art: Jonathan Lau Covers: Juan Doe
MARKETING DESCRIPTION: Part 1 of New Story Arc! Ok, so 1) Erica's got ALL the Solar powers. 2) Erica doesn't know how to USE the Solar powers. 3) Erica's dad keeps bugging her about HOW to use the Solar powers. 4) Erica's lost waaaaaay the hell out in space BECAUSE of the Solar powers, and 5) Pretty much every alien ever wants to catch Erica and STEAL the Solar powers. Things are gonna blow UP. Welcome to the most bats&%t insane lost-in-space story EVER by FRANK BARBIERE (Five Ghosts) and new artist JONATHAN LAU (Codename: Action)! CHAOS! #4 (OF 6)
Writer: Tim Seeley Art Mirka Andolpho Covers: Emanuela Luppacchino, Tim Seeley and Nei Ruffino
MARKETING DESCRIPTION: A war for the fate of the world has erupted between Mistress Hel, and the vampire queen, Purgatori! The vampire-assassin, Chastity has a new target—homicidal super-zombie, Evil Ernie! It's a brutal, take-no-prisoners brawl between Chaos!'s favorite undead deathdealers, as reality takes one step closer to total Choas!