Forty-One Thoughts About Forty Comics – Uber, Uncanny X-Men, Wolverine & The X-Men, Satellite Sam, Sinister Dexter, Skin Trade, Three, Chew, Manifest Destiny, Wasteland, Batman, Batgirl, Wolverine, Deathmatch, 3 Guns, Nova, Thunderbolts, Adventure Time, Krampus, Protocol Orphans, Drumhellar, GI Joe, Justice League #3000, Superboy, Unity, Harbinger, A Boy And A Girl, Warlock, Doc Savage, GI Joe Special Missions, Indestructible, Alex + Ada, Lazarus, Memory Collectors, Dead Body Road, Powerpuff Girls, Star Trek, Wraith And X-Files
A quick flick through a few of this week's comics, in the most popular regular column on Bleeding Cool, X Thoughts About X Comics. Get in touch if you want your comic book featured… From Uber #8, Joe Stalin works on a strapline for Nike. He'll get there eventually, when he gets a little more frustrated. Comedy basic in Uncanny X-Men #15.INI. You take someone posh, snooty, superior, everyone's better… and then you portray them sleeping. On their knees. Cuts them right down. Also, now everyone knows what Cyclops saw in her. Are you a man, or are you a mutant? If you're a mutant, you're a very manly mutant. Are you a mutant, or are you a man? If you're a man that makes you a mutant of a man.
Wolverine & The X-Men prepares for the end… Satellite Sam #5 gives us a blow job scene, but one that's far more of a head job, focusing on faces rather than genitalia – the participants and the onlookers. The comic is a lot about those who watch – whether that be television or voyeurs of a different sort, Or those just caught up in events, with knowledge thrust into their heads whether they want it or not. The comic doesn't take place in the gutters here, but inside the heads of the characters, the reader invited to interpret and empathasise… it's a very mature approach to telling stories about sex. And for everything else, there is Sinister Dexter #1. And George RR Martin's Skin Trade, by way of Mike Wolfer, brings to mind the last few weeks worth of South Park… Three #3 discusses the sexual politics of Sparta. You know that will go down well, don't you? Those Poyo toys just can't come fast enough. Even the merest mention in the new Chew is enough to set the heart aflutter. Manifest Destiny #2, my favourite comic this week, and here's one reason why, a stunning fall from a cliff, with comic panelling utilised to the full, even a minor eclipse of the sun.
Add a bunch of Minotaurs and horse headed centaurs up against colonial empires and that's be sorted. Similarly from Wasteland #51… is this how DC's move to Burbank is being interpreted by staff, do you think? Batman #25 gives us… the origin of Commissioner Gordon's trenchcoat. I wonder if it will get its own spin off series? I'm not sure of the origin of Commissioner Gordon's denial. Either he's deliberately openly refusing to acknowledge that his daughter is Batgirl for decompartmentalisation reasons, which makes him a really bad father, or h just doesn't recognise his daughter with a skimpy mask on which makes him an even worse father.
She should steal his coat, that might teach him. Yeah, surrender, always such a trick. Has Wolverine just broken another tenant of the Geneva convention? He really should have a Human Rights Box, where he puts in a dollar every time he does something like this. It could pay off the national debt. Still, as in Deathmatch #12, it's bringing up all sorts of issues of making snap judgments in the moment and doing what you have to do given no other choices. Basically, every comic doing a Man Of Steel. 3 Guns #5 however, brings the case for the defence over that little moral compromise. You cheat. Obamacare, avoided, in Nova. So, we have a new weakness for Venom in Thunderbolts. Magnesium. It's a reason for Flash Thompson not to eat raw spinach before putting on the suit, then. High in magnesium, you see. Very little in sweets and candy though. So the cast of Adventure Time: Candy Capers #6 would be next to useless in stopping a rampaging symbiote from another galaxy. And they seem to meet a very unpleasant end in the already-mentioned Chew… And the League Of Extraordinary Santas in Krampus #1 have their own dietary issues. I say, and a few xenophobic ones as well. And Protocol Orphans #2 is always on hand to show us us how food can say so much. Aw man, thanks for that Drumhellar #2, you totally put me off my food.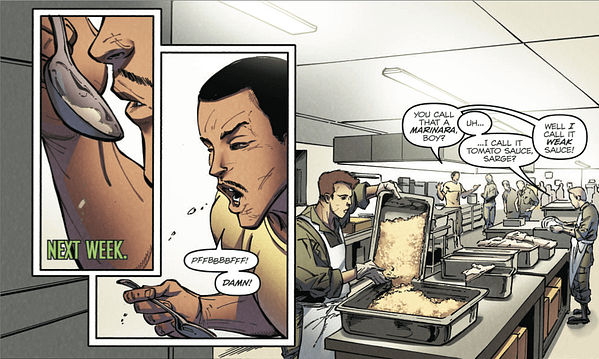 Exactly, just like that, GI Joe #11. But come on, enough is enough. It's just a waste! The 20th and 21st centuries, rewritten by the 31st in Legion 3000. And also, Howard Porter being a hell of a better comics artist than I remember him being on JLA. We're talking a cross between Glenn Fabry and… hmmm. Kevin Maguire. I wonder if that's just a coincidence?

Superboy shows that if you have telekinesis, you can basically do every super power there is if you try hard enough. Sneaky sneaky…did Matt Kindt just unveil a new X-O Manowar in Unity #2?! Just when you thought it was safe to go back in the water, Harbinger #19 brings you…KARDASHIAN MERMAIDS! Noooooo….. A Boy And A Girl #1 gives us a lesson that… well, no one is going to follow, are they? Seriously, just saying the words, you know it's all going to fall apart horribly. Grimm: Warlock #1. Published by Dynamite. Owned and run by Nicky Barrucci. Who is about four foot two in his socks. I wonder… You might be able to say "propitious" in Doc Savage #1, but I wouldn't like to give it a try. Translation from the Scottish for GI Joe Special Missions #10. "Numpty" is someone who is, well, a wee bit daft. So, no translation necessary then. Although possibly some needless tautology. Like that phrase "needless tautology". Hey, Indestructible #1, they might well stare back, aren't you Simon Pegg? After reading Alex + Ada #2, I'm really hoping my grandmother just gets me a jumper. Or a voucher, a voucher would be good. There must be better ways to deal with such annoying relatives. And, yes, Lazarus #5 has the answer, even if families are a little more deadly in that comic. Beg? Sure I can beg, ghoulish creature from Memory Collectors #2. Just watch me. Why? I'm begging because the guy in the previous panel asked me to beg! Don't you know how these X Thoughts About X Comics columns usually go? Still, Dead Body Road, nice ccr action sequences. Very Sean Gordon Murphy… This, folks, is how Hannah Means Shannon will be playing the role of editor-in-chief at Bleeding Cool Towers, courtesy of today's Powerpuff Girls. I think I'm the one with the orange hair… When you read this Star Trek fumetti from John Byrne, you do the voices in your head, don't you? The Wraith #2 goes for broke in winning over its audience. Or not. Well, I suppose, if there was a time for X-Files' Agent Mulder to swear, this would be it…
Comics courtesy of Orbital Comics, London.