From Axis To Time Runs Out To Spider-Verse – Where Is The Marvel Universe At Today?
In the Marvel Universe right now, Axis books are showing us a twisted present, with the moral compasses of a bunch of characters put in the spin. While Time Runs Out is showing us a future – and it may not be entirely disconnected.
Doctor Doom is going through changes. A different man, in Axis and in Avengers World he seems to have two different approaches to resolving this dilemma. In one, he resolves to turn Latveria into a more modern, Western, liberal state. And in the other? Oh to capture the Scarlet Witch and turn her into a mystical power source. I'm not sure they entirely match up. Mind you, I suppose, if it's what the people want…
The non-crossover Uncanny X-Men, sees a possibly inverted Cyclops nevertheless abandon Xavier's dream. The fact that we can't tell if he's an inversion or not here is probably rather telling… But in Magneto, it seems the original bald coot is not down for the count, after the incident with the Red Skull… We may be learning more about what happened to Thor in Axis Revelations. Could the destruction of Broxton be linked to Thor's inability to pick up Mjolnir? Or are they two separate incidents? The new Thor knows Dario Ager and Roxxon, how are they involved? Because in Deadpool's Axis crossover, they seem to be rather active too. And everything has changed for Loki. His one defining feature, has now been taken from him, in Loki, Agent Of Axis. Something Thor picks up on in Axis #6. That can't be allowed to continue can it? In Axis #6, Tony Stark is still rocking his world. But his future in New Avengers #26 seems very bleak indeed. Note his suit still has the silver, but doesn't exactly look that symbiote based anymore… It's not just Tony's future that's dark of course. In Avengers, Cyclops gives us the following revelation… Okay folks, how the hell did he get that out of Jean Grey? Carnage is being stitched up by the media, but to be fair, he is a mass murderer, and there's no knowledge when the inversion will switch back. If it even does. And where is Amazing Spider-Man in all this?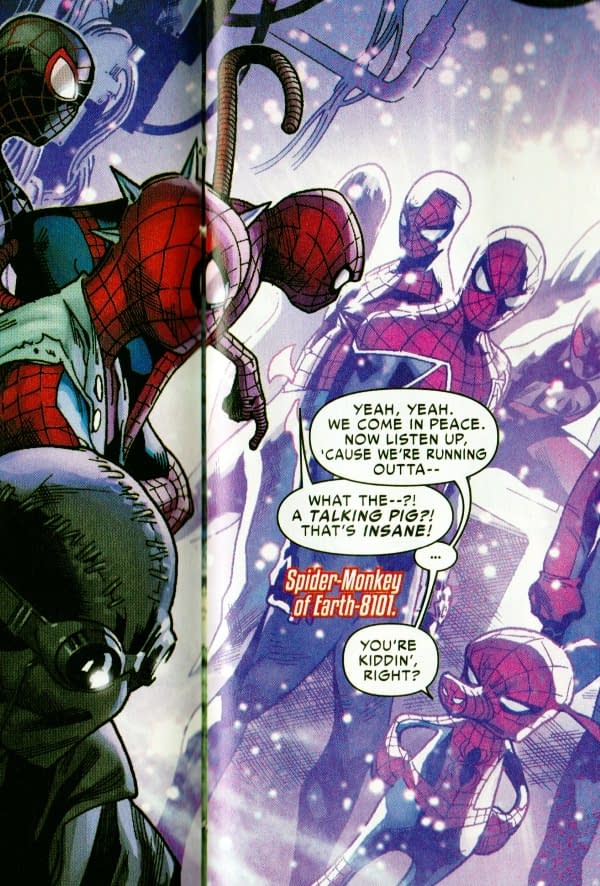 That's right he's dealing with pig and monkey versions of himself. No wonder he's too busy for the Human Torch in the new Fantastic Four. Aww… poor Johnny. Never mind, I'm sure it will all work out in the end…
Comics courtesy of Orbital Comics, London. With a Jason Aaron/Jason Latour/Ivan Brandon/Tom Muller signing today, with a Directors Commentary performance of Southern Bastards #1.