Full Roster Revealed for Tom Taylor and Bruno Redondo's Suicide Squad… Who Will Die First?
DC Comics has revealed the full roster of characters for the upcoming Suicide Squad relaunch by Australia's Favorite Son Tom Taylor and Bruno Redondo, and we have to say… there aren't nearly enough characters here! Presumably, these characters are going to drop like flies once the series begins, and the roster will be down to just Harley and Deadshot by issue #6!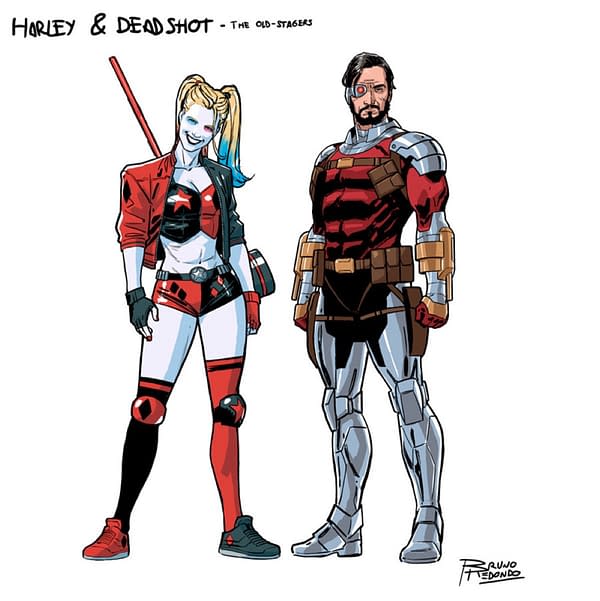 Hopefully, Taylor and Redondo get to coming up with new characters fast to replace all the ones they're going to kill off after we've become attached to them. Check out the press release and character sketches below, then, in the comments, post which one you think is most likely to be killed off first!
Bestselling Injustice 2 Team of Writer Tom Taylor and Artist Bruno Redondo Reunite for the Wildest Version of Suicide Squad Yet!

Task Force X—nicknamed the Suicide Squad—unites some of the DCU's unlikeliest villains for its bloodiest series ever! This new version of Task Force X by writer Tom Taylor and artist Bruno Redondo is already riddled with new villains—any of whom could die on a mission or be dispatched by the mysterious leader who has replaced Amanda Waller.

The Squad's new mission is to neutralize a group of international super-terrorists known as the Revolutionaries. But when the surviving Revolutionaries join the Squad, all hell breaks loose! Who can Harley Quinn and Deadshot trust when their new teammates are the very people their crew was assigned to kill? The Suicide Squad doesn't just need to worry about surviving their next mission…now they have to survive each other!

Below, meet the new Suicide Squad in a series of character sketches by Bruno Redondo. Suicide Squad #1 hits shelves on December 18th, 2019.

Suicide Squad #1
Written by Tom Taylor
Art by Bruno Redondo
Colors by Adriano Lucas
Lettering by Wes Abbott
Cover art by Ivan Reis and Joe Prado
In Shops: Dec 18, 2019
Final Orders Due: Nov 25, 2019
SRP: $4.99