Gail Simone's Seven Days Moved to October at Diamond Retailer Summit
We look forward to getting mini-reports through the day from the Diamond Retailer Summit being held in Las Vegas. Though not everyone is into the Vegas vibe. Take the editor-in-chief of Vault Comics, Adrian F Wassel.
Well, I have officially landed in Vegas for the first time, for work, and I have never hated a place more quickly in my entire life.

So there's that.

It's like someone reached into my brain and designed my personal hell.

— Adrian F. Wassel (@afwassel) May 18, 2019
Well, his rivals at Lion Forge-or-is-it-Oni-Press-now, Jeremy Atkins and Devin Funches interviewing Gail Simone as she takes over and relaunches their shared superhero universe line Catalyst Prime with the series Seven Days, drawn by Jose Luis with covers by Stjepan Sejic and Ashley Witter.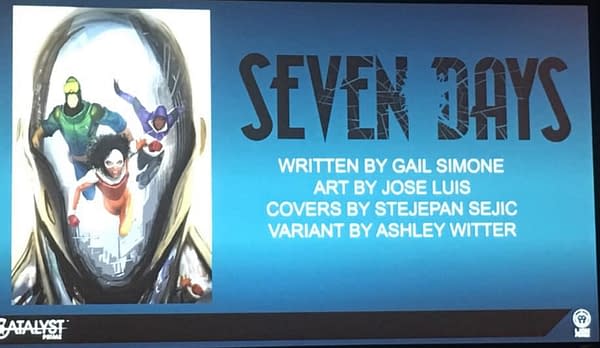 And we got a look at the schedule for the series – and how each issue will take up one of the days – as will any of the other Catalyst Prime books that tie in. And noted that the schedule has been moved to begin in October.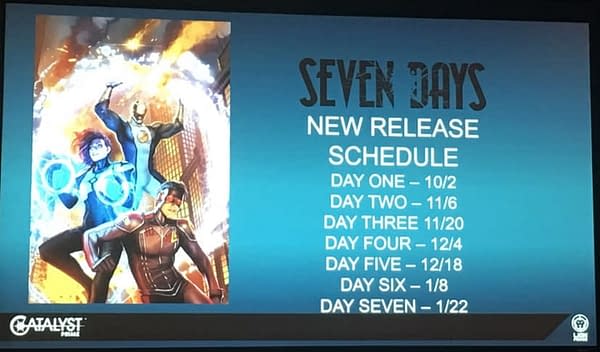 Will Gail Simone telling the assembled comic book retailers 'She's an African American astronaut who's also queer. Who wouldn't be into that?'
I dunno, Gail, have you seen the demographics of the average comic book store owner? Thankfully nothing like what happened with Marvel at a retailer meeting in NYCC that time kicked off…
Announced at the Diamond Retail Summit in Las Vegas, check out the rest of our coverage with this tag. And courtesy of Dennis Barger of Wonderworld Comics, Michigan.