Gail Simone's Women in Refrigerators Exists in the Marvel Universe
The term "Women in Refrigerators" was coined in 1999 by Gail Simone to recognize how women characters are treated in comic books. It specifically refers to how they are often harmed, murdered, raped, abused in order to provide motivation for a male lead character to seek revenge. The term was named after the comic book scene wherein Green Lantern Kyle Raynor returns home to find his girlfriend, Alexandra DeWitt, murdered and stuffed in a refrigerator by the supervillain Major Force.
Simone stated that its purpose was to demonstrate "If you demolish most of the characters girls like, then girls won't read comics." But like the Bechdel Test, "Women in Refrigerators" escaped the narrow confines of comic books and was used as a wider term, colloquially regarding characters being "fridged".
Now it appears that the essay, written by someone who would go on to write Marvel comics such as Deadpool, Wolverine, and, currently, Domino must also exist in the Marvel Universe. As presumably must Gail Simone herself, so that Iceman can use the term.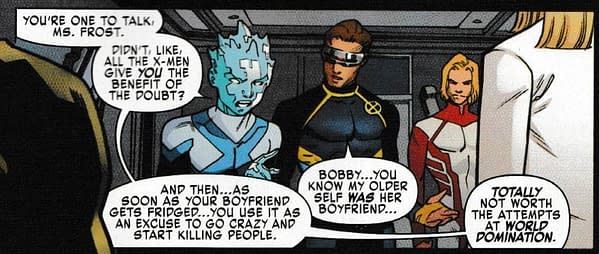 Of course, he uses it about a man rather than a woman, the adult original version of Cyclops.
On the initial publication of Women in Refrigerators, editor John Bartol wrote an essay called "Dead Men Defrosting" which argued that when male heroes are killed or altered in such a fashion, they are more typically returned to their status quo in a fashion that women characters aren't, which highlights the difference.
Mixing up refrigeration and defrosting? Trust Iceman…
X-MEN BLUE #31
(W) Cullen Bunn (A) Jorge Molina (CA) R. B. Silva
MAGNETO: HELLFIRE HUNTER!
• After the events of "Cry Havok," Magneto is on a mission of vengeance!
• His target? Emma Frost, the White Queen!
• But there's only one group who will stand in his way…
Rated T+ In Shops: Jul 11, 2018
SRP: $3.99