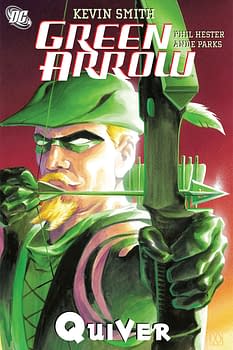 Growing up, Green Arrow was my favorite DC character. He was a mix between Robin Hood and Batman and I really liked the archery angle. Plus he didn't have superpowers, he was just really good with a bow and that was something you could train to be. He was an every-man hero that hung out with gods. And then somewhere along the way, DC killed him. I wasn't happy about it. They had his son, Connor Hawke step in and had stories with Roy Harper… but that wasn't my Green Arrow. And then in 2001 DC announced they were going to bring back Oliver Queen. And it was going to be written by Kevin Smith and drawn by Phil Hester… and I wasn't happy.
They had already killed him and now my favorite DC character was going to be in the hands of the guy who did Clerks and Dogma. I wondered how many penis jokes he could get into a 22-page comic. And the art was a blocky, cartoony style that no way fit this serious character. I wanted something akin to Neal Adams or Mike Grell. I was not going to stand for this.
And then in April of that year, issue one came out and I flipped through it… then bought it, took it home and read it… and, against my butter judgement, I really liked it. By the second issue I was looking forward to the series and the mystery of how Ollie came back and by the end of the third issue, I couldn't imagine a better art team for the book than Hester and Ande Parks.
Green Arrow: Quiver is a brilliant reintroduction of a character with action, heart and humor. And it's also the story of friendship, as it's an act of friendship that brought Oliver back, but back to a point just prior to the events of Long Bow Hunters. I can't really get into too much about the story without giving away some of the important plot points… but I can say the trade includes appearances by Batman, The Justice League, Black Canary, Roy Harper, Connor Hawke, The Spectre, and Etrigan the Demon. It also introduces Mia Dearden as Speedy.
This book would make an excellent gift for Green Arrow fans, Arrow fans, Kevin Smith fans and comic fans in general. From being a Batman clone to growing in popularity and being able to carry his own television series, Oliver Queen / Green Arrow is becoming a powerhouse character and Quiver is a great jumping on point for anyone who wants to go green.
Enjoyed this article? Share it!