Today sees the release of Guardians Of The Galaxy #1 from Al Ewing, Juann Cabal and Federico Blee. And with Al Ewing having been the lead writer on Incoming and also co-writing the upcoming Empyre, it is natural that we may look to see what may be set up for April today. And with a Kree Utopia being enforced, it is left to Richard Rider, Nova, to put a downer on things and recognise that there have been quite a lot of events and events after events leading up to this one.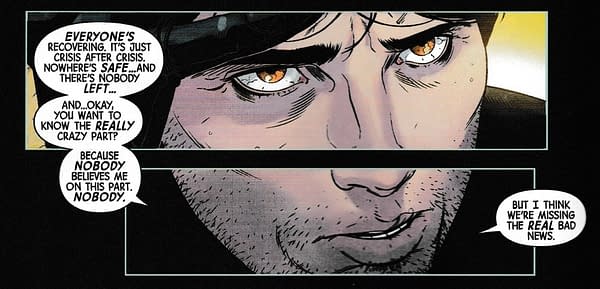 But here's here to tell us.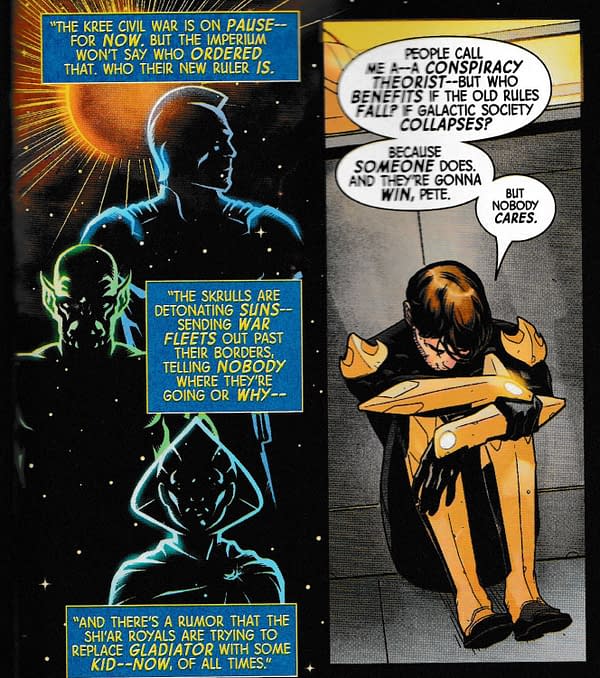 The Kree have a new ruler – is that Hulking? The Skrulls sending out War Fleets – are those to Earth? And the Shi'ar are replacing Gladiator with a kid… say, is there any chance it could be Wiccan? Just a stray thought there with nothing to back it up… what other kids could be Kid Gladiator with links to everything else? Smasher? Cannonball?
GUARDIANS OF THE GALAXY #1
(W) Al Ewing (A/CA) Juann Cabal
Once, they were a team of misfits. Now they're a family, and they've earned their peace. But the universe is not a peaceful place — and it's only getting worse. The Great Empires are in turmoil. The rule of law is dead. And amidst the chaos, the Gods of Olympus have returned — harbingers of a new age of war, reborn to burn their mark on the stars themselves. Someone has to guard the galaxy – but who will accept the mission? And will they survive it? Al Ewing (IMMORTAL HULK) and Juann Cabal (FRIENDLY NEIGHBORHOOD SPIDER-MAN) bring you in on the ground floor of a whole Marvel Universe of action and suspense!
Rated T+In Shops: Jan 22, 2020
SRP: $4.99
Guardians Of The Galaxy #1 is out today from DC Comics… I bought mine from Piranha Comics in Kingston-Upon-Thames. Piranha Comics is a small south London comic store chain with a small south-east store in Kingston-Upon Thames's market centre, which runs Magic The Gathering nights on Fridays, and a larger south-west store in Bromley, which also runs Magic nights and has an extensive back issue collection and online store. If you are in the neighbourhood, check them out.

Enjoyed this article? Share it!