Amazing Spider-Man #129 featured the first appearance of the rather popular character, The Punisher. As a result, it can be quite pricey. One Jessup Rupp bought his copy from an outlet of Half Price Books for, inappropriately, a quarter off their advertised price.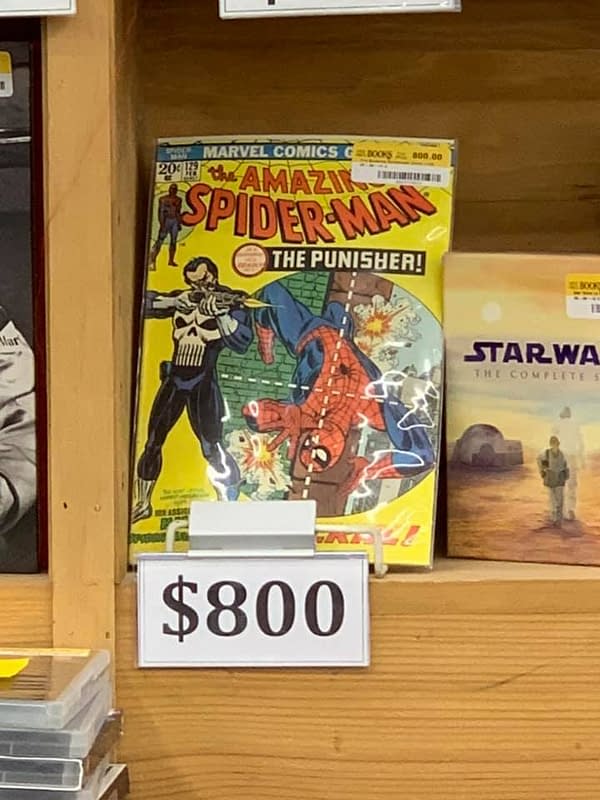 Rupp posted to Facebook (and allowed Bleeding Cool permission to reproduce) his story. He writes,
On Saturday, Tim Schnurr, a guy local to me, posted in a Comic speculation group that he saw an ASM 129 at a local Half Price Books. He was asking the community their collective thoughts on whether or not to purchase the book. He is a teacher and gets a 10% discount.

The store is one of five Half Price Books in my area. I frequent them all but, this one the least and I'm disappointed I missed out. The next day I decided I'd call and see if he pulled the trigger on the book and, he didn't.

I politely ask the gentleman on the line if they would put the book on hold for me until I could get there to inspect the book. They agreed and I was on my way.

When I get there I make a beeline for their comics to see what else might have come through with that collection. I only find a few other Amazing Spider-Man titles in their collectibles box ,but not another single issue. Then I go to the front to look at the 129.

The cashier helping me was super friendly, showed me the book as I was pulling out a magnifying glass, ruler and a black light. At first glance I immediately said I'll pass. The cashier asked why I was passing so quickly. I told her that the book clearly had some water damage that left some tide marks also spine roll and a number of color breaking spine tics. I explain to her that it was clearly overpriced and I just wasn't interested.

She seems stymied as well as why they would price a book so high with water damage. She said 'let me grab my manager'. When she comes back with the manager she asked why the book was priced so high in the condition it was in.

Now, in a bag and board, the book presents well. So, I took the book out and pointed out the damage. They both agreed it was overpriced.

I said I was still interested in the book and that it still had value just not $800 in value. He asked me what I thought it was worth. I said hard to say because I'm not normally buying books in such condition and offered him $150. He thought about it a minute and countered back at $250. I started to put my things away and said I'll meet you in the middle at $200. He agreed and I was on my way.

At $200 it wasn't a steal by any means but, what we both considered fair. I decided to share the negotiations with the community because after years of shopping at these stores I was unaware that haggling at these shops was even an option.

I'm going to gamble to say it's going to change from store to store but, wanted everyone to know that if you frequent your local HPB that it just may be an option on some of their inflated 'collectibles'. Although I find amazing stuff in their regular bins and random comic carts. I generally steer clear of their collectibles boxes.

Thanks for all your support! I hope this helps anyone that shops at their stores. #neverstopdigging

Enjoyed this article? Share it!