Hal Jordan and the Green Lantern Corps #50 Review: Going Out on Top
Hal Jordan is locked in a duel with Tomar-Tu in his Darkstar mantle. The Green Lantern Corps are fighting the rest of the Darkstars overhead in orbit, but the situation is looking grim. John Stewart won't allow the Corps or their allies to kill. General Zod is straining under this restriction, but even Guy Gardner and Arkillo are beginning to question John's orders. Hal's turning the tide of his battle, but he will have to take a major gambit if he's to save the day.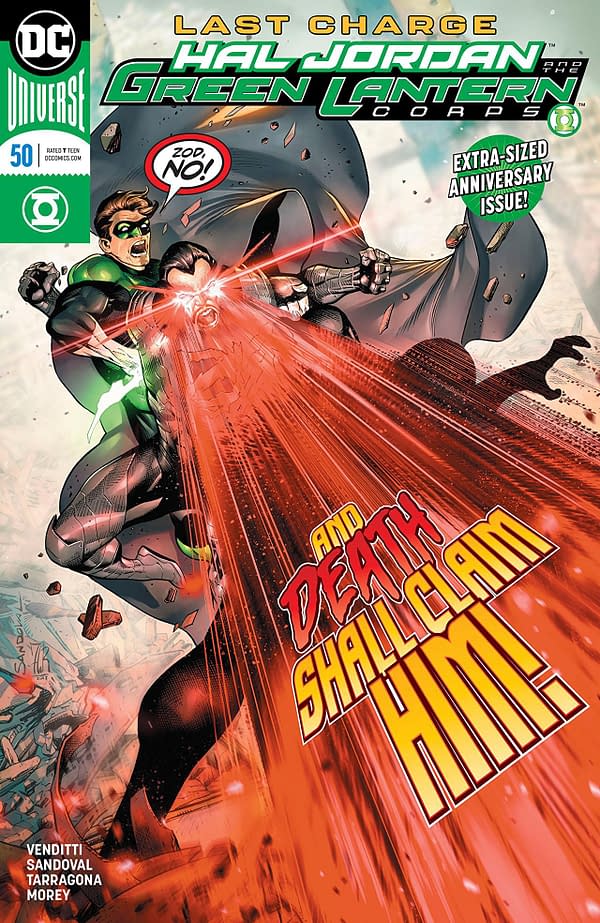 Hal Jordan and the Green Lantern Corps #50 marks the end of this series as well as Robert Venditti's tenure on Green Lantern comics. I'm sad to see him go; his Green Lantern and Hal Jordan and the Green Lantern Corps were both among DC's better books in their times.
Thankfully, this comic gets to go out on top, because this was a stellar issue from Venditti and company. The war against the Darkstars ends in a bombastic show of might from Hal Jordan and his comrades. It also takes the time to show John Stewart some love, which is great.
It even justifies Tomar-Tu's place in this story. He was the weak link in this story so far, but his part in this issue made me genuinely feel for him.
Rafa Sandoval, Jordi Tarragona, and Tomeu Morey partake in this grand finale too, as it wouldn't quite be the send-off this comic needed without the artistic lineup that made the book what it was. There are many gorgeous splash pages spread through this book, and the Green Lantern's Light never looked better. The colors are brilliant and well contrasted, and this trio make the book look as amazing as ever.
Hal Jordan and the Green Lantern Corps #50 allows the series to go out on top. The battle between the Green Lanterns and the Darkstars comes to a spectacular ending brought together by solid storytelling and brilliant artwork. This one earns a strong recommendation. Give it a read.