Harley Quinn vs. Darkseid in Closer DC Continuity as Sam Humphries Writes Ongoing Series from #43
Sam Humphries will be the new writer on Harley Quinn from #43, drawn by regular series artist Mirko Andolfo. A series that has plotted its own course both pre and post-Rebirth, Jimmy Palmiotti, Amanda Conner, and Chad Hardin created a comic that was self-aware, fourth wall-breaking, and gave Harley a talking beaver.
It wasn't one for crossover, and the Harley Quinn who appeared in Suicide Squad was very different to the one that appeared in her own comic book.
The series recently saw Frank Tieri and the likes of Mauricet, Inaki Miranda, Mirko Andolfo, and others replace Palmiotti and Conner (though Conner continued covers, as did Frank Cho), but this looks like a greater break from the past — so much so that the collections of Harley Quinn will start again with a new Volume 1.
Is anyone getting that feeling of when De Matteis and Giffen left Justice League 0f America, for Dan Jurgens to give the comic a brand-new start?
Mind you, while Humphries has become better known for his work on the likes of X-Force and Green Lantern comics, he first came to the industry's collective awareness with Our Love Is Real, which was the story about a Judge Dredd analogue and a sexual relationship with his dog.
So, you know. Talking beavers aren't that much of a stretch.
https://twitter.com/samhumphries/status/880188471184248833
Oh, and it's Darkseid time. Which I only recall in the Injustice game…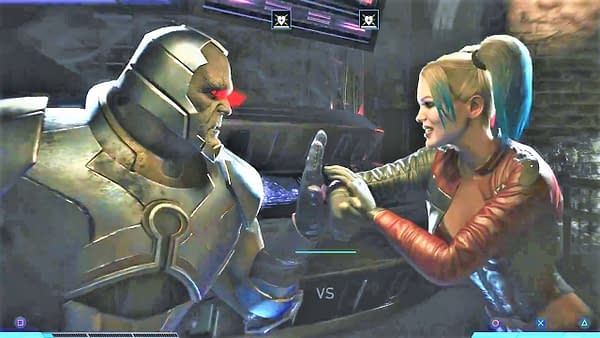 A new era for Harley begins here as writer Sam Humphries oversees the clash of the century: Harley Quinn vs…Darkseid?!?!?

It's the fight that you thought you'd never see: Harley vs. the Lord of Apokolips! Batman's second craziest foe has done her nuttiest thing yet—she's stolen from Darkseid! With a deadly confrontation growing near, Harley must prepare herself for the greatest battle of her life—sounds like it's time for a New Gods shopping trip!

Harley Quinn's story starts anew here in this tale tied closer to the DC Universe! Writer Sam Humphries jumps behind the wheel, beginning with this all-new jumping-on point.