Hawkeye #15 Review: Great Characters and Witty Dialogue Continue to Make this a Great Series
[rwp-review-recap id="0"]
Hawkeye Kate Bishop and Hawkeye Clint Barton are in the process of trying to stop the team-up of Eden Vale and Madame Masque as well as capture Kate's supervillain dad. This leads to them trying to make an escape from a warehouse in a Dryver (think Uber) in Madame Masque minion uniforms. It's a whole thing.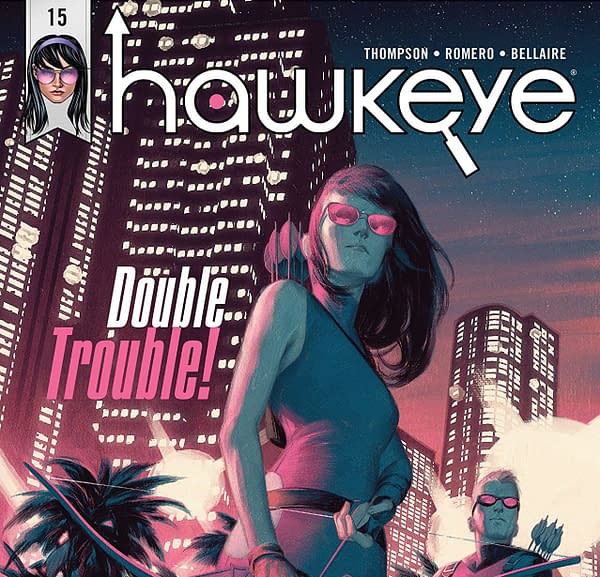 Kelly Thompson has easily captured the tone and dialogue that made Matt Fraction and David Aja's Hawkeye what it was. It still baffles me that this series hasn't been met with similar critical acclaim as Fraction's series. I mean, I kinda know why, but it involves words like "sexism" and "aversion to change," and most people hate those words for some reason. Though I will gladly admit this book isn't necessarily for everyone.
In any case, this series continues to provide plenty of charisma and fun, with Kate teaming up with Clint Barton in this arc. As it turns out, trouble seems to follow a Hawkeye, as Kate and Clint are sent running back and forth across Los Angeles thanks to the machinations of Masque and Eden.
This particular issue is fairly action-packed, with Kate and Clint going through Masque's followers (sometimes the same followers multiple times) to find a way of halting Eden's master plan.
This involves plenty of funny one-liners, a lot of arrows and punching, and bad ideas, which are all the hallmarks of a good Hawkeye comic book.
The only drawback is that this issue finds the bizarre need to retell the events in an unnecessarily non-chronological order, which may confuse the reader quite a bit. It certainly took me a minute to figure out what happened in what order a couple of times.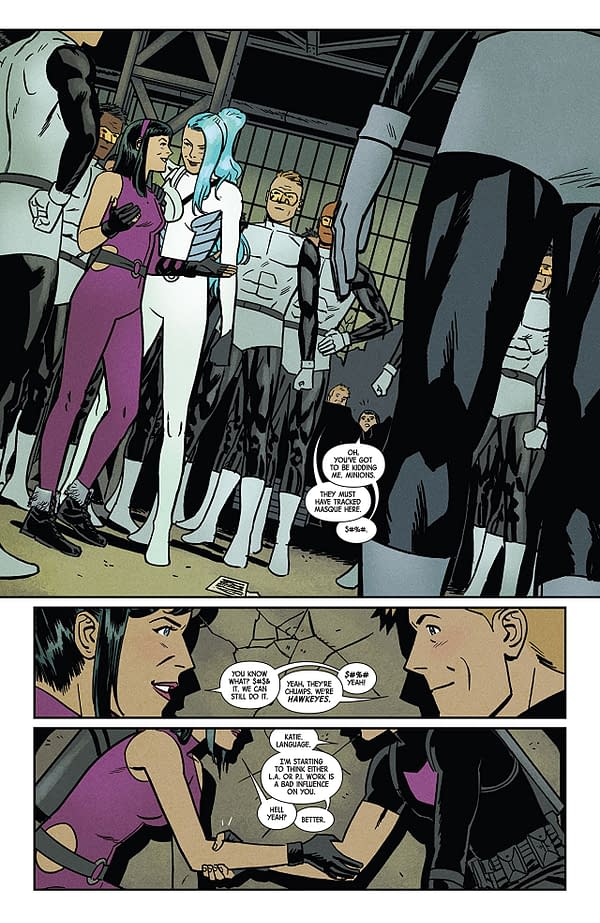 Leonardo Romero provides a restrained David Aja-inspired style that adds to the semi-day-in-the-life tone Hawkeye has maintained for the most part since the Fraction and Aja days. It works very well for the comic like Aja's did. Jordie Bellaire's color art is similarly restrained, with the exception of the purple intentionally standing out from time to time. The overall style is very cohesive and does wonders for the story.
Hawkeye #15 once more shows how to balance character, action, and humor with another great issue from Thompson, Romero, and Bellaire. Bringing a lot of fun, conflict, and Hawkeye-drama, this comic easily comes recommended. Give it a read.
[rwp-review-ratings id="0"]
[rwp-review-form id="0"]