Image Comics To Publish Rich Tomasso's Spy Seal In August – But Will He Still Shoot Donald Trump? Last year, Rich Tomasso, in a series of now-deleted tweets, asked if he should revive a comic he created when he was 13, before a flurry of activity later, he announced the comic would be returning in June. Spy Seal: The British Agent.
Well, it took a couple of extra months. But now it's been announced that it will be coming in August. Originally created by Tommaso in his teens, SPY SEAL made a big splash when it became instantly viral last fall, generating fan enthusiasm, cosplay, and Hollywood interest before being snapped up for an ongoing series. The series' first chapter, The Corten-Steel Phoenix, finds Spy Seal, Britain's newest covert agent, up to his neck in saboteurs, snipers, assassins, and double agents.
"It's wonderful and surreal to be working with material that I created as a 13-year-old kid," said Tommaso. "I'm enjoying doing a spy story too—it's a genre I've never explored in my adult career as a cartoonist.
"The approach I've decided to take is to illustrate, write, and design everything in the style of those mid-20th-century Franco-Belgian comics—mainly Hergé's Tintin, which I've really admired for years," added Tommaso. "I'm going for the cozy feel I get from reading those old adventure comics, sending Spy Seal around the world to see as many corners of it as he can, while flying high in amphibious planes, driving retro-modern cars, exploring secret, underground hideouts, and meeting foreign contacts in mysterious locations. Basically, run him through the gamut of obstacles Alfred Hitchcock would run his heroes and heroines through."
Of course, it may have a more political tinge.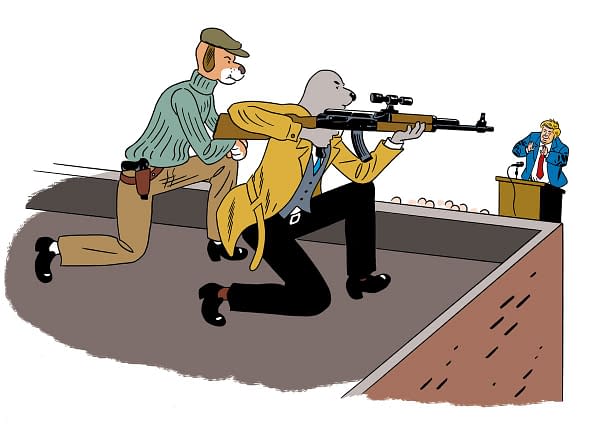 Spy Seal #1 arrives in comic book stores Wednesday, August 16th.