Image Surprise-Publishes New Robert Kirkman Comic Die!Die!Die! with Walking Dead Showrunner and Chris Burnham, in Comic Stores Tomorrow
Publishers have previously done this with digital comic books, but this is a first for print. Tomorrow, comic stores will have a surprise new comic from Image Comics/Skybound, by Walking Dead creator Robert Kirkman and showrunner of The Walking Dead TV series Scott M. Gimple, with art by the stellar talents of Batman Inc and Nameless art team Chris Burnham and Nathan Fairbairn.
And no one saw it coming. They just did a Netflix/Beyonce surprise drop.
Strictly for mature readers, this action packed comic lives up to its title – blood will flow, bullets will fly and the mayhem will never end!
Forbidden Planet London have decided to give away copies of Die!Die!Die! free to any customers who are already subscribing to Robert Kirkman and Lorenzo De Felici's Oblivion Song in store or by mail order. Everyone else will pay cover price of $3.99 or the equivalent.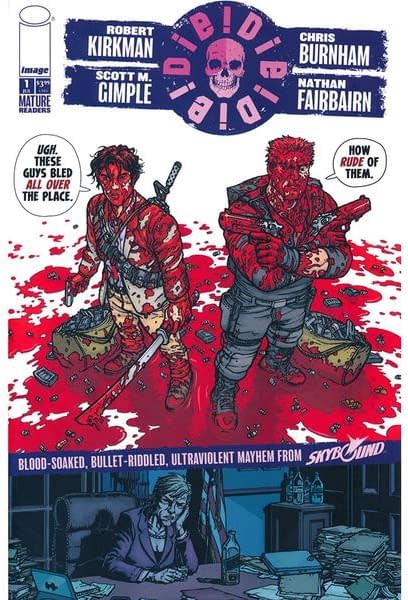 Forbidden Planet says to look out for the cover — and that does appear to show a Hillary Clinton who won the Presidency? If you can call that winning… she also seems surrounded by whisky bottles. Maybe things aren't so happy and glorious.
As to the central murderous figures, one with swords and one with guns, am I the only one reading a Deadpool/Cable vibe into that? Probably. Still, Nathan Fairburn has a lot of shades of red he looks like he'll be working with for this one.
Numbers were, apparently matched to retailers' orders of Oblivion Song #1. I expect to find out more what has gone down later today.
But all credit for Kirkman, Skybound, Image, Diamond and everyone else for keeping this a secret for so long. And showing that you don't need any pre-publicity, solicitations, spoiler previews months ahead to get people excited for a comic book. You can just… get it out there, if it has a strong enough pedigree. Surprise comic books may well be the future.