In One Week, In Two Weeks – Welcome The Dark Gods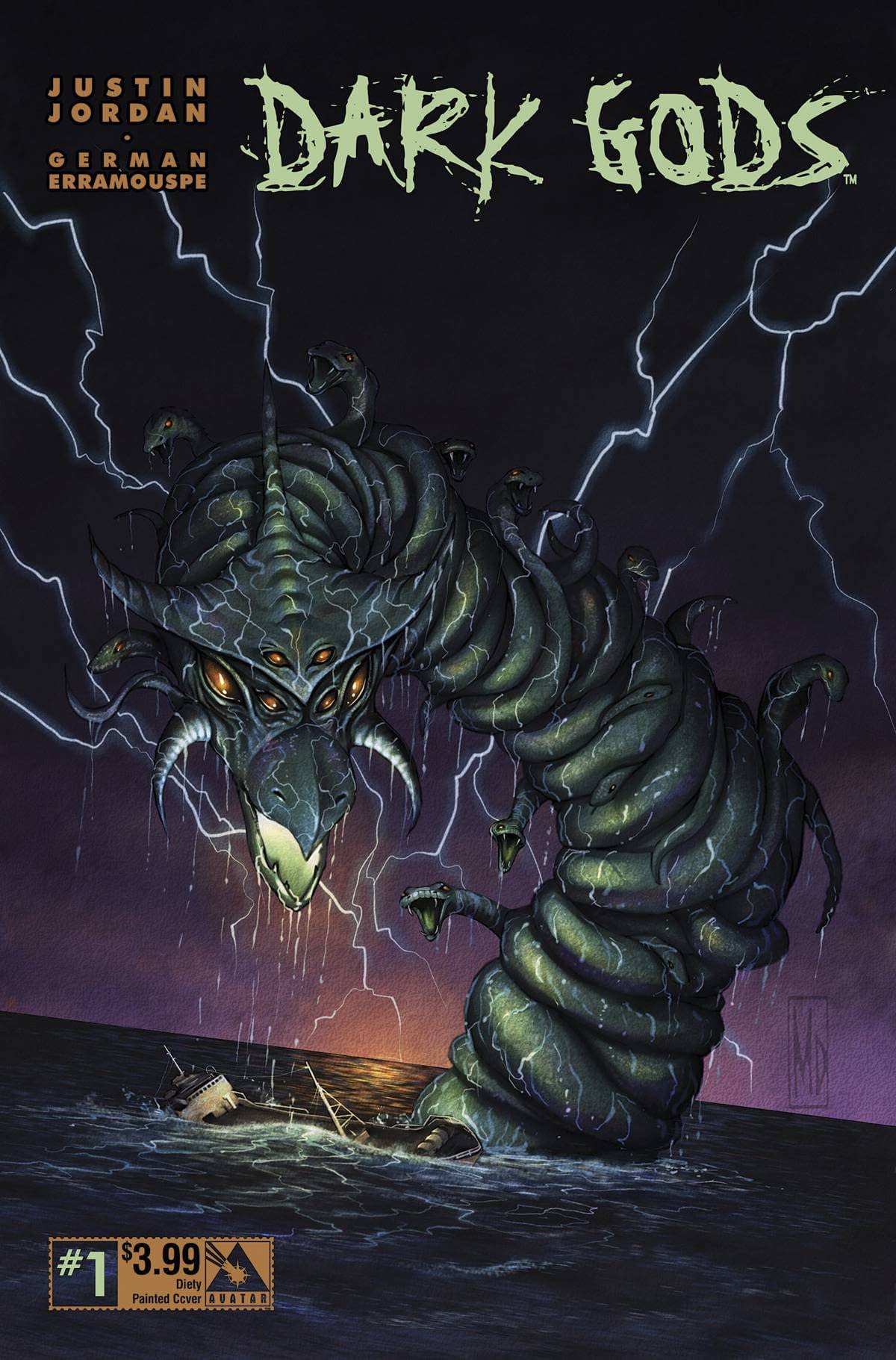 Launching next Wednesday are Baltimore: Wolf And The Apostle, Harley Quinn Annual, Rasputin, Axis: Carnage, Axis Revolutions, Death Of Wolverine: Deadpool And Captain America, Deathlok, Marvel 75th Anniversary Celebration, True Stories, Beast Commandoes, Rogue The Burning Heart, Roman Ritual, Dark Gods, Sonic Boom, Godkiller Walk Among Us, I Play The Bad Guy, Phantom and Dredd Uprise.
The week after? Spider-Verse Team-Up, Ghost Fleet, Tooth And Claw, Humans, American Legends and the Zenith Phase One hardcover in the USA.
DARK HORSE COMICS
ALIENS FIRE AND STONE #2
$3.50
BALTIMORE WOLF AND THE APOSTLE #1
$3.50
BLACKOUT TP VOL 01 INTO DARK
$12.99
BLADE OF THE IMMORTAL TP VOL 30 VIGILANCE (MR)
$19.99
CAPTAIN MIDNIGHT #16
$2.99
CHRONICLES OF KING CONAN TP VOL 09 BLOOD OF SERPENT
$19.99
CONAN THE AVENGER #7
$3.50
DEEP GRAVITY #4
$3.99
EC ARCHIVES TALES FROM THE CRYPT HC VOL 05
$49.99
GAME OF THRONES DAENERYS TARGARYEN LUNCHBOX
$14.99
GOON OCCASION OF REVENGE #3
$3.50
GRIMM LUNCHBOX
$14.99
GROO VS CONAN #4
$3.50
LEGEND OF KORRA LUNCHBOX
$14.99
MASSIVE #28
$3.50
MIKE NORTONS BATTLEPUG HC VOL 03 SIT STAY DIE
$14.99
MIND MGMT #27
$3.99
PROJECT BLACK SKY SECRET FILES TP
$14.99
SUNDOWNERS #3
$3.50
VACHSS UNDERGROUND HC
$29.99
DC COMICS
100 BULLETS TP BOOK 01 (MR)
$24.99
BATMAN ETERNAL #30
$2.99
DC COMICS ZERO YEAR HC (N52)
$34.99
EARTH 2 WORLDS END #4
$2.99
GREEN LANTERN HC VOL 05 TEST OF WILLS (N52)
$24.99
GREEN LANTERN TP VOL 04 DARK DAYS (N52)
$16.99
HARLEY QUINN #5 2ND PTG
$2.99
HARLEY QUINN ANNUAL #1 INTERNATIONAL ED
$5.99
HARLEY QUINN ANNUAL #1 INTL BOMBSHELLS VAR ED
$5.99
JUSTICE LEAGUE DARK ANNUAL #2
$4.99
JUSTICE LEAGUE UNITED ANNUAL #1
$4.99
NEW 52 FUTURES END #26 (WEEKLY)
$2.99
PREACHER TP BOOK 06 (MR)
$19.99
SENSATION COMICS FEATURING WONDER WOMAN #3
$3.99
SINESTRO #6 (GODHEAD)
$2.99
SINESTRO #6 MONSTERS VAR ED (GODHEAD)
$2.99
SWAMP THING ANNUAL #3
$4.99
VERTIGO QUARTERLY #1 YELLOW (MR)
$7.99
WONDER WOMAN #35
$2.99
WONDER WOMAN #35 MONSTERS VAR ED
$2.99
DC COMICS/DC DIRECT
BATMAN METALLIC MINI STATUE BY JIM LEE
$99.95
DC COMICS COVER GIRLS HARLEY QUINN STATUE 2ND ED
$99.95
DC COMICS DESIGNER SER 2 CAPULLO RED HOOD AF
$24.95
GREEN ARROW MINI PATINA STATUE
$99.95
IDW PUBLISHING
ANNE RICE SERVANT OF THE BONES HC SIGNED VAR
$22.00
BASIL WOLVERTON WEIRD WORLDS ARTIST ED HC
$95.00
CARTOON NETWORK SUPER SECRET CRISIS WAR #5
$3.99
CARTOON NETWORK SUPER SECRET CRISIS WAR #5 SUBSCRIPTI
$3.99
IDW FALL 2014 KIDS COMIC SAMPLER 25CT BUNDLE
$3.00
LITTLE NEMO RETURN TO SLUMBERLAND #2
$3.99
LITTLE NEMO RETURN TO SLUMBERLAND #2 SUBSCRIPTION VAR
$3.99
ROT & RUIN #1 2ND PTG
$3.99
TRANSFORMERS MORE THAN MEETS EYE #34 DAWN O/T AUTOBOTS
$3.99
TRANSFORMERS MORE THAN MEETS EYE #34 SUBSCRIPTION VAR
$3.99
IMAGE COMICS
BLACK SCIENCE #10 (MR)
$3.50
BURN THE ORPHANAGE TP VOL 02 REIGN OF TERROR (MR)
$12.99
COWL TP VOL 01 PRINCIPLES OF POWER (MR)
$9.99
CUTTER #4 (MR)
$3.99
LOW #4 (MR)
$3.50
MORNING GLORIES DLX HC VOL 03
$49.99
OUTCAST BY KIRKMAN & AZACETA #4 2ND PTG (MR)
$2.99
RASPUTIN #1 CVR A ROSSMO (MR)
$3.50
RASPUTIN #1 CVR B STEGMAN (MR)
$3.50
ROCHE LIMIT #2 (MR)
$3.50
SAGA #24 (MR)
$2.99
SAVAGE DRAGON #199
$3.99
SEX #17 (MR)
$2.99
SOUTHERN BASTARDS #5 (MR)
$3.50
SOUTHERN BASTARDS #5 CVR B ANDREW ROBINSON VAR
$3.50
STRAY BULLETS TP VOL 01 INNOCENCE OF NIHILISM (MR)
$19.99
THOUGHT BUBBLE ANTHOLOGY 2014 #4
$3.99
UMBRAL #10 (MR)
$3.50
WAYWARD #3 CVR A CUMMING & CAMPBELL (MR)
$3.50
WAYWARD #3 CVR B MOLINA (MR)
$3.50
MARVEL COMICS
ALL NEW X-MEN #33
$3.99
ALL NEW X-MEN #33 DEADPOOL 75TH ANNIV VAR
$3.99
ALL NEW X-MEN #33 FERRY VAR
$3.99
ALL NEW X-MEN #33 HASBRO VAR
$3.99
AMAZING SPIDER-MAN #4 2ND PTG RAMOS VAR SIN
$3.99
AMAZING SPIDER-MAN #5 2ND PTG RAMOS VAR SIN
$3.99
AMAZING SPIDER-MAN #6 2ND PTG RAMOS VAR
$3.99
AXIS CARNAGE #1
$3.99
AXIS REVOLUTIONS #1
$3.99
DEADPOOL AND CABLE OMNIBUS HC
$125.00
DEATH OF WOLVERINE #2 2ND PTG MCNIVEN VAR
$4.99
DEATH OF WOLVERINE DEADPOOL AND CAPTAIN AMERICA #1
$4.99
DEATH OF WOLVERINE DEADPOOL CAPT AMERICA #1 CANADA VAR
$4.99
DEATH OF WOLVERINE LOGAN LEGACY #3
$3.99
DEATH OF WOLVERINE LOGAN LEGACY #3 CANADA VAR
$3.99
DEATH WOLVERINE DEADPOOL CAPT AMERICA #1 SHALVEY VAR
$4.99
DEATHLOK #1
$3.99
DEATHLOK #1 BLANK VAR
$3.99
DEATHLOK #1 CRAIN VAR
$3.99
DEATHLOK #1 DESIGN VAR
$3.99
DEATHLOK #1 HASBRO VAR
$3.99
DEATHLOK #1 YOUNG VAR
$3.99
EDGE OF SPIDER-VERSE #2 2ND PTG RODRIGUEZ VAR
$3.99
EDGE OF SPIDER-VERSE #3 2ND PTG WEAVER VAR
$3.99
ELEKTRA #7
$3.99
FANTASTIC FOUR #12
$3.99
FIGMENT #1 3RD PTG ANDRADE VAR
$3.99
GUARDIANS OF GALAXY #20
$3.99
GUARDIANS OF GALAXY #20 HASBRO VAR
$3.99
GUARDIANS OF GALAXY #20 STOMP OUT BULLYING HANS VAR
$3.99
HAWKEYE VS DEADPOOL #0 2ND PTG HARREN VAR
$4.99
HOWARD DUCK OMNIBUS HC
$99.99
INHUMAN #7
$3.99
INHUMAN #7 DEADPOOL 75TH ANNIV PERKINS VAR
$3.99
INHUMAN #7 STOMP OUT BULLYING CHRISTOPHER VAR
$3.99
IRON MAN EPIC COLLECTION TP GOLDEN AVENGER
$34.99
LEGENDARY STAR LORD #1 3RD PTG MCNIVEN VAR ANMN
$3.99
MARVEL 75TH ANNIVERSARY CELEBRATION #1
$5.99
MARVEL UNIVERSE ULTIMATE SPIDER-MAN #31 SYU
$2.99
MIRACLEMAN PREM HC BOOK 02 RED KING SYNDROME
$34.99
MIRACLEMAN PREM HC BOOK 02 RED KING SYNDROME DM VAR ED
$34.99
MMW AVENGERS TP VOL 06
$24.99
MMW AVENGERS TP VOL 06 DM VAR ED 70
$24.99
NOVA #22
$3.99
NOVA #22 DEADPOOL 75TH ANNIV CHRISTOPHER VAR
$3.99
ORIGINAL SIN HC
$75.00
SAVAGE WOLVERINE TP VOL 02 HANDS ON DEAD BODY
$19.99
THANOS A GOD UP THERE LISTENING #4
$3.99
THUNDERBOLTS #32
$2.99
UNCANNY X-MEN IRON MAN NOVA TP NO END IN SIGHT
$15.99
WOLVERINE AND X-MEN #11
$3.99
WOLVERINE AND X-MEN TP VOL 01 TOMORROW NEVER LEARNS
$17.99
ABRAMS
STAR WARS ART POSTERS LTD ED HC
$340.00
ABSTRACT STUDIOS
RACHEL RISING #29
$3.99
ALAXIS PRESS
LEANING GIRL GN (MR)
$29.99
ALTERNATIVE COMICS
TRUE STORIES #1 (MR)
$5.99
AMIGO COMICS
BEAST COMMANDOS #1 (MR)
$3.99
ROGUES THE BURNING HEART #1 (RES) (MR)
$3.99
ROMAN RITUAL #1 (MR)
$3.99
AMULET BOOKS
EXPLORER HC VOL 03 HIDDEN DOORS
$19.95
EXPLORER SC VOL 03 HIDDEN DOORS
$10.95
MISADVENTURES OF SALEM HYDE HC VOL 03 COOKIE CATASTROPHE
$14.95
MISADVENTURES OF SALEM HYDE SC VOL 03 COOKIE CATASTROPHE
$6.95
ANDREWS MCMEEL
COMPLETE CALVIN & HOBBES SLIPCASED HC NEW PTG
$175.00
DILBERT HC GO ADD VALUE SOMEPLACE ELSE
$19.99
DOONESBURY MELS STORY SURVIVING MILITARY SEXUAL ASSAULT TP
$9.99
ANTARCTIC PRESS
DR FRANKENSTEAMS MONSTER ONE SHOT
$3.99
GOLD DIGGER HALLOWEEN SPECIAL 2014
$3.99
STEAMPUNK HALLOWEEN 2014
$3.99
ARCHIE COMIC PUBLICATIONS
ARCHIE 1000 PG COMICS CELEBRATION TP
$14.99
ARCHIE COMICS SPECTACULAR PARTY TIME TP
$5.99
MEGA MAN #42 REG CVR
$3.99
MEGA MAN #42 SUPER SMASH VAR CVR
$3.99
SONIC BOOM #1
$3.99
SONIC BOOM #1 HERE COMES THE BOOM PT 1 VAR CVR
$3.99
SONIC BOOM #1 HERE COMES THE BOOM PT 2 VAR CVR
$3.99
SONIC BOOM #1 HERE COMES THE BOOM PT 3 VAR CVR
$3.99
SONIC BOOM #1 HERE COMES THE BOOM PT 4 VAR CVR
$3.99
SONIC SUPER DIGEST #9
$4.99
SONIC UNIVERSE #69 REG CVR
$3.99
SONIC UNIVERSE #69 SUPER SMASH VAR CVR
$3.99
ASPEN MLT INC
ALL NEW SOULFIRE #8 DIRECT MARKET CVR A
$3.99
ALL NEW SOULFIRE #8 DIRECT MARKET CVR B
$3.99
AUTISM AT FACE VALUE
FACE VALUE #2
$3.99
AVATAR PRESS INC
CALIBAN #1 SILENT KILLER CVR (MR)
$5.99
CROSSED BADLANDS #50 SPEED KILLS CVR (MR)
$5.99
CROSSED BADLANDS #64 (MR)
$3.99
CROSSED BADLANDS #64 FATAL FANTASY CVR (MR)
$3.99
CROSSED BADLANDS #64 RED CROSSED ORDER INCV CVR (MR)
$3.80
CROSSED BADLANDS #64 TORTURE CVR (MR)
$3.99
CROSSED BADLANDS #64 WRAP CVR (MR)
$3.99
DARK GODS #1 (MR)
$3.99
DARK GODS #1 DEITY CVR (MR)
$3.99
DARK GODS #1 NIGHTMARE RETAILER ORDER INCV (MR)
$3.80
DARK GODS #1 SIREN CVR (MR)
$3.99
DARK GODS #1 WRAP CVR (MR)
$3.99
EXTINCTION PARADE WAR #1 FACE OFF CVR (MR)
$5.99
EXTINCTION PARADE WAR #4 LEATHER CVR (MR)
$19.99
GOD IS DEAD #23 (MR)
$3.99
GOD IS DEAD #23 CARNAGE WRAP CVR (MR)
$3.99
GOD IS DEAD #23 END OF DAYS CVR (MR)
$3.99
GOD IS DEAD #23 GILDED RETAILER ORDER INCV CVR (MR)
$3.80
GOD IS DEAD #23 ICONIC CVR (MR)
$3.99
GOD IS DEAD ENHANCED VALUE SET (MR)
$2.99
UBER #19 (MR)
$3.99
UBER #19 BLITZKRIEG ORDER INCV CVR (MR)
$3.80
UBER #19 PROPAGANDA POSTER CVR (MR)
$3.99
UBER #19 WAR CRIMES CVR (MR)
$3.99
UBER #19 WRAP CVR (MR)
$3.99
WAR STORIES #2 (MR)
$3.99
WAR STORIES #2 BATTLE DAMAGE RETAILER ORDER INCV (MR)
$3.80
WAR STORIES #2 GOOD GIRL NOSE ART CVR (MR)
$3.99
WAR STORIES #2 WRAP CVR (MR)
$3.99
BLACK MASK COMICS
CRITICAL HIT #2 (MR)
$3.99
GODKILLER WALK AMONG US #1 (RES) (MR)
$3.99
GODKILLER WALK AMONG US #1 BEACH BALL VAR (MR)
$3.99
LAST BORN #2 (MR)
$3.99
BLISS ON TAP
I PLAY THE BAD GUY #1
$3.99
BONGO COMICS
SIMPSONS COMICS EXPLOSION #1
$9.99
BOOM! STUDIOS
ADV TIME BANANA GUARD ACADEMY #4 MAIN CVRS
$3.99
ADVENTURE TIME #33
$3.99
ADVENTURE TIME #33 SUBSCRIPTION LARSEN VAR
$3.99
HIT PEN & INK #1
$14.99
CARTOON BOOKS
BONE COLOR ED HC VOL 03 EYES O/T STORM NEW PTG
$26.99
TUKI SAVE THE HUMANS #1 2ND PTG
$3.99
TUKI SAVE THE HUMANS #2
$3.99
CINEBOOK
BARRACUDA GN VOL 03
$15.95
COMIXTRIBE
AND THEN EMILY WAS GONE #4 (MR)
$3.50
CONUNDRUM PRESS
ONE YEAR IN AMERICA GN (MR)
$17.00
COSMIC TIMES
GIANT ROBOT WARRIOR MAINTENANCE CREW #3
$2.99
CRYPTOZOIC ENTERTAINMENT
HUGH HOWEYS WOOL #5
$3.99
D. E.
ALICE COOPER #1 RARE VIRGIN DAVID MACK CVR
$50.00
BOBS BURGERS #3
$3.99
BOBS BURGERS #3 25 COPY UMBLEBY VIRGIN INCV
$10.00
CAPT VICTORY & GALACTIC RANGERS #3
$3.99
CAPT VICTORY & GALACTIC RANGERS #3 10 COPY VIRGIN INCV
$2.00
DOODLE JUMP #4
$3.99
DOODLE JUMP #4 VIDEO GAME HOMAGE EXC VAR
$3.99
JUSTICE INC #2 RARE VIRGIN ALEX ROSS CVR
$50.00
JUSTICE INC #3 RARE ROSS VIRGIN ART ED
$50.00
PATHFINDER CITY SECRETS #6 EXC SUBSCRIPTION CVR
$4.99
PATHFINDER CITY SECRETS #6 GOMEZ VAR
$4.99
PATHFINDER CITY SECRETS #6 MAIN GENZOMAN
$4.99
PATHFINDER CITY SECRETS #6 ULTRA LTD CUMMINGS CVR
$19.99
PURGATORI #2 10 COPY RUFFINO B&W INCV
$2.50
PURGATORI #2 25 COPY CHIN B&W INCV
$5.00
PURGATORI #2 CHIN VAR
$3.99
PURGATORI #2 FLEECS EXC SUBSCRIPTION VAR
$3.99
PURGATORI #2 MAIN RUFFINO
$3.99
PURGATORI #2 RARE RUFFINO BLOOD RED INCV
$2.00
PURGATORI #2 RARE RUFFINO VIRGIN INCV
$2.00
SHADOW MIDNIGHT MOSCOW #2 RARE CHAYKIN B&W INCV
$2.00
SHADOW MIDNIGHT MOSCOW #3 RARE CHAYKIN B&W INCV
$2.00
SHADOW MIDNIGHT MOSCOW #4 RARE CHAYKIN B&W INCV
$2.00
SHADOW MIDNIGHT MOSCOW #5
$3.99
TALES OF MR RHEE KARMAGEDDON #2 (MR)
$3.99
DRAWN & QUARTERLY
SHOWA HISTORY OF JAPAN TP VOL 03 1944-1953 (MR)
$24.95
DYNAMIC FORCES
DF AMAZING SPIDER-MAN #1 MIDTOWN CAMPBELL SKETCH
$39.99
DF AMAZING SPIDER-MAN #1 ULTRA RARE BLACK CAT SGN
$29.99
DF AMAZING SPIDER-MAN #1.1 MIDTOWN CAMPBELL COLOR
$27.99
DF AMAZING SPIDER-MAN #1.1 MIDTOWN CAMPBELL SKETCH
$39.99
DF DEADPOOL ANNUAL #2 SGN HASTINGS
$19.91
DF DOCTOR WHO #1 10TH DOCTOR MIDTOWN EXC CVR
$29.99
DF DOCTOR WHO #1 11TH DOCTOR MIDTOWN EXCL CVR
$29.99
EUROTICA
PRECINCT 69 GN (A)
$12.99
FANTAGRAPHICS BOOKS
COMPLETE PEANUTS HC BOX SET 1991-1994
$59.99
COMPLETE PEANUTS HC VOL 01 1950-1952 (NEW PTG)
$29.99
COMPLETE PEANUTS HC VOL 02 1953-1954 (NEW PTG)
$29.99
COMPLETE PEANUTS HC VOL 22 1993-1994
$29.99
COMPLETE PEANUTS TP BOX SET 1950-1954
$39.99
COMPLETE PEANUTS TP VOL 02 1953-1954
$22.99
DISNEY ROSA DUCK LIBRARY HC BOX SET VOL 01 & 02
$49.99
DISNEY ROSA DUCK LIBRARY HC VOL 02 RETURN TO PLAIN AWFUL
$29.99
PALESTINE TP (MR)
$24.99
PEANUTS EVERY SUNDAY HC VOL 02 1956-1960
$49.99
POGO COMP SYNDICATED STRIPS HC VOL 03 EVIDENCE CONTRARY (RES
$45.00
SET TO SEA GN
$14.99
WALT DISNEY DONALD DUCK HC BOX SET ANDES & UNICORN
$49.99
HERMES PRESS
PHANTOM #1 ALEX SAVIUK VAR CVR C
$3.99
PHANTOM #1 GRAHAM NOLAN VAR CVR B
$3.99
PHANTOM #1 REG CVR
$3.99
PHANTOM #1 VELLUTO VAR CVR A
$3.99
KODANSHA COMICS
ATTACK ON TITAN NO REGRETS GN VOL 02
$10.99
FAIRY TAIL GN VOL 43
$10.99
LERNER PUBLISHING GROUP
I REMEMBER BEIRUT GN
$9.95
NBM
NOIR THRILLER SET BROADCAST & FAMILY TIES
$27.99
ONE PEACE BOOKS
WHISPERED WORDS GN VOL 02
$16.95
ONI PRESS INC.
BUNKER #7 (MR)
$3.99
PERFECT SQUARE
LBX GN VOL 01 NEW DAWN RAISERS
$9.99
SAN HANNIBAL #4
$2.99
REBELLION / 2000AD
BRASS SUN #6
$3.99
DREDD UNDERBELLY MOVIE SEQUEL ONE SHOT HAIRSINE VAR (MR)
$3.99
DREDD UPRISE #1
$3.99
RED 5 COMICS
ATOMIC ROBO KNIGHTS OF GOLDEN CIRCLE #5
$3.50
SELFMADEHERO
BEST OF ENEMIES HIST OF US MIDDLE EAST RELATIONS HC VOL 02 1
$24.95
SEVEN SEAS ENTERTAINMENT LLC
ALICE I/T COUNTRY OF JOKER CIRCUS & LIARS GAME VOL 06 (MR) (
$12.99
STORM KING PRODUCTIONS, INC
JOHN CARPENTERS ASYLUM TP VOL 01 (MR)
$19.99
SUBLIME
FALSE MEMORIES GN (MR)
$12.99
TITAN COMICS
CHIMERA BRIGADE HC VOL 01
$9.99
DOCTOR WHO 11TH #4 REG GLASS
$3.99
DOCTOR WHO 11TH #4 SUBSCRIPTION PHOTO
$3.99
LENORE VOLUME II #11
$3.99
SALLY O/T WASTELAND #4
$3.99
VALIANT ENTERTAINMENT LLC
ARCHER & ARMSTRONG #25 10 COPY INCV PEREZ
$4.99
ARCHER & ARMSTRONG #25 20 COPY INCV CALAFIORE
$4.99
ARCHER & ARMSTRONG #25 50 COPY INCV WALSH
$4.99
ARCHER & ARMSTRONG #25 CVR A HENRY
$4.99
ARCHER & ARMSTRONG #25 CVR B CRYSTAL
$4.99
DEATH DEFYING DR MIRAGE #1 2ND PTG
$3.99
HARBINGER OMEGAS #3 20 COPY INCV FABRY
$3.99
HARBINGER OMEGAS #3 REG CVR LAROSA
$3.99
VERTICAL INC
GARDEN OF WORDS GN (MR)
$12.95
VIZ MEDIA LLC
BAKUMAN GN COMP BOX SET
$159.99
CASE CLOSED GN VOL 52
$9.99
RAL GRAD GN VOL 01
$7.99
YEN PRESS
BARAKAMON GN VOL 01 (MR)
$15.00
BLACK BUTLER TP VOL 18
$13.00
BLOODY BRAT GN VOL 02
$13.00
BRIDES STORY HC GN BOOK 06
$17.00
CELEBRATION OF HARUHI SUZUMIYA SHORT STORY OMNIBUS TP
$26.00
IM NOT POPULAR GN VOL 05
$13.00
INU X BOKU SS TP VOL 05
$11.99
JUDGE GN VOL 05
$12.99
KINGDOM HEARTS 358 / 2 DAYS GN VOL 04 (RES)
$12.00
MELANCHOLY OF SUZUMIYA HARUHI CHAN GN VOL 08
$13.00
ONINAGI GN VOL 04
$17.00
PUELLA MAGI MADOKA MAGICA DIFFERENT STORY GN VOL 03
$13.00
UBEL BLATT GN VOL 00 (MR)
$20.00
UMINEKO WHEN THEY CRY GN EP 4 #2 ALLIANCE O/T GOLDEN WITCH (
$22.00
ZENESCOPE ENTERTAINMENT INC
GFT REALM WAR #4 A CVR TOLIBAO (AOFD) (MR)
$3.99
GFT REALM WAR #4 B CVR LASHLEY (AOFD) (MR)
$3.99
GFT REALM WAR #4 C CVR VALENTINO (AOFD) (MR)
$3.99
GFT REALM WAR #4 D CVR MYCHAELS (AOFD) (MR)
$3.99
GFT ROBYN HOOD ONGOING #3 A CVR ORTIZ
$3.99
GFT ROBYN HOOD ONGOING #3 B CVR CAFARO
$3.99
GFT ROBYN HOOD ONGOING #3 C CVR CALDWELL
$3.99
GFT ROBYN HOOD ONGOING #3 D CVR CHATZOUDIS RARE INCV
$5.00
GFT WARLORD OF OZ #6 A CVR LUIS (MR)
$2.99
GFT WARLORD OF OZ #6 B CVR KROME (MR)
$2.99
GFT WARLORD OF OZ #6 C CVR QUALANO (MR)
$2.99
GFT WARLORD OF OZ #6 D CVR LUIS RARE INCV (MR)
$5.00
And in two weeks time…
DARK HORSE COMICS
ALIEN VS PREDATOR FIRE AND STONE #2
$3.50
ANGEL AND FAITH SEASON 10 #8 CONRAD VAR
$3.50
ANGEL AND FAITH SEASON 10 #8 MAIN CVR
$3.50
AVATAR LAST AIRBENDER TP VOL 09 RIFT PART 3
$10.99
BEST COMIX BOOK WHEN MARVEL WENT UNDERGROUND HC LTD
$125.00
BOB POWELL COMPLETE CAVE GIRL HC
$49.99
CONCRETE PARK RESPECT #3
$3.99
GAME OF THRONES BUTTONS COUNTER DISPLAY
$200.00
GHOST #9
$2.99
GHOST FLEET #1
$3.99
GRANDVILLE NOEL HC
$19.99
GRENDEL VS SHADOW #3
$5.99
MASS EFFECT FOUNDATION TP VOL 03
$16.99
NEW YORK FOUR DARK HORSE ED TP
$19.99
POPULAR SKULLTURE HC SKULL MOTIFS
$19.99
SERENITY LEAVES ON WIND HC
$19.99
SKY ART OF FINAL FANTASY HC VOL 02
$34.99
SKYMAN ONE-SHOT
$2.99
STAR WARS DARK TIMES GALLERY ED HC
$99.99
TRIGUN MAXIMUM OMNIBUS TP VOL 05
$19.99
USAGI YOJIMBO SENSO #4
$3.99
DC COMICS
ACTION COMICS #36
$3.99
ACTION COMICS #36 LEGO VAR ED
$3.99
ANIMAL MAN TP VOL 05 EVOLVE OR DIE (N52)
$14.99
AQUAMAN AND THE OTHERS #7
$2.99
BATMAN ARKHAM ASYLUM 25TH ANNIV DLX ED HC (MR)
$29.99
BATMAN ARKHAM ASYLUM 25TH ANNIV DLX ED TP (MR)
$19.99
BATMAN BEYOND 2.0 TP REWIRED
$16.99
BATMAN ESSENTIALS BATMAN YEAR ONE SPEC ED #1
$1.00
BATMAN ETERNAL #31
$2.99
DETECTIVE COMICS #36
$3.99
DETECTIVE COMICS #36 COMBO PACK
$4.99
DETECTIVE COMICS #36 LEGO VAR ED
$3.99
DETECTIVE COMICS #36 VAR ED
$3.99
EARTH 2 #28
$2.99
EARTH 2 WORLDS END #5
$2.99
FAIREST #31 (MR)
$2.99
FLASH SEASON ZERO #2
$2.99
GOTHAM ACADEMY #2
$2.99
GOTHAM ACADEMY #2 VAR ED
$2.99
GRAYSON #4
$2.99
GRAYSON #4 LEGO VAR ED
$2.99
GREEN ARROW #36
$2.99
GREEN LANTERN #36 (GODHEAD)
$2.99
GREEN LANTERN #36 COMBO PACK (GODHEAD)
$3.99
GREEN LANTERN #36 LEGO VAR ED (GODHEAD)
$2.99
INJUSTICE GODS AMONG US YEAR THREE #3
$2.99
JUSTICE LEAGUE 3000 #11
$2.99
LOBO #2
$2.99
LOBO #2 VAR ED
$2.99
NAMES #3 (MR)
$2.99
NEW 52 FUTURES END #27 (WEEKLY)
$2.99
SCOOBY DOO TEAM UP #7
$2.99
SUPERMAN UNCHAINED #9 (RES)
$4.99
SUPERMAN UNCHAINED #9 BLANK VAR ED
$4.99
SUPERMAN UNCHAINED #9 COMBO PACK (RES)
$5.99
SUPERMAN UNCHAINED #9 VAR ED (RES)
$4.99
SUPERMAN UNCHAINED #9 VAR ED (RES)
$4.99
SUPERMAN UNCHAINED #9 VAR ED (RES)
$4.99
SWAMP THING #36
$2.99
TEEN TITANS #1 2ND PTG
$2.99
TINY TITANS RETURN TO THE TREEHOUSE #6
$2.99
WAKE HC (MR)
$24.99
DC COMICS/DC DIRECT
AARDMAN SUPERMAN FIGURE 2013 SDCC EXLUSIVE
$24.95
BATMAN LIL GOTHAM ROBIN MINI ACTION FIGURE
$12.95
DC COMICS SUPER VILLAINS HARLEY QUINN BUST
$49.95
GREEN LANTERN 3 3/4 INCH 4 PACK SDCC 2013 EXC
$49.95
SUPER BEST FRIENDS FOREVER 3 PACK SDCC 2013 EXC
$49.95
IDW PUBLISHING
AMELIA COLE AND THE ENEMY UNLEASHED GN
$19.99
ANGRY BIRDS COMICS #6
$3.99
ANGRY BIRDS COMICS #6 SUBSCRIPTION VAR
$3.99
ANGRY BIRDS COMICS HC VOL 01 WELCOME TO THE FLOCK
$9.99
BLACK DYNAMITE #4
$3.99
HAMMER KELLY JONES COMP SERIES HC
$34.99
HAUNTED HORROR HC VOL 02 COMICS MOTHER WARNED ABOUT
$24.99
INDESTRUCTIBLE #9
$3.99
MARS ATTACKS DLX HC TRADING CARD ED
$75.00
MY LITTLE PONY FRIENDS FOREVER #11
$3.99
MY LITTLE PONY FRIENDS FOREVER #11 SUBSCRIPTION VAR
$3.99
MY LITTLE PONY FRIENDS FOREVER TP VOL 02
$17.99
OCTOBER FACTION #2
$3.99
OCTOBER FACTION #2 SUBSCRIPTION VAR
$3.99
POPEYE CLASSICS NEWSPAPER COMICS HC VOL 02 1989-1992
$39.99
POPEYE CLASSICS ONGOING #28
$3.99
ROCKY & BULLWINKLE CLASSICS GN VOL 03 MASTERMIND
$17.99
ROGUE TROOPER CLASSICS #7
$3.99
ROGUE TROOPER CLASSICS #7 SUBSCRIPTION VAR
$3.99
SILENT HILL DOWNPOUR ANNES STORY #3
$3.99
SILENT HILL DOWNPOUR ANNES STORY #3 SUBSCRIPTION VAR
$3.99
TALES O/T TMNT TP VOL 06
$19.99
TRANSFORMERS ROBOTS IN DISGUISE TP VOL 06
$19.99
V-WARS #7
$3.99
V-WARS #7 BLANK SUBSCRIPTION VAR
$3.99
WEIRD LOVE #4
$3.99
IMAGE COMICS
68 HOMEFRONT #3 CVR A JONES (MR)
$3.99
68 HOMEFRONT #3 CVR B GALLAGHER (MR)
$3.99
AMERICAN LEGENDS #1
$3.99
AMERICAN LEGENDS #1 5 COPY SEJIC INCV
$3.00
ARTIFACTS #40 (MR)
$5.99
BIRTHRIGHT #1 2ND PTG
$2.99
BIRTHRIGHT #2
$2.99
BIRTHRIGHT #2 CVR B
$2.99
CHEW #44 (MR)
$2.99
COPPERHEAD #2 2ND PTG
$3.50
FADE OUT #2 2ND PTG
$3.50
FUSE #7 CVR A GREENWOOD (MR)
$3.50
FUSE #7 CVR B FRISON (MR)
$3.50
GOD HATES ASTRONAUTS #3 CVR A BROWNE (MR)
$3.50
GOD HATES ASTRONAUTS #3 CVR B BURNHAM (MR)
$3.50
HACK SLASH SON OF SAMHAIN #5 (MR)
$3.50
HUMANS #1 (MR)
$2.99
IMPERIAL #4
$2.99
KINSKI TP
$14.99
LIL DEPRESSED BOY SUPPOSED TO BE THERE TOO #2
$3.99
MADAME FRANKENSTEIN #7
$2.99
MERCENARY SEA #7
$2.99
NAILBITER #7 (MR)
$2.99
NIGHTWORLD #4
$3.99
PENNY DORA & THE WISHING BOX #1 CVR A GRACE
$2.99
PENNY DORA & THE WISHING BOX #1 CVR B LARSON
$2.99
PUNKS THE COMIC #2 CVR A CHAMBERLAIN
$3.99
PUNKS THE COMIC #2 CVR B LEMIRE
$3.99
REAL HEROES #4
$4.99
SPAWN #248
$2.99
SPREAD #4 (MR)
$3.50
SUPERANNUATED MAN #4 (MR)
$3.99
TECH JACKET #5
$2.99
TEN GRAND #11 (MR)
$2.99
TOOTH & CLAW #1 (MR)
$2.99
VELVET #8 (MR)
$3.50
MARVEL COMICS
ALL NEW X-FACTOR #16 AXIS
$3.99
AMAZING SPIDER-MAN #9 DELLOTTO VAR SV
$4.99
AMAZING SPIDER-MAN #9 MARVEL ANIMATION SPIDER-VERSE VAR SV
$4.99
AMAZING SPIDER-MAN #9 ROCKET RACCOON AND GROOT VAR SV
$4.99
AMAZING SPIDER-MAN #9 SV
$4.99
AMAZING SPIDER-MAN #9 YOUNG INTERLOCKING B VAR SV
$4.99
AVENGERS AND X-MEN AXIS #4
$3.99
AVENGERS AND X-MEN AXIS #4 MANN INVERSION VAR
$3.99
AVENGERS AND X-MEN AXIS #4 MARQUEZ YOUNG GUNS VAR
$3.99
AVENGERS PREM HC VOL 06 INFINITE AVENGERS
$24.99
CAPTAIN AMERICA DEATH OF CA PROSE NOVEL MASS MARKET TP
$7.99
DARK TOWER DRAWING OF THREE PRISONER #4
$3.99
DEADPOOL CLASSIC TP VOL 10
$29.99
DEADPOOL VS X-FORCE TP
$15.99
DEADPOOLS ART OF WAR #2
$3.99
DEATH OF WOLVERINE LIFE AFTER LOGAN #1
$4.99
DEATH OF WOLVERINE LIFE AFTER LOGAN #1 TEDESCO VAR
$4.99
DEATH OF WOLVERINE WEAPON X PROGRAM #1
$3.99
DEATH OF WOLVERINE WEAPON X PROGRAM #1 YOUNG VAR
$3.99
EDGE OF SPIDER-VERSE #4 2ND PTG BROWN VAR
$3.99
ELEKTRA TP VOL 01 BLOODLINES
$16.99
FANTASTIC FOUR BY HICKMAN OMNIBUS HC VOL 02
$125.00
FIGMENT #5 2ND PTG CHRISTOPHER VAR
$3.99
HULK #8
$3.99
HULK #8 ROCKET RACCOON AND GROOT FOWLER VAR
$3.99
HULK VS THANOS #1 AVENGERS NOW POSTCARDS (BUNDLE OF 100)(NET
$5.00
LEGENDARY STAR LORD #5
$3.99
LEGENDARY STAR LORD #5 ROCKET RACCOON AND GROOT VAR
$3.99
MARVEL 75TH ANNIVERSARY OMNIBUS HC
$99.99
MEN OF WRATH BY JASON AARON #1 2ND PTG GARNEY VAR (MR
$3.50
MEN OF WRATH BY JASON AARON #2 (MR)
$3.50
MEN OF WRATH BY JASON AARON #2 GUERA VAR (MR)
$3.50
MILES MORALES ULTIMATE SPIDER-MAN TP VOL 01 REVIVAL
$17.99
MIRACLEMAN #13 (MR)
$4.99
MIRACLEMAN #13 MOLINA VAR (MR)
$4.99
MIRACLEMAN #13 PICHELLI VAR (MR)
$4.99
NEW AVENGERS #24 2ND PTG DELLOTTO VAR TRO
$4.99
NEW AVENGERS PREM HC VOL 04 PERFECT WORLD
$24.99
ROCKET RACCOON #5
$3.99
ROCKET RACCOON #5 ROCKET RACCOON AND GROOT VAR
$3.99
SPIDER-MAN 2099 #2 2ND PTG LOZANO VAR
$3.99
SPIDER-MAN 2099 #3 2ND PTG MATTINA VAR
$3.99
SPIDER-VERSE TEAM UP #1 RAPOZA VAR SV
$3.99
SPIDER-VERSE TEAM UP #1 SV
$3.99
THOR GOD OF THUNDER #25 2ND PTG RIBIC VAR
$4.99
THOR GOD OF THUNDER HC VOL 01
$34.99
X-MEN #21
$3.99
BOOM! STUDIOS
DAY MEN TP VOL 01
$9.99
FUTURE DUDE
BRAINSTORM #3 (MR)
$3.99
REBELLION / 2000AD
ZENITH HC PHASE ONE
$25.00