Infinity Countdown #2 Review: Fun, Pretty, but Not Substantial
[rwp-review-recap id="0"]
The forge dwarf continues his mysterious work as the repowered group swiftly brings down the massive Scar. Afterwards, this contingent of the Guardians of the Galaxy, Star-Lord, Ant-Man, Gamora, Rocket Raccoon, Groot, and Nova Richard Rider, rejoins Drax the Destroyer and Eve at the Power Stone in the hopes of halting the Chitauri horde and the Shi'ar Talons.
Meanwhile, Adam Warlock goes in search of the Soul Stone.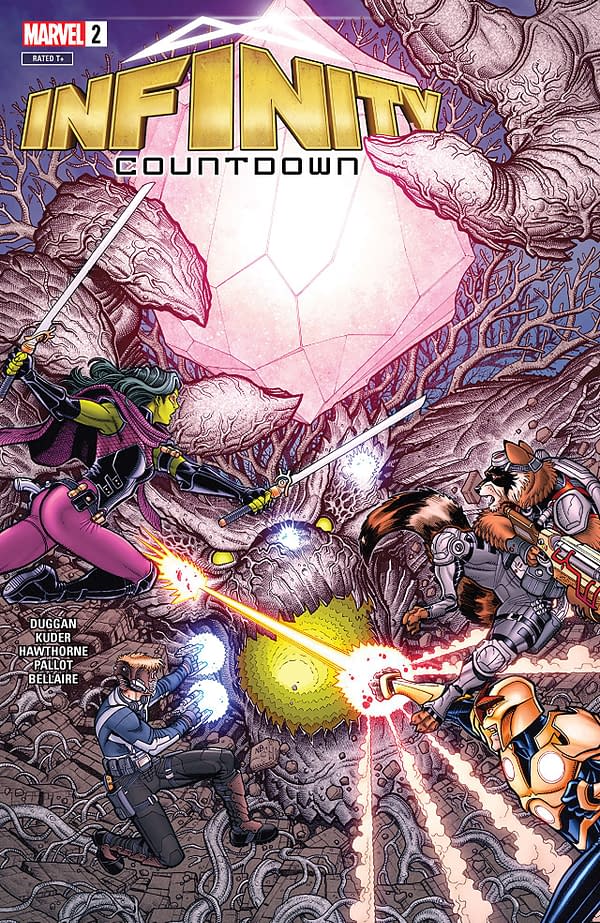 Groot bringing down Scar in the opening pages of Infinity Countdown #2 is anticlimactic, even if it is visually interesting for a few reasons. It does keep the pace moving along, which is something many comics can't manage.
Well, I say that. Most of the comic is the large fight scene around the Power Stone. It's fun enough, and Aaron Kuder and Jordie Bellaire keeps things visually appealing throughout this portion. A couple of plotlines move forward or outright come to a head.
The comic doesn't start moving again in earnest until the final sequence with Adam Warlock. He goes out in search of the Soul Stone, but it only leads to an encounter we've had cover-spoiled already. As such, it isn't surprising, but I will admit to being interested in where it's going. Plus, it least leads to Silver Surfer being used again.
The comic tries to draw a parallel between Warlock and Ultron that is pained at best.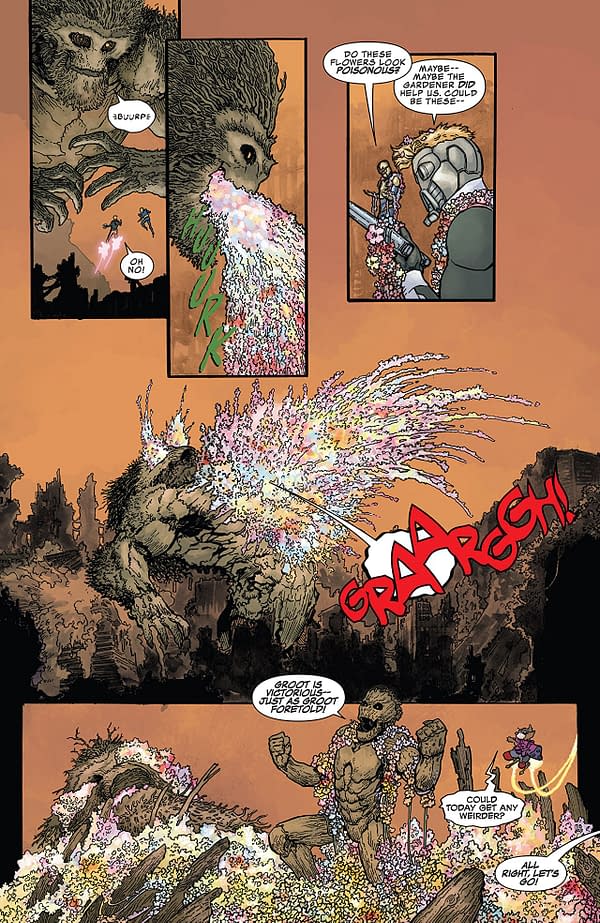 Kuder's artwork is appealing and well-textured throughout the comic. There are a few close-ups on the Nova Corps helmet which especially caught my eye with their detail. Mike Hawthorne, along with inker Terry Pallot take over for the Warlock sequence; it looks decent, even if Adam's face looks quite odd and it's hard to discern what's going on with the Surfer from a visual standpoint. Bellaire provides excellent work throughout, with a lot of color being splashed about the page in a beautiful fashion.
Infinity Countdown #2 doesn't have a lot going on plot-wise, but it is fun. There is a lot of fighting, quips, and a few good gags. Rocket makes a gambit on his arrival at the Power Stone which stands out. Kuder, Hawthorne, Pallot, and Bellaire all put in good work. I can recommend this one, even if it's not required reading. Feel free to check it out.
[rwp-review-ratings id="0"]
[rwp-review-form id="0"]