Isola #2 Review: Another Beautiful and Atmospheric Issue from this Miyazaki-Inspired Series
[rwp-review-recap id="0"]
Captain Rook and the tiger form of Queen Olwyn continue their trek for the land of Isola. Olwyn has been exhausted by the trip and collapses, leaving Rook to scout ahead and look for more supplies. Olwyn has a friendly yet mysterious visitor in this time while Rook finds a ruined city and a familiar face.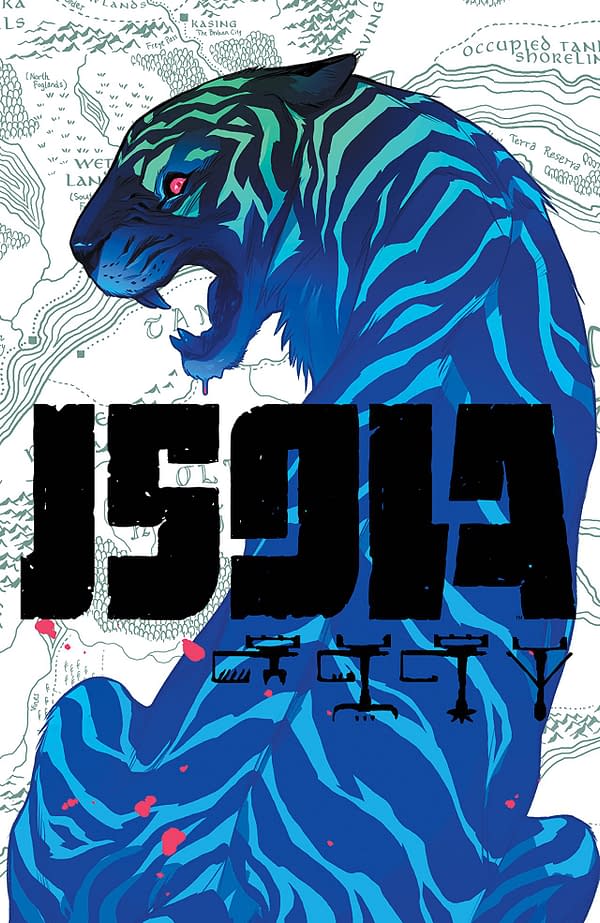 Isola presents another atmospheric and peaceful reading experience with its second issue. The narrative takes us to new and unique environments as created by Karl Kerschl and MSASSYK.
The story is still left vague. We only know that the kingdom Rook and Olwyn come from is in turmoil, the latter being turned into a tiger is for her own protection, and the mysterious land of Isola will hopefully have the answers and solutions our two protagonists seek.
ComiXology touts this series being perfect for fans of Studio Ghibli and filmmaker Hayao Miyazaki, and I can see that. Isola and Ghibli films both have a focus on nature being a sanctuary, fantasy themes, and a sparring use of dialogue.
That last detail is especially noticeable in Isola, which I appreciate. Too many comics, especially some I've personally read recently, inundate the reader with narration and dialogue in the hopes of being able to convey their point, whatever it may be. Isola is content with leaving its story nebulous for now while it constructs its world.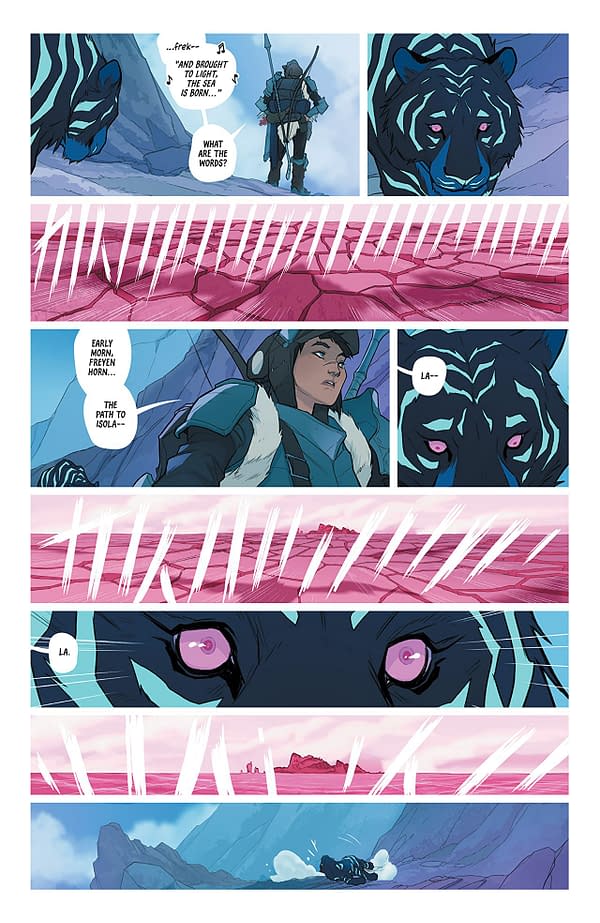 Kerschl and MSASSYK's artwork continues to be gorgeous and fully capable of conveying its own tone and atmosphere without text at all. The world is lush and vibrant and full of brilliant color hues and contrasts. The visual design of both Rook and Olwyn is memorable and appealing. The world is distinct in its subtle differences, and this easily among the most beautiful comics I've read recently.
Isola #2 follows up the first issue with more brilliant art and quiet trekking through a mysterious wilderness full of hunters and other yet-to-be-seen dangers. Brenden Fletcher, Karl Kerschl, and MSASSYK have crafted something wondrous here, and I highly recommend it. Give it a read.
[rwp-review-ratings id="0"]
[rwp-review-form id="0"]