James Bond: The Body #1 and Other Dynamite Previews
Hitting comic shops this week from Dynamite is James Bond: The Body #1 by Ales Kot and Luca Casalanguida, a unique take on the franchise as Bond goes through a post-mission medical examination and uses the scars on his body to tell of certain events. Also shipping this week: Killer Instinct #4, Librarians #3, Red Sonja #12, Sheena #5, Will Eisner's The Spirit: The Corpse-Makers #5 and Warlord of Mars Omnibus Vol 2. Also shipping are the Vampirella Tarot Cards and a Vampirella Executive Figure.
James Bond: The Body #1
writer: Ales Kot | artist: Luca Casalanguida | covers: Luca Casalanguida (A)
PART ONE – THE BODY
As Bond undergoes a post-mission medical examination, he relays the story of his previous mission to the examiner. Each cut, bruise, and broken bone connected to a specific event of the mission. A connection is made between two people with different purposes: one to save lives, the other to take them.
From writer Ales Kot (Secret Avengers, Zero) comes a James Bond story that explores the secret agent in ways that we have yet to experience!
Killer Instinct #4
writer: Ian Edginton | artist: Ediano Silva | covers: Yildiray Cinar (A) Jonathan Lau (B) Cam Adams (C – Sub)
Kim Wu, Jago and Tusk join forces to seek out the war-golem Aganos and the location of the legendary Lost Forge. Here is the only place on Earth where they can gain access to the Astral Plane—the dimension where someone or something is draining the powers of the Guardian Spirits. Kim Wu and her companions are unaware, however, that the Coven is tracking their every move, bent on slaying them before they can cross over.
Librarians #3
writer: Will Pfeifer | artist: Rodney Buchemi | covers: Karl Moline (A) Jake Stone Photo Variant (B)
Hot on the trail of the sudden abduction of cult film director Sol Schick by his suddenly powerful assistant Orson Orville, the Librarians uncover the shocking secret behind the mystery they've been trying to uncover: In an alternate timeline where magic is used as a global weapon, a group of all-powerful wizards have set their eyes on our Earth — and the invasion is about to begin.
Red Sonja #12
writer: Amy Chu, Erik Burnham | artist: Carlos Gomez | covers: Ben Caldwell (A) Juan Doe (B) Pia Guerra (C) Cosplay Photo Variant (D) Andre Lima Araujo (E-Sub)
Leaving a world of fast motorcycles and cold beer, Sonja returns to a more familiar setting of swords and magic and mead. At a nearby tavern she learns strange magic is afoot in this land, and a desperate priest is offering mercenaries some serious gold for a dangerous job. But something doesn't seem right…
Sheena: Queen Of The Jungle #5
writers: Marguerite Bennett, Christina Trujillo | artist: Maria Sanapo | covers: Art Thibert (A), Maria Sanapo (B), Marco Santucci (C), Cosplay Photo Variant (D)
As monsters and mercenaries clash, Sheena must race to prevent a war that could annihilate all she holds dear!
Will Eisner's The Spirit: The Corpse-Makers #5
writer, artist, cover: Francesco Francavilla
INTRIGUE! ACTION! HORROR! The PULP-tastic conclusion of one of THE SPIRIT's most thrilling tales is here and has it all. Do not dare miss it!
Vampirella Executive Replicas Figure
The rivers of Drakulon used to flow with blood, keeping the Vampiri a thriving race. Their world dying, Earthlings chanced to crash upon their planet, their veins rich with life-giving blood. Vampirella, the princess of Drakulon, piloted the crashed spaceship back to Earth, where she spends her life defending Earthlings from evil vampires, such as Dracula, who had migrated to Earth years before. The epic story, starting in 1969 has gained in popularity ever since. Now, nearly 50 years later, Vampirella is more popular than she has ever been. So popular that Dynamite Entertainment with Executive Replicas and Phicen Ltd. bring us this Vampirella Asian Version 1:6 Scale Action Figure. Measuring in at 12-inches tall, with all the sexy detail of Vampirella herself, this figure garnishes attention from long time fans and new followers. This officially licensed Vampirella action figureis every bit as enchanting as it needs to be to make her fans happy. Vampirella comes to life in her Phicen seamless body with stainless steel armature, in her one-piece bikini costume. She has three pairs of interchangeable hands, her knee-high boots, a removable cape, and more accessories.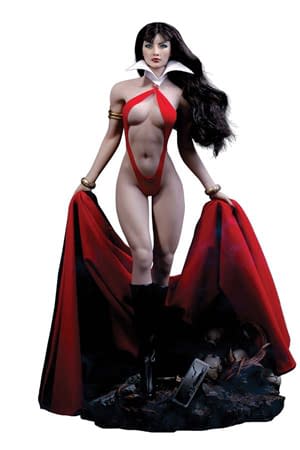 Vampirella Tarot Cards
artists: Frank Frazetta, José Gonzalez, Esteban Maroto, Paul Gulacy, Enrich, Sanjulian, and more!
Dynamite Entertainment celebrates the vibrant history of the one and only Vampirella with a functioning Tarot Card Deck that captures the timeless images of the 1969 Vampirella Magazine art in a unique and enjoyable collectible. Created in 1969 by horror icon Forrest J. Ackerman, Vampirella has thrived for nearly 50 years delivering classic tales of terror in comics, graphic novels, and magazines. These cover images helped to define the horror comic genre with master illustrators like Frank Frazetta, Sanjulian, Bill Hughes, Jose Gonzalez, Enrich, Esteban Maroto, and Paul Gulacy along with a host of other legendary contributing artists. This first game offering from Dynamite Entertainment is a fun and exciting way to immerse yourself in the world of Vampirella. This set of 78 Vampirella Tarot cards illustrates the major and minor arcana and comes in a deluxe illustrated box with instructions for divining the future. The cards are built in a beautiful art deco style that embraces the vintage look and feel of the classic Vampirella Magazine covers.
Warlord of Mars Omnibus Vol. 2 TP
writers: Arvid Nelson and more | artists: Rafael Lanhellas, Leandro Oliviera, and more | cover: Joe Jusko
FC | 496 pages | $29.99 | Teen+
John Carter has freed Mars from Issus, the false goddess whose tyranny once ruled the entire planet… but at a great personal cost. Dejah Thoris, his beloved princess, was taken by Matai Shang, a renegade priest determined to avenge the planet's shattered religion. Activating a doomsday device to destroy the fragile Martian atmosphere, Shang flees into the unknown regions of the north. Carter, aided by his son Carthoris and trusted alien pet Woola, must unite the many races of Mars — despite the ages of distrust and open warfare among them — for the singular purpose of averting Judgment Day! COLLECTS ISSUES 19-35, #0, AND #100