Uniqlo is coming to New York Comic Con for the first time this year. And they are bringing clothes and giving away tickets to the show. We start with Uniqlo T-Shirts designed exclusively for NYCC by artists Jason Polan…
and James Jarvis… The U.S. debut of UNIQLO's UT collaboration with Japanese manga series, One Piece, which will be available in in stores and online later in the month.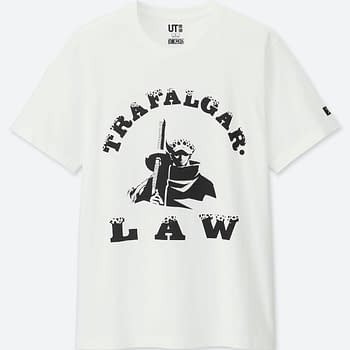 Additional UT styles, including Nintendo, Star Wars, and Marvel's Spider-Man Homecoming, available at the UNIQLO NYCC booth between October 5-8 and also available in stores and online
And two separate sweepstakes for NYCC fans. Beginning September 6th through the 22nd, 20 fans will have the chance to win in-demand Comic Con tickets at UNIQLO's 5th Avenue store. And during the same time period, UNIQLO will offer an online giveaway for an additional 30 tickets via a microsite at http://uniqlo.us/2iKuAjX
"We are thrilled to partner with such a great brand like UNIQLO to bring its sensibility to fashion and apparel to New York Comic Con," said Lance Fensterman, Global Head of ReedPOP. "The exclusive NYCC shirts designed by a native New Yorker will definitely capture the attention of our fans for their fun and bold designs."
"We are looking forward to joining the fun at New York Comic Con for the first time," said Head of Marketing at UNIQLO USA, Marisol Tamaro. "We are admirers of this cultural event, and are excited to partner with ReedPOP to bring our love of art and comics to fans through our UNIQLO T-Shirts (UTs). New York welcomed UNIQLO to the U.S. 10 years ago last fall, and we're happy to celebrate the city through our NYCC exclusive designs."
New York Comic Con runs from October 5th through to October 8th at the Jacob K. Javits Convention Center on Eleventh Ave in Hell's Kitchen.
Enjoyed this article? Share it!