Jay Spence, writer of the Bad Kitty one shot, talks with Peter Milligan about Terminal Hero #3, both on sale now. Jay Spence: What made you choose Terminal Hero as a title and how does it personally "translate" for you?
Peter Milligan: I think it's risky having such a potentially depressing word as "terminal" in the title but it was important. Rory — the story's hero — gets told he has terminal cancer right at the beginning and it's this that drives the story. And I liked the idea of using the "hero". Hero is a much bandied about word — especially in America, and I think it's often misused. Rory does emerge as a kind of hero, but very different from the kind of hero that comics usually portray.
JS: How long does it typically take you to build an original project like this from first outline to the complete first draft of issue #1? Do you usually focus on one story at a time or do you tend to split your time among several projects in different stages of completion?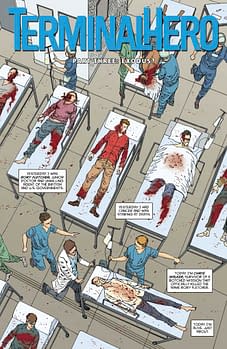 PM: It's impossible to say. There's no set time. A story usually has what you might call a "pre-history": an idea, a passing notion, or maybe something that angers or happens to me. That could happen a long time before you get around to using those initial thoughts or feelings. But once it has coalesced into a story idea I'm pretty quick. If I'm starting a new story I try to have some concentrated effort. But the nature of writing is that one tends to be working on a few things at the same time. Sometimes it's about finding a good period of time so you can do some serious thinking and mapping out.
JS: As a comic writer, do you feel you're typically very thorough and exact with describing the action and framing from panel-to-panel or do you tend to be more vague and allow the artist to translate the details on their own?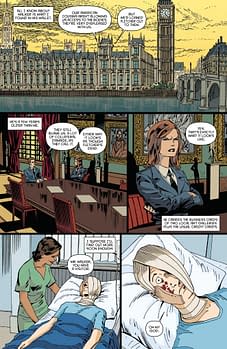 PM: Talking to other writers and artists, I think I probably veer more towards the exact description of panels and pages. I do have an idea of how I want the page to look and read. But I'm always happy for artists to be creative — so long as they're doing it to better tell the story, and not just for the sake of it.
JS: On most projects, what do you feel is the biggest challenge for you when working with the editor/artist to proof and adjust the art before it's final?
PM: Sometimes the biggest challenge is time. As you know, if one person is a little late, for whatever reason, that can ripple down the chain.
For more on Terminal Hero, click here.
Enjoyed this article? Share it!