Jerry Siegel's Superman #1, CGC 5.5, Breaks $200K
After starting off the evening with a heavy focus on Marvel's Bronze Age, with titles like Marvel Premiere and the previously discussed Marvel Spotlight, Friday's auction on ComicConnect.com shifted over towards the Golden Age and Silver Age at DC, with excellent runs on Showcase, Superboy, and Superman, including Jerry Siegel's personal copy of Superman #1.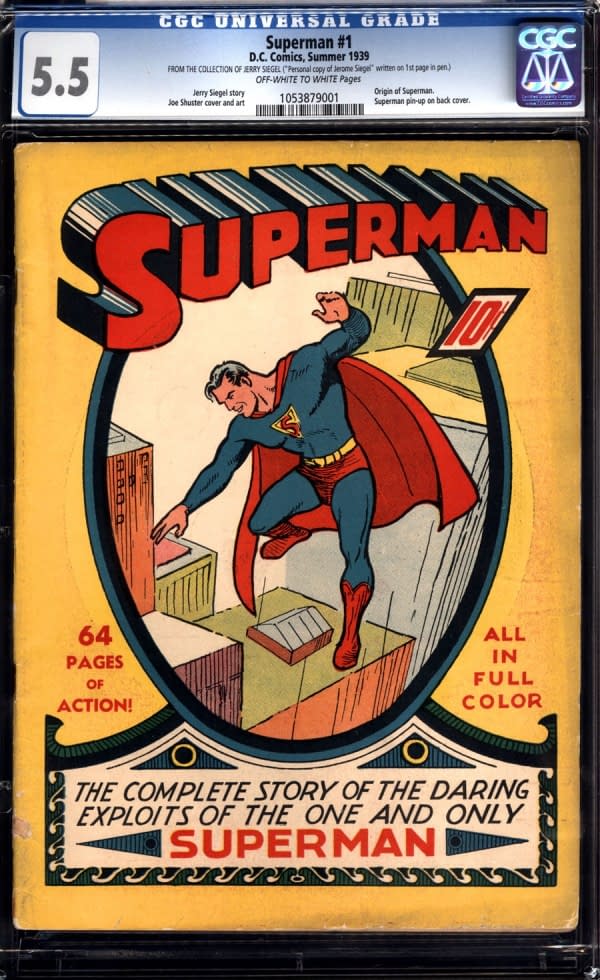 Along with the first appearance of the Flash that we covered earlier, we also have Hal Jordan's first appearance, courtesy Showcase #22. Friday night's auction was for a CGC-graded 5.5, closing at $2,822. There had been a significant price increase for copies graded in 5.5 over the last two years, making this sale the cheapest in this grade in three years, but still a dramatic increase over where the price had been prior to 2009.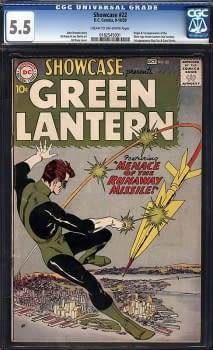 Finding high-grade copies of Volume I of the Silver Surfer is extremely difficult due to the format used for the series, which makes the beautiful copies found in the Suscha News Collection all the more amazing. The Surfer collection starts with #10, which is a brilliant CGC 9.8 with off-white/white pages. There have been only four previous sales at CGC 9.8, with two selling in $2,200 and one at an ungodly $10,009 in 2009. The 2009 copy featured white pages, compared to the just-auctioned one with off-white pages, but that does not justify a price difference of over $7,400, as last night's auction finished at $2,600, making the 2009 one an extreme aberration.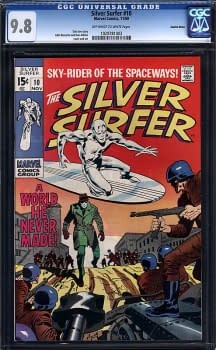 Next, Silver Surfer #13, graded CGC 9.6 with white pages, which sold for $1,351. This is down from the last two sales in this grade, at $2,000 in 2009 and $1,500 in 2007. Oddly, of the three, the $2,000 is the only one with off-white, rather than white, pages. The #14 up for bid is also CGC 9.6 with white pages, and it sold for $1,273, which tops all but one of the five sales in this grade earlier this year, with the high being $1,300. Their last Surfer, #15, is also CGC 9.6 and also possesses white pages. The Surfer's battle with the Human Torch sold for $1,237, making it the second-highest sale in this grade (first if you ignore one sale for $2,175, which is a clear outlier).
There were quite a few issues from the Silver Age Sub-Mariner series, but the gem is #44, featuring a battle between Namor and the second Human Torch, after he spent the 40s battling the original. Graded CGC 9.8 with white pages, this sold for $700, the best price for this issue in three years.
There was a significant run of Superboy as well, many in high grade. The highlights include Superboy #86 in CGC 9.4, with the fourth Legion appearance and the first for Pete Ross ($3,165); #98, also at 9.4, with the first appearance of Ultraboy ($1,442); and #104, featuring the origin of the Phantom Zone ($820).
The highlight of the evening came from the Superman collection, starting with a CGC 5.5 copy of the first issue. The last time a CGC 5.5 copy went on sale, it was April 2005, and it sold for $130,000. This time, $214,000, thanks to two advantages – off-white to white pages and a little bit of writing on the first page that states, "Personal Copy of Jerome Siegel." The second issue was also up for bid, and also hit new highs in its grade, selling for $48,728 at CGC 9.0, and so too for the third issue, with a sale of $14,011 at CGC 8.5. The fourth issue was also graded CGC 8.5, with cream to off-white pages, and sold for $6,822, about $800 less than the last copy graded at 8.5. They also posted a fourth issue at CGC 6.5 with off-white pages ($2,332), at 5.5 with cream to off-white pages ($1,371), and at 3.5 ($1,013).
Other notable Superman issues include a CGC 9.2 copy of #8 ($7,700); a CGC 9.0 copy of #9, which features an iconic cover of Superman bursting from the comic ($8,844); a CGC 8.0 copy of #11, with another iconic cover, as Superman breaks chains that had bind him ($1,840); a CGC 8.0 copy of #13, where Jimmy Olsen debuts underneath a cover of Superman taking on the Nazi Navy ($1,685); and #14 in CGC 9.0, featuring Superman's most patriotic cover to date, standing in front of a red, white, and blue shield with an eagle on his arm ($26,600).
The Superman auctions continue tonight, including a CGC 8.0 copy of Superman's Girl Friend, Lois Lane #1, a CGC 5.0 copy of Superman's Pal, Jimmy Olsen #1, Iron Man's first appearance in Tales of Suspense #39, and a CGC 6.0 copy of Whiz Comics #2, the first issue of the series and the first appearance of Captain Marvel.
---
---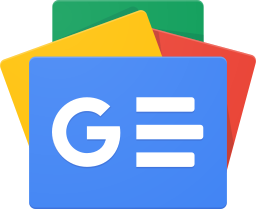 Stay up-to-date and support the site by following Bleeding Cool on Google News today!